Case study
KitchenAid case study: +15% revenue from Google Ads Performance Max campaigns
Learn how KitchenAid uses SegmentStream to optimise Google Ads Performance Max campaigns to get more purchases and decrease cost per conversion.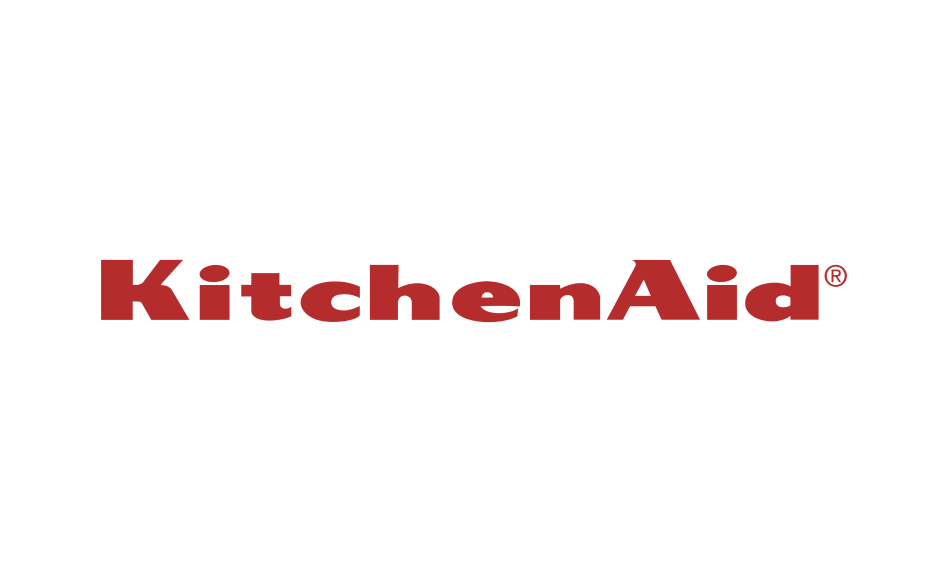 "The product is a true game-changer in the marketing attribution industry, and I'm excited about the future of its development."

— Cedric Van Hees, Digital Performance Specialist EMEA
Key results:
15% increase in revenue and ROAS for a test group in Performance Max campaigns
+32% Modelled Conversions (visits with a high probability to convert in the future), -23% cost per Modelled Conversion
About KitchenAid
It is an American brand of premium home appliances. For over a century, the entire range of KitchenAid small domestic appliances has always stood out thanks to their timeless, distinct and bold design that adds character to any kitchen, inspired by the iconic Stand Mixer.
In this project, SegmentStream is working with the EU subsidiary of KitchenAid across 12 countries.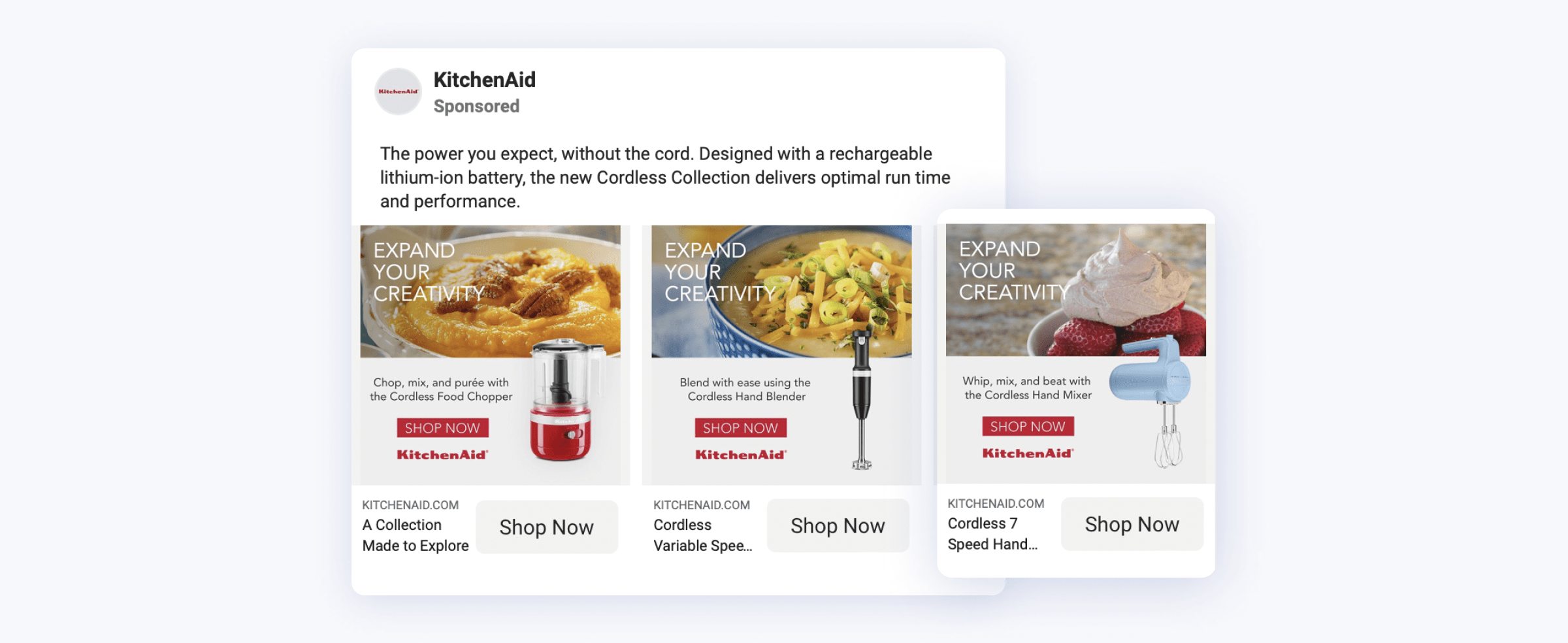 The challenge:
People who are looking for high-end kitchen appliances rarely convert within the very first website visit. The buying journey is long and complex — customers can visit a website multiple times, often switching between devices and browsers. In addition, modern privacy regulations and cookie tracking restrictions made it impossible to track the full path to conversions.
It results in two main challenges for KitchenAid:
1. Measurement and attribution
In order to make effective budget allocation decisions, the team at KitchenAid was using multiple digital analytics tools. Yet, they were not able to understand the true impact of upper-funnel or prospecting campaigns.
Traditionally, all marketing analytics tools operate in the same way: they wait until a user converts and then allocate the value from the conversion between traffic sources that led to this conversion.
However, this method only works if you can track the whole customer journey, from the initial touchpoint. But modern tracking restrictions have made it impossible to properly trace the entire path to conversion.
As a result, most prospecting campaigns do not generate any perceived value, even though they play a huge role in driving sales that later are attributed to other traffic sources; thus, upper-funnel marketing campaigns are heavily undervalued.
This affected KitchenAid's budget allocation decisions as well as the total marketing ROI.
2. Ad optimisation and targeting
Ad platforms such as Google Ads or Facebook Ads heavily rely on conversion signals for efficient auto bidding optimisation and targeting. More signals equal faster algorithm learning and better campaign performance.
Due to the nature of the business, the KitchenAid website has fewer but more expensive conversions compared to that of an average e-commerce business. Typically, such businesses have a high volume of conversions and short sales cycles.
The lack of feedback about the true value of each paid click prevents ad platforms from benefiting from efficient targeting and optimisation. This resulted in a serious loss of potential sales revenue for KitchenAid.
To solve both of these challenges, KitchenAid has partnered with SegmentStream.
SegmentStream — solution overview:
SegmentStream is a Conversion Modelling Platform that provides an ML-driven solution to marketing attribution and optimisation.
SegmentStream is very different from most marketing attribution tools — it evaluates each website session by predicting the user's probability to convert in the future, instead of evaluating conversions retrospectively. When the probability is sufficient, the platform creates a Modelled Conversion that can be used for measurement and ad optimisation.
This guarantees that each traffic source immediately gets the value it deserves, even if a future conversion happens from another device, browser, or cookie.
Now, let's see how this approach worked in the KitchenAid case.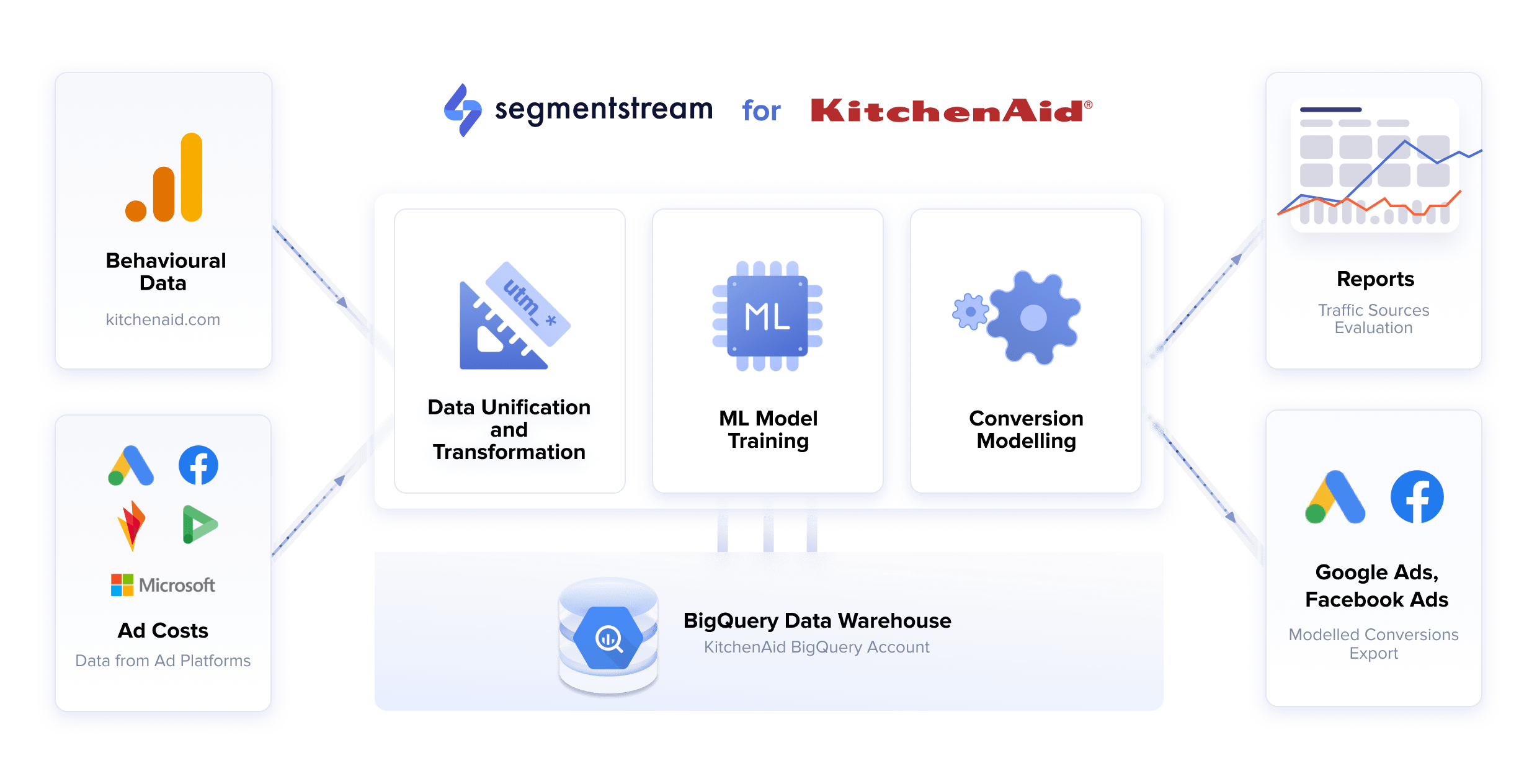 SegmentStream solution architecture for KitchenAid
Step 1: Collect website behavioural data
The SegmentStream Conversion Modelling Platform uses Machine Learning algorithms to analyse the impact of each website visit. To build an accurate ML model, SegmentStream requires website data on user behaviour.
The client collects historical data using Google Analytics 360 and stores it in their own Google BigQuery account. This data is then used to train a high-quality ML model.
Step 2: Collect ad costs from marketing channels
KitchenAid uses multiple ad platforms, including Awin, Facebook Ads, Google Ads, etc. SegmentStream already has turn-key integrations with the most popular advertising platforms, so the setup takes little time.
SegmentStream collects all data about clicks, costs and ad impressions, and stitches it with website sessions and conversions automatically. This allowed KitchenAid to obtain a full cross-channel view of the company's marketing activities in one interface.
Step 3: Conversion Modelling
The SegmentStream Conversion Modelling Platform assesses all actions every website visitor takes and measures the probability that the user will convert in the future.
Once the probability is sufficient, SegmentStream creates a Modelled Conversion that is immediately attributed to the traffic source, and that information can now be used both for marketing measurement and ad optimisation.
This guarantees that each traffic source gets the value it deserves — even if the real conversion will happen from another device, browser, or cookie.
To dig deeper into the topic of Conversion Modelling, read our guide for performance marketers.

Step 4: Reporting and analysis
SegmentStream provided the marketing team at KitchenAid with a detailed overview of the campaigns' performance, including information on how many Modelled Conversions each traffic source is responsible for. That helped KitchenAid to understand which channels and campaign sources actually contribute to total sales.
With these insights at hand, the KitchenAid team is now able to reallocate the budget among its various channels and campaigns to ensure the most optimal marketing mix and the best total ROI.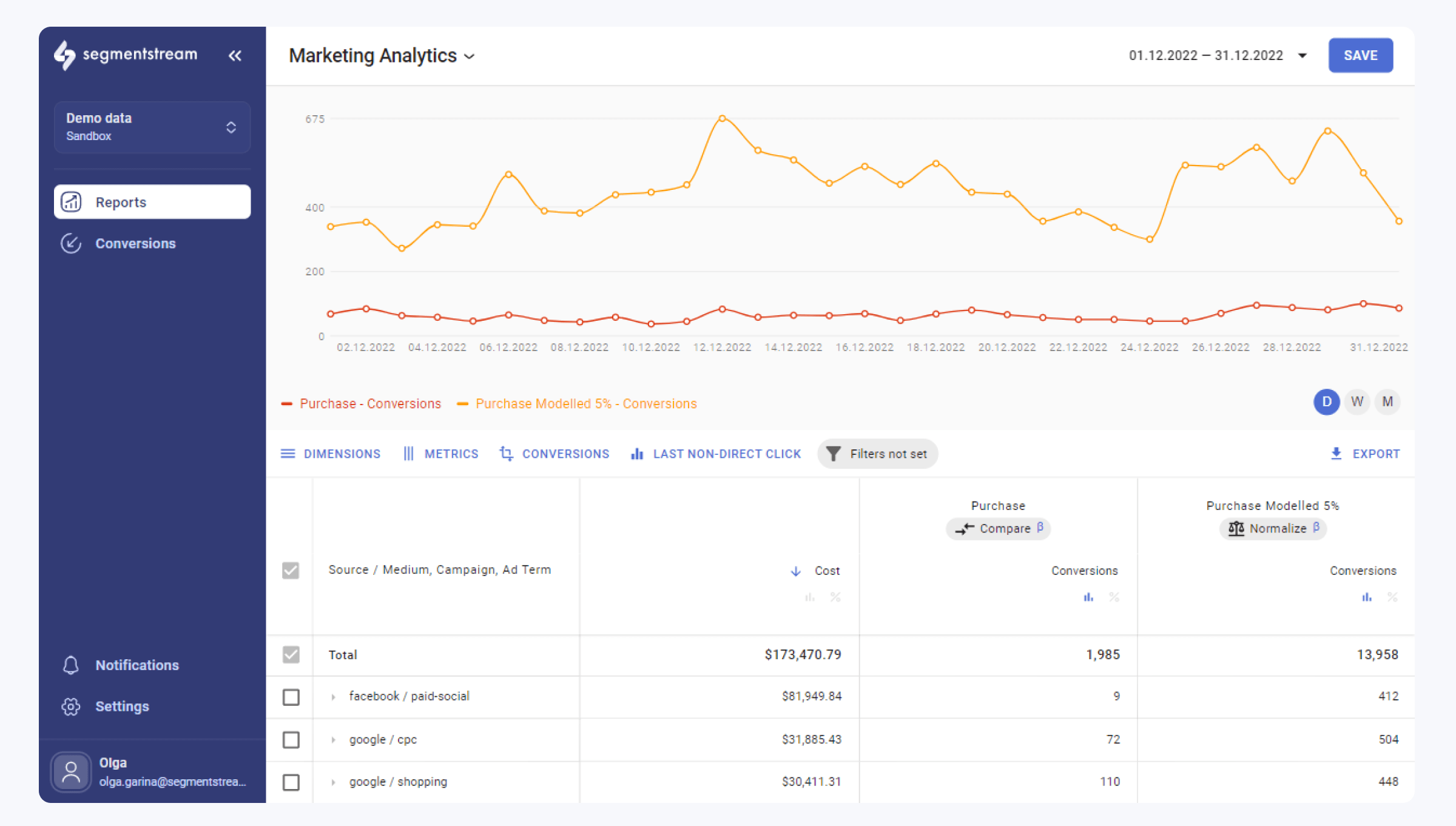 Demo data dashboard
Step 5: Conversion export and paid ads optimisation
The SegmentStream team has observed that optimisation using Modelled Conversions works especially well with Google Ads Performance Max campaigns, and thus recommended that KitchenAid put it to the test.
The client set up an automated export of Modelled Conversions to Google Ads using turn-key server-to-server integration in the SegmentStream user interface.
Since it's not possible to run an A/B test on Performance Max campaigns if the Merchant Center is connected, KitchenAid and SegmentStream came up with the idea of a geo experiment. In this experiment, the largest Performance Max campaign, 'Germany,' was split into two separate campaigns.
The Test branch was optimised towards SegmentStream Modelled Conversions, and the Control branch continued being optimised towards Purchase event only.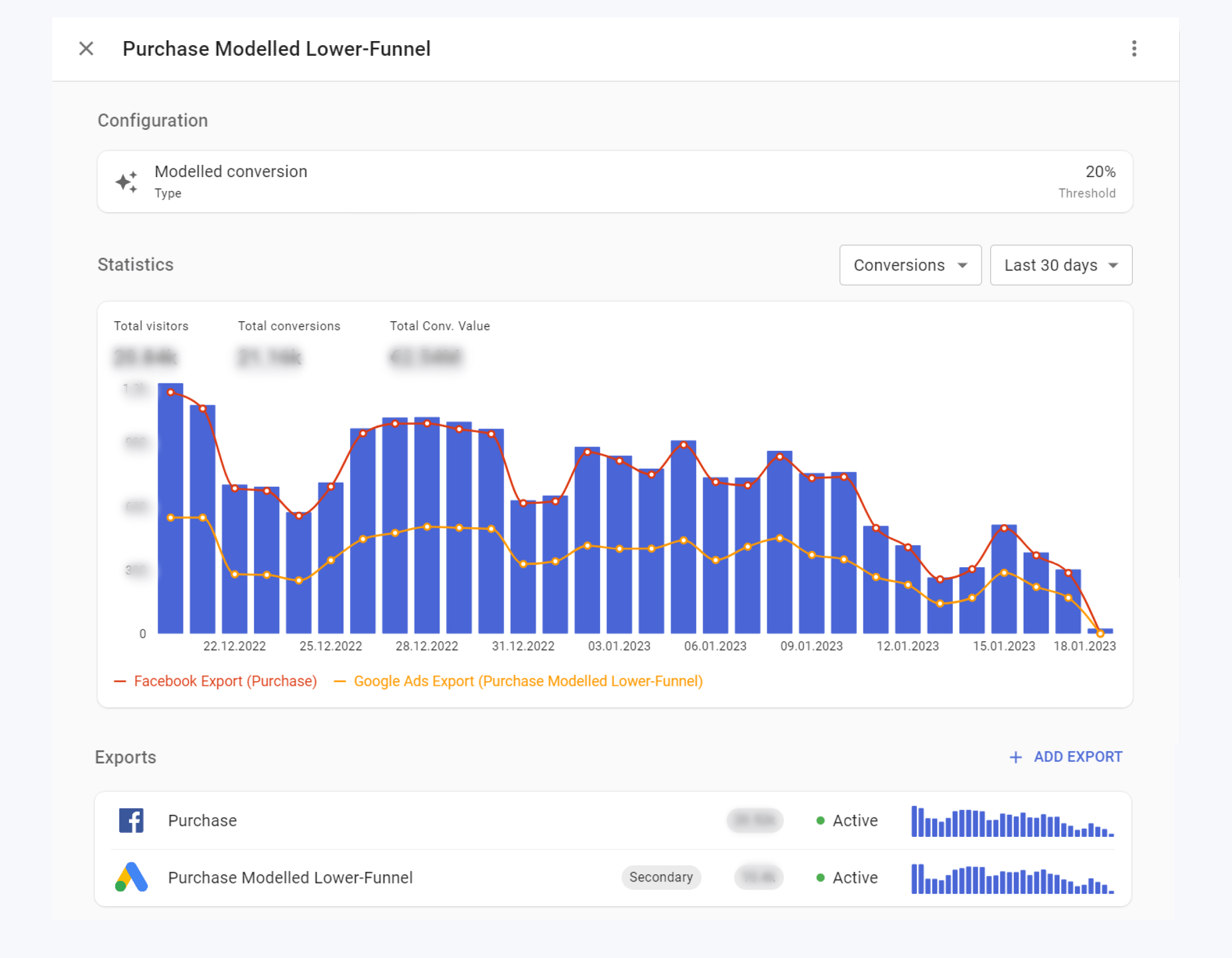 Conversion export for KitchenAid
Results:
1. Higher Revenue and ROAS
Once the campaigns were properly split from a geographical standpoint, the Test branch started consistently bringing in more real purchases with higher revenue and ROAS.
Results of the Test campaign optimised towards SegmentStream:
+7% more conversions
+15% revenue growth
+15% improvement in ROAS
2. Overall improvement in the quality of traffic
The Test campaign not only resulted in direct revenue growth but also helped the company acquire more traffic in general — 40% more clicks at 27% cheaper CPC.
Most importantly, these clicks were a lot more valuable compared to the Control campaign, as they generated 32% more Modelled Conversions.
This means that KitchenAid now acquires more website visitors with a high probability to buy, even though these visitors might actually buy from another browser, device or cookie in the future. In this case, the final conversion will not be attributed to the Test campaign, yet it will result in higher total sales growth.
Customer testimonial:
After testing how Google Ads optimisation towards SegmentStream's Modelled Conversions works for our Performance Max campaigns, we can say that we are very impressed with the results — we saw a serious improvement in both purchases and ROAS.

We are happy to continue our experiments with Conversion Modelling technology and want to mention the professional team at SegmentStream that helps us gain the most value out of this technology.

The product is a true game-changer in the marketing attribution industry, and I'm excited about the future of its development.
— Cedric Van Hees, Digital Performance Specialist EMEA
Never miss an article
Get the latest articles, event invitations and product updates delivered straight to your inbox.
Thank you! You've been signed up for our newsletter.
Get started with SegmentStream
Learn about Conversion Modelling and why it is a true next-generation solution to outdated marketing attribution and conversion tracking tools.