Case study
Kave Home: 7x more conversions from Facebook Ads while decreasing Cost of Sale by 50%
Learn how a fast-growing furniture and decor brand Kave Home implemented SegmentStream Conversion Modelling Platform to understand the true incremental value of all marketing channels and to automatically improve the results of performance marketing campaigns.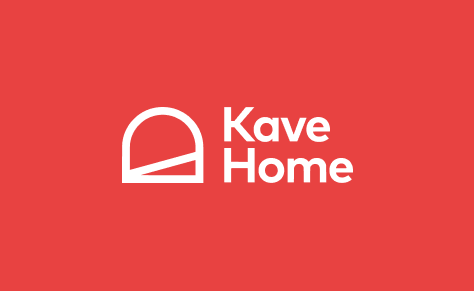 "We were finally able to understand the real value of all our traffic sources, including social and display campaigns, by applying SegmentStream's approach. "

— Anna Nogueras, Kave Home
About Kave Home:
Kave Home (kavehome.com) is a fast-growing furniture and decor brand from Catalonia, Spain that sells products across Europe. 
To support its growth, Kave Home's marketing team uses lots of digital channels to acquire new customers and re-engage with existing ones. As the number of marketing channels and campaigns grows, it becomes much harder to analyse overall marketing performance in a single place, as well as to understand the proper impact of each marketing campaign in a multi-channel and multi-device customer journey. 
To overcome all of these challenges, Kave Home partnered with SegmentStream, and now they are ready to share their experience and results of the collaboration. 
The challenge:
Facebook Ads is one of the biggest sources of website visitors for Kave Home. However, due to a huge amount of traffic, Facebook becomes very biased towards retargeting due to 1-day post-view and 7-day post-click attribution. For this reason, Kave Home separated Prospecting and Retargeting ads into two different campaigns.
While Retargeting campaign optimisation was relatively easy, it was very difficult to optimise Prospecting campaigns due to the a small amount of attributed post-click and post-view conversions. Mostly, this happens because of cross-device and cross-browser user interactions: a lot of people use Facebook and Instagram on their mobile devices, so when they click on mobile ads — the in-app browser of Facebook opens. Many people are not ready to buy right away from Facebook's in-app browser, and decide to switch to their favourite browsers like Safari or Chrome (either mobile or desktop version) to make a purchase. 
Due to such cross-browser customer journeys it is almost impossible to stitch the paid click on one device with the conversion on another device, which makes it very difficult to attribute proper value to upper-funnel marketing campaigns, and understand their true performance.
Because of this, Kave Home's Performance team was required to manually manage CPA for retargeting and prospecting campaigns based on "gut feeling" as it was clear that retargeting conversions are not equal to prospecting campaigns (even though Facebook doesn't think so in terms of post-click/post-view attribution). 
To remove "gut feeling" from the optimisation process and to understand the true value of Facebook Ads campaigns in a truly data-driven way, Kave Home's Performance team decided to implement SegmentStream platform, and to try its AI-driven measurement & optimisation technology.
Solution overview:
SegmentStream is an advanced Conversion Modelling Platform that provides future-thinking marketing teams with a next-generation solution to outdated multi-touch attribution tools that are no longer suitable for today's complex customer journeys and modern tracking restrictions.
SegmentStream Conversion Modelling Platform combines first-party behavioural visitor data with machine learning algorithms to enable comprehensive measurement and performance optimisation. SegmentStream solution architecture for Kave Home
Step 1: Collect real-time user behaviour data
We use machine learning to evaluate the incremental impact of each visit based on website visitor behaviour data, even if a final conversion can not be observed. In order to build a machine learning model, unsampled real-time Google Analytics events should be collected first. 
By using the Data Streams functionality of SegmentStream platform, Kave Home started to collect real-time user behaviour into their own Google BigQuery data warehouse in less than 20 minutes, and without the involvement of their IT department.  
Step 2: Collect advertising costs from all marketing channels 
Kave Home uses many different marketing channels to promote their design furniture, including Facebook, Google Ads, Microsoft Ads, Criteo, Google Campaign Manager, and Pinterest. As well, Kave Home works with a lot of affiliates that bring additional website traffic and purchases. 
As SegmentStream has turn-key integrations with the most popular advertising platforms, this part in the data collection setup didn't take more than 15 minutes. After all the ad accounts have been connected, SegmentStream started to import all the information about ad clicks, costs, and impressions on a daily basis into Kave Home's Google BigQuery data warehouse.  
Custom affiliate marketing advertising costs were also uploaded to SegmentStream using turn-key Google Sheets integration.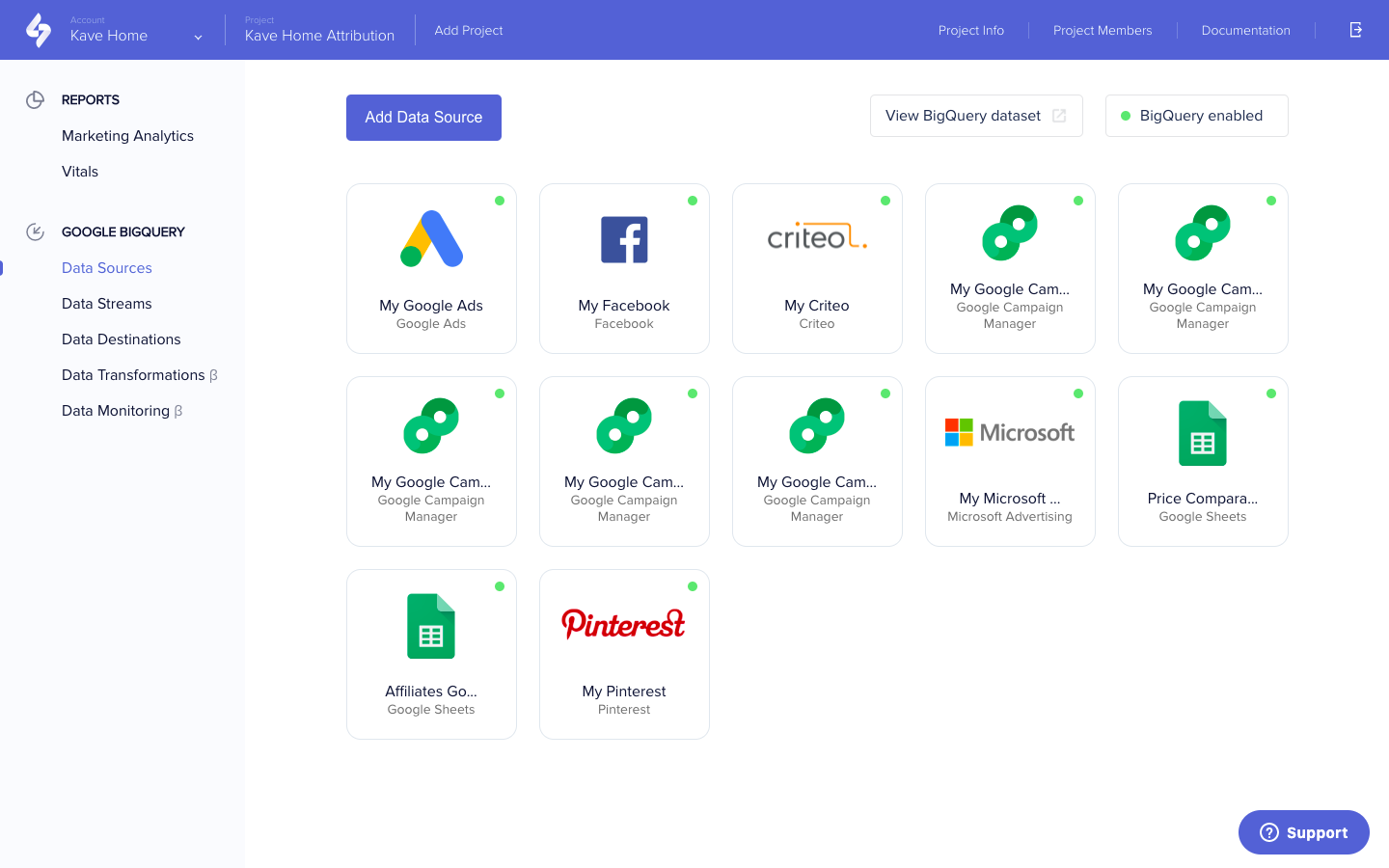 SegmentStream admin panel with connected data sources
Step 3: Build machine learning model
After all the data started to flow into the Kave Home's Google BigQuery, it was now possible to build a machine learning model to evaluate each website session and predict the user's probability to convert in the future. When this probability is sufficient enough — SegmentStream creates a "Modelled conversion" that can be used both for analytics and optimisation.
To understand the detailed logic behind SegmentStream Conversion Modelling Platform, we suggest reading our guide.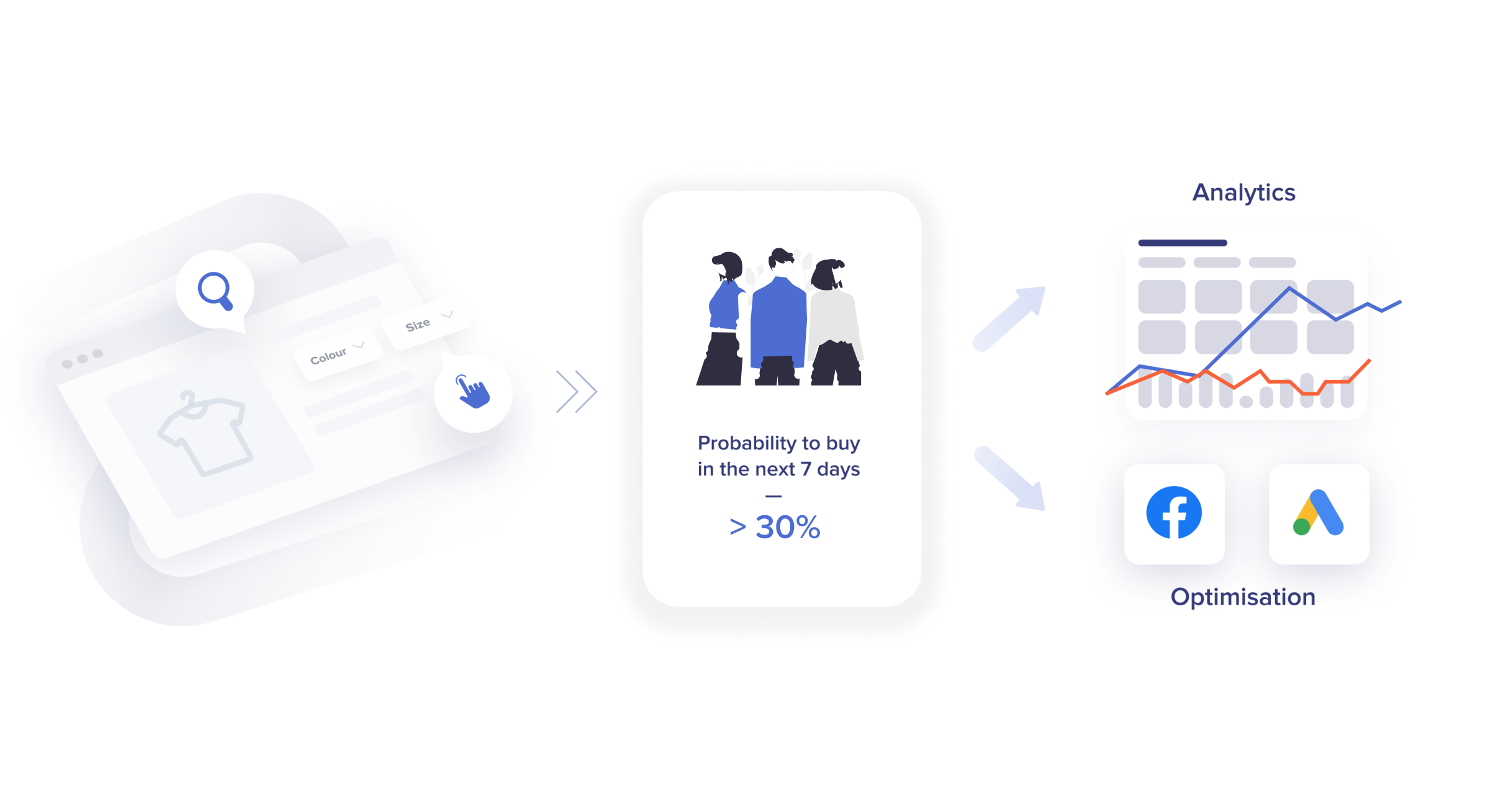 Step 4: Prepare visual dashboards to analyse marketing performance
After all the data has been unified and analysed, everything was ready to prepare an insightful marketing dashboard for Kave Home's Performance team.
The dashboard helps Kave Home to understand the overall picture of their marketing performance across all channels and campaigns, and to compare the amount of attributed conversions by Last Non-Direct Click and Conversion Modelling.
It also allowed to see the real incremental impact of each traffic source including upper-funnel Prospecting campaign on Facebook. This was the first "a-ha" moment for Kave Home team, when they finally were able to prove the value of their Prospecting campaign in hard numbers, and to understand how many conversions their upper-funnel activities are generating.
Step 5: Send Modelled conversions to Facebook Ads
While it is definitely very valuable to finally see the difference in cross-channel campaign performance in a single dashboard, this doesn't always lead to ROAS improvement. To get the real value from implementing Conversion Modelling, the customer must start acting on the insights they see in the dashboards. 
To achieve this, SegmentStream has a very powerful functionality called Conversion Export (Data Destinations). It allows you to automatically send Modelled conversions to ad platforms so you could start optimising your ads based on the incremental impact of each visit. No longer relying on conversion to happen, Modelled conversions are created and sent back to ad platforms immediately after the visit, improving ad optimisation speed and efficiency.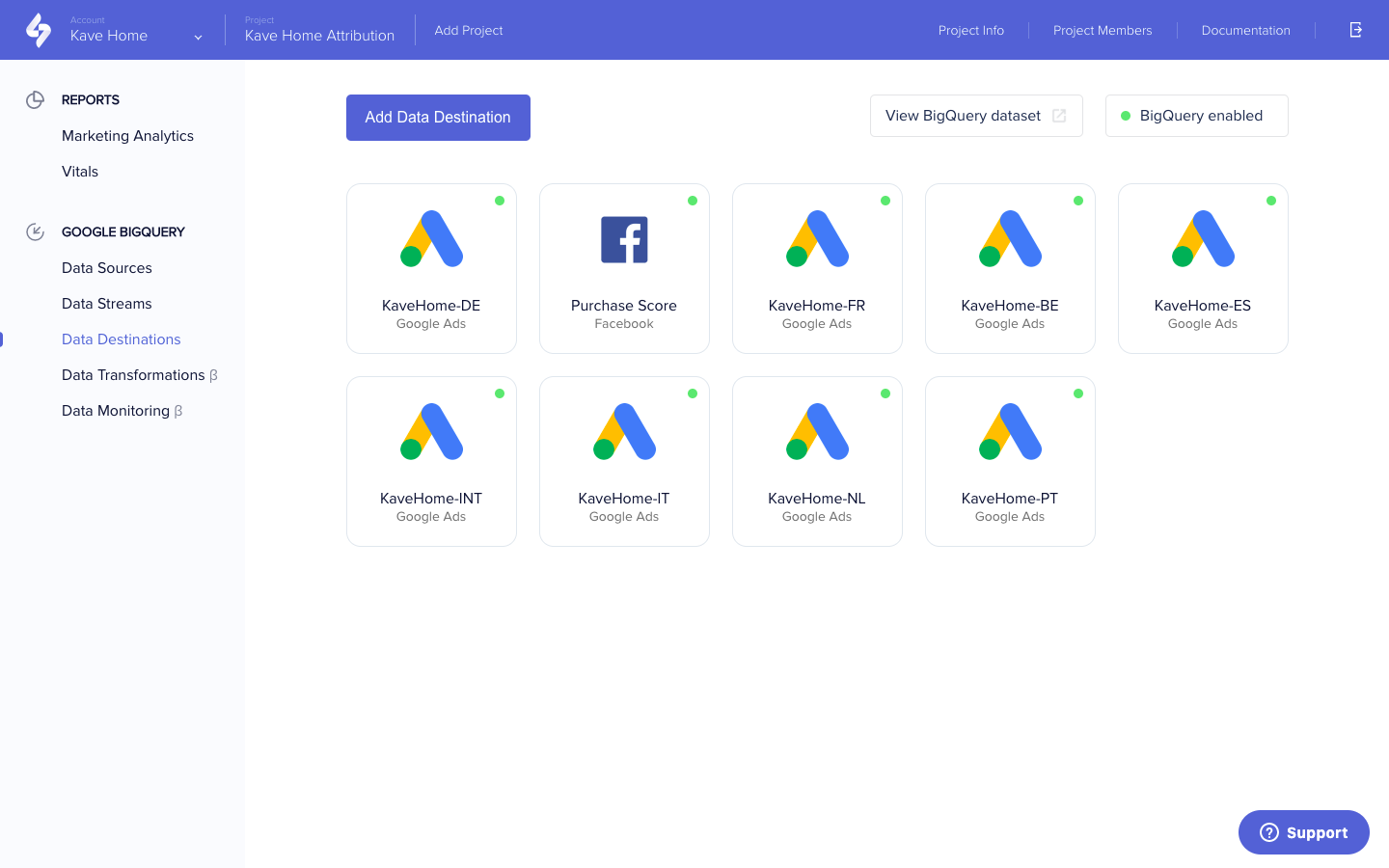 Conversion Export (Data Destinations) in SegmentStream 
Step 6: Launch optimisation on Facebook
After Conversion Export was connected, we started the process of optimisation on Facebook (later on Google Ads as well). 
Luckily, Kave Home operates in many countries, so it was quite safe to test optimisation based on Modelled conversions in one of the countries and compare performance to other countries. Kave Home decided to use Germany which represents a decent chunk of Kave Home ad budget and sales.
First of all, default Purchase conversion was replaced with SegmentStream's Modelled conversion, which reflected the probability of the website visitor to convert within the nearest future. 
Secondly, as SegmentStream only evaluates the probability for each user to buy — it doesn't matter which marketing channel was first and which was the last in the customer journey. This means that SegmentStream's Modelled conversions do not need any manual adjustments or other human involvement in terms of adjusting value for retargeting vs prospecting click. Because of this, we decided to merge retargeting and prospecting ads into one campaign and optimise everything based on Modelled conversions.
Thirdly, the switch from default Purchase to SegmentStream's Modelled conversions helped properly evaluate traffic in the in-app Facebook and Instagram browsers even though journeys within these browsers rarely ended up with cookie-stitched conversions (as we explained above many users switch to their primary browser to complete their purchase there).
Kave Home also removed any additional audience segmentation from targeting settings to allow Facebook to automatically decide who are the best users to show the ads.
Results:
As a result of switching optimization strategy to SegmentStream's Modelled conversions, Kave Home managed not only to decrease the Cost of Sale by 46.5% but also increase Revenue by 663.2%. 
After such success with Germany, Kave Home decided to use SegmentStream for all other countries, and also start optimisation on Google Ads.

Cost / Revenue dynamics (March - April) - Facebook - Germany

Cost of sale dynamics (March - April) - Facebook - Germany
Customer testimonial:
Like most companies, we used Google Analytics to measure our digital marketing performance. Later we tested other cookie-based attribution solutions, such as Campaign Manager Attribution. However, with its attribution models, we were not able to understand the proper value of our upper-funnel campaigns. Social and display campaigns were always undervalued in Google Analytics and on the other tested tools, while retargeting campaigns were shown as very effective. But every time we decided to decrease our budget on social and display, we were noticing a huge drop in sales from all other campaigns. We knew that our upper-funnel campaigns hugely influenced the performance of other marketing campaigns but were not able to prove our gut feeling in a data-driven manner. 

With our Performance team, we started to think about other ways to measure attribution, which apart from taking into account the channels, also took into account the events on our website.

Not so long ago, we discovered SegmentStream's article about their technology that analyses complex user behaviour in order to understand incremental impact of each traffic source. We found their approach quite unique and interesting so decided to give it a try. Now I'm happy to say that we were not disappointed with our decision. 

SegmentStream's platform allowed us to collect all the data across all our marketing sources into our own Google BigQuery data warehouse, stitching and unifying everything together and providing a unified dashboard of our cross-channel marketing performance. But more importantly, we were finally able to understand the real value of all our traffic sources, including social and display campaigns, by applying SegmentStream's approach. Now we are shifting all our optimisation strategies according to insights that we see in SegmentStream dashboards and already see a positive ROAS improvement. 

I would also like to mention the expertise of the SegmentStream team and their willingness to support us along the journey. We really appreciate that and look forward to more milestones in our long-term partnership!
— Anna Nogueras, Traffic Manager of Kave Home
Never miss an article
Get the latest articles, event invitations and product updates delivered straight to your inbox.
Thank you! You've been signed up for our newsletter.
Get started with SegmentStream
Learn about Conversion Modelling and why it is a true next-generation solution to outdated marketing attribution and conversion tracking tools.