Case study
Raymond Chabot: +13.5% leads and +86% calls from Google Ads
Learn how an innovative data-driven agency, Click & Mortar optimised Raymond Chabot's digital marketing performance by applying SegmentStream Conversion Modelling Platform.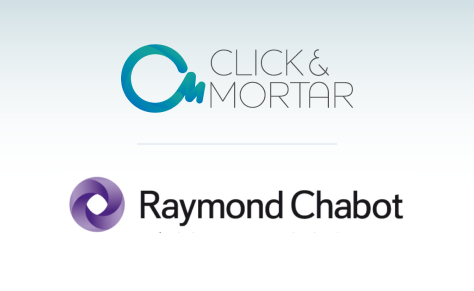 Company name:
Raymond Chabot
Industry:
Financial recovery consulting
"Initially, we were looking for a multi-touch attribution solution but we are glad that we found something more than just that."
About Raymond Chabot:
Raymond Chabot (raymondchabot.com) is the largest Québec-based network of financial recovery counsellors and Licensed Insolvency Trustees that has been helping people get out of debt for more than 40 years, handling nearly 12,000 files per year. The counsellors are personal bankruptcy, corporate bankruptcy and corporate recovery specialists recognized by creditors, tax authorities, the business world and financial institutions. 
About Click & Mortar: 
Click & Mortar (clicketmortar.com) is an innovative digital marketing agency based in Montreal, Canada. The agency helps leading Québec companies grow their businesses faster by offering a set of marketing services ranging from digital strategy consulting to in-depth data analysis and performance-driven advertising. 
The challenge:
Financial recovery consulting is a very competitive space in terms of paid search targeting. Cost per click can reach $200 and the cost of mistakes in ads optimisation strategy can be enormous. Nevertheless, Click & Mortar agency, who are responsible for running Raymond Chabot's digital advertising, did a great job in setting up Google Ads optimisation strategy to deliver the best results possible. 
Paid search campaigns were optimised on conversions from phone calls (tracked using CallRail) and Lead Form completions on the website (tracked using Google Analytics). Both conversions then were imported to Google Ads from Google Analytics using Last Non-Direct Click attribution. Also, Calls from Ads were used as an additional conversion for users that didn't even visit a website but decided to make a call right from Google search results.
However, even with this advanced setup, there were several other challenges that were not possible to solve using the standard functionality of Google Ads and Google Analytics:  
Challenge #1: Difficult to optimise display campaigns properly. Upper-funnel campaigns are very important to generate awareness in Raymond Chabot's offering and have a huge impact in moving potential customers toward the conversion. However, with Last Non-Direct Click attribution, such campaigns don't receive almost any conversions. So, if the CPA strategy was applied to Display campaigns — those immediately become biased towards the lower-funnel (retargeting), while upper-funnel campaigns (awareness) were not showing at all. At the same time, when a limited CPM strategy was applied — the ads were not shown at all. 
Challenge #2: Paid search campaigns had limited learning capability due to a small amount of Last Non-Direct Click conversions. It is a quite common situation for a niche business with expensive leads — you simply don't have enough conversions to train any machine learning algorithms, including advanced Google Ads algorithms. It was clear that Google Ads should receive much more signals about the campaign, ad content, and term performance to make its ML-model work but it was not clear which exact signals to send.
Click & Mortar understood that the underlying issue is in the Last Non-Direct Click attribution, and to achieve proper optimisation they should move away from LNDC attribution to a multi-touch approach that is able to evaluate the true channel and campaign performance, including upper-funnel display campaigns. At the same time, such multi-touch attribution technology should have helped to overcome the "limited learning" problem by evaluating campaigns that tend to receive zero or just a few conversions with the Last Non-Direct Click approach. 
This is how Click & Mortar's team started to search for an attribution solution and eventually found SegmentStream.
Solution overview:
SegmentStream is an advanced Conversion Modelling Platform that provides future-thinking marketing teams with a next-generation solution to outdated multi-touch attribution tools that are no longer suitable for today's complex customer journeys and modern tracking restrictions.
SegmentStream Conversion Modelling Platform combines first-party behavioural visitor data with machine learning algorithms to enable comprehensive measurement and performance optimisation.
The SegmentStream solution seemed like a great fit for Click & Mortar, and the implementation process has begun. SegmentStream solution architecture
Step 1: Collect real-time user behaviour data
We use machine learning to evaluate the incremental impact of each visit based on website visitor behaviour data, even if a final conversion can not be observed.

In order to build the a machine learning model, unsampled real-time user behavioural data should be collected first. 
The implementation process took no longer than 5 minutes. SegmentStream's JS tracker automatically intercepts all the hits that are already sent to Google Analytics, and collects this information about website visitors' behaviour and lead forms submissions directly to client's Google BigQuery data warehouse.  
Step 2: Import calls from CallRail
Raymond Chabot uses CallRail as their dynamic call-tracking system to understand which website visitors decided to contact the company by making a phone call instead of completing the lead form on a website. 
As CallRail was already integrated with Raymond Chabot's Google Analytics account, we imported the required information about the calls from Google Analytics to Google BigQuery using turn-key integration in SegmentStream. This was also done in 5 minutes.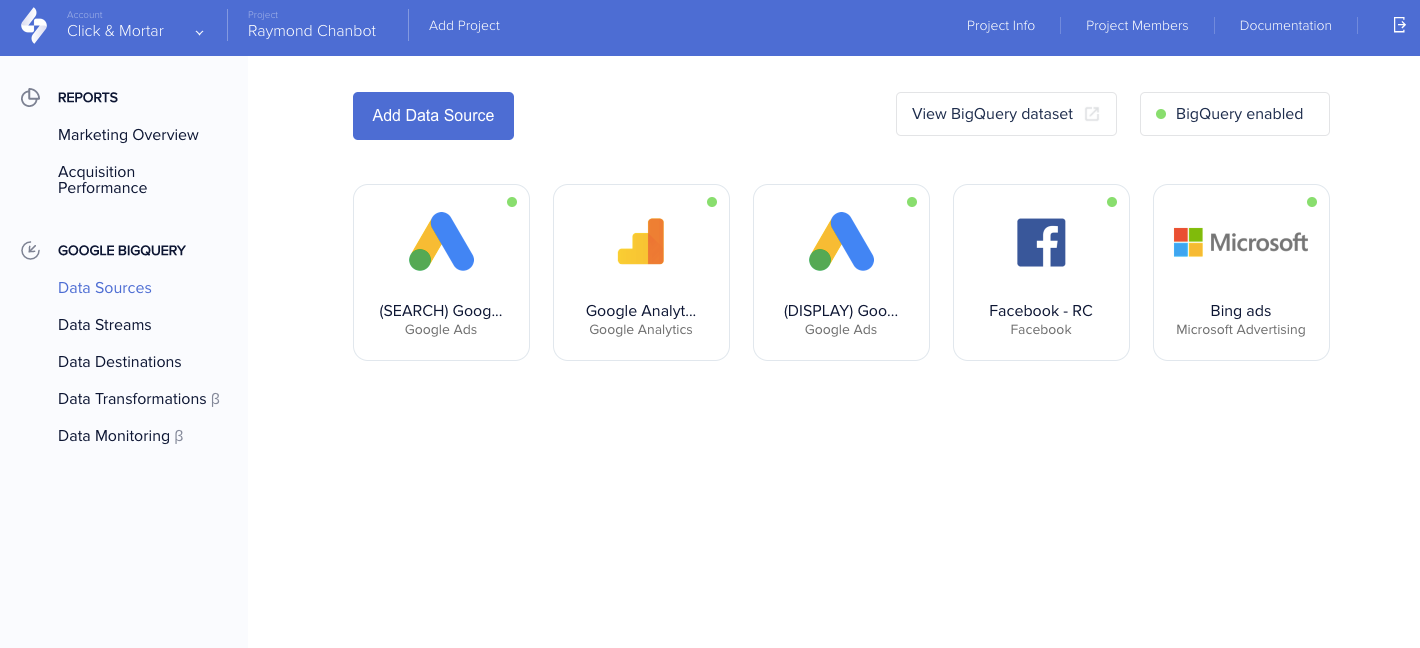 SegmentStream admin panel with connected data sources
Step 3: Collect advertising costs from all marketing channels 
Advertising costs are required to analyse cross-channel ROAS and CPA metrics in one dashboard. Click & Mortar run digital advertising across three major platforms: Google Ads, Facebook, and Microsoft Ads (Bing). 
SegmentStream platform has turn-key integrations with all these platforms, so this part of the implementation process also did not take more than 5 minutes. After all the advertising accounts have been connected, SegmentStream started to import all the information about ad clicks, costs, and impressions on a daily basis into a client's Google BigQuery data warehouse.  
This was the final step in the data collection process, and all required data for further marketing reporting was now available in a single place. 
Step 4: Analytics and optimisation
After all the required data was collected into the client's Google BigQuery, it was now possible to train SegmentStream's machine-learning model that predicts calls and lead form submissions based on customer behaviour on a website. 
SegmentStream Conversion Modelling Platform carefully evaluates actions and micro-conversions each website visitor takes, and measures user's probability to convert in the future. Depending on the visitor's behavioural pattern and the contextual information about the visit, the probability to convert can be high or low. 
To understand the detailed logic behind SegmentStream platform, we suggest reading our guide.  

It is worth noticing that SegmentStream's ML-model is customised for every website in order to achieve the most accurate predictions, as each website has different behavioural patterns and conversions. 
Step 5: Prepare visual dashboards in Google Data Studio 
After all the data has been collected, unified, and analysed using SegmentStream Conversion Modelling Platform, everything was ready to prepare insightful marketing dashboards for Click & Mortar's marketing team. The reports were created in Google Data Studio as this BI tool has native integration with Google BigQuery, and an easy-to-use interface. 
The first report helps to quickly understand the overall picture of the marketing performance across all channels and campaigns, while the second report allows Click & Mortar's team to drill-down and analyse traffic source performance on a very granular level, as well as to compare the number of attributed conversions by Last Non-Direct Click vs Conversion Modelling.  
Step 7: Connect ML-powered attribution results to Google Ads
After receiving fully-automated marketing dashboards, Click & Mortar was finally able to see the real picture of their marketing performance.
However, the question was: "How can we now act on these insights given the fact that we do not manage advertising bids manually but use automatic bidding strategies of Google and Facebook?"
So, the next step in the implementation project was to send Modelled conversions back to advertising tools in order to improve automatic bidding strategies. Click & Mortar decided to start with Google Ads as it is the main advertising channel for Raymond Chabot.     
As SegmentStream has direct integration with Google Ads, it was very easy to set up automated Conversion Export.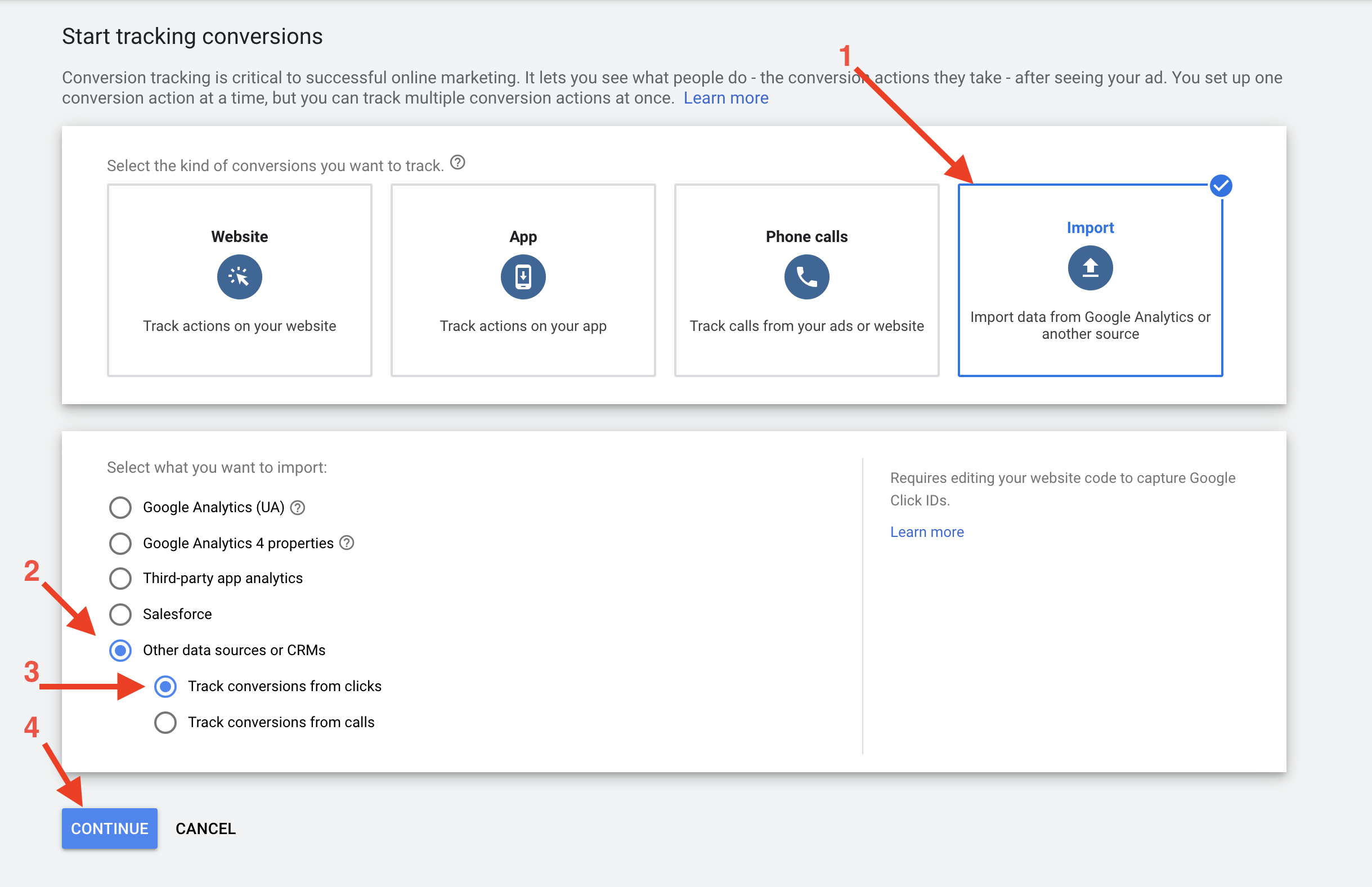 Step 8: Switch Google Ads to the new target CPA strategy
As the final step after Conversion Export has been set up, campaigns in Google Ads were switched to the new target CPA strategy without bid limit to optimise based on the imported conversions by SegmentStream instead of Last Non-Direct Click conversions. 
The new strategy applied for seven Google Ads campaigns which stand for 50% of the monthly budget. This way it was easy to compare the optimisation results with other campaigns that were not using the new target CPA strategy.   
Results:
The results speak for themselves:
CPA decreased by 8.4%
The amount of total leads increased by 13.5%
Direct calls from ads increased by 86%
Key takeaways:
SegmentStream's Conversion Modelling enabled the ability to give proper credit to upper-funnel interactions that give significant impact on future conversions. This allowed Click & Mortar to properly apply target CPA strategy for Display, as well as Paid Search campaigns.
LNDC conversions from Google Analytics were replaced with fractional conversions based on SegmentStream platform, which allowed to increase the number of signals for Google Ads to learn almost 7 times compared to Last Non-Direct Click attribution signals.
This means that we've started sending feedback about the value of each click for a much bigger amount of gclids back to Google Ads which allowed it to train its automated bidding strategy much faster.
After applying SegmentStream's approach, Raymond Chabot lifted their big cap completely and for some users cost per click is now reaching $200. Nevertheless, this aggressive bidding pays off as now Google can target users that are most likely to buy much more accurately which helps Raymond Chabot win the competition in auction for the best prospects.
The whole implementation process took just a bit over a month, mostly because of the three weeks that were required to collect enough data for the machine learning model. No developers or data scientists were involved in this project from the client or agency side. 
Customer testimonial:
Initially, we were looking for a multi-touch attribution solution but we are glad that we found something more than just that. SegmentStream truly helped us to understand the real picture of our overall marketing performance by collecting and unifying all the data into a set of easy-to-use and insightful marketing dashboards that we now use on a daily basis. 

During our collaboration, SegmentStream released a very promising functionality of Conversion Export (Data Destinations) in order to send Modelled conversions back to advertising tools, thereby closing the loop of data-driven marketing optimisation. It definitely was worth running an experiment and seeing the results for ourselves.

As Google Ads is the main advertising channel for Raymond Chabot, we decided to start with this one. We picked seven campaigns that account for half of our advertising budget and switched them to the new optimisation strategy proposed by the SegmentStream team. 

After more than one month of this experiment, we are seeing steady positive results, and we are actually not surprised — even before launching an experiment it was clear that this idea should work in theory. We are just happy that we confirmed our hypothesis, and can measure the results in hard-numbers.  

Now, after running a successful experiment on Google Ads, the same strategy will be implemented for Facebook and Microsoft Ads. We are looking forward to seeing the results of these experiments, and definitely will keep investing more of our time into such smart optimisation strategies powered by SegmentStream.
— Olivier J. Bergeron, Founding Partner, Click & Mortar
Never miss an article
Get the latest articles, event invitations and product updates delivered straight to your inbox.
Thank you! You've been signed up for our newsletter.
Get started with SegmentStream
Learn about Conversion Modelling and why it is a true next-generation solution to outdated marketing attribution and conversion tracking tools.