Case study
25% more purchases using Conversion Modelling: Cosatto's success story
Learn how Cosatto, a brand of premium and award-winning baby products, implemented SegmentStream Conversion Modelling Platform to reallocate budgets and improve the performance of their Google Ads campaigns.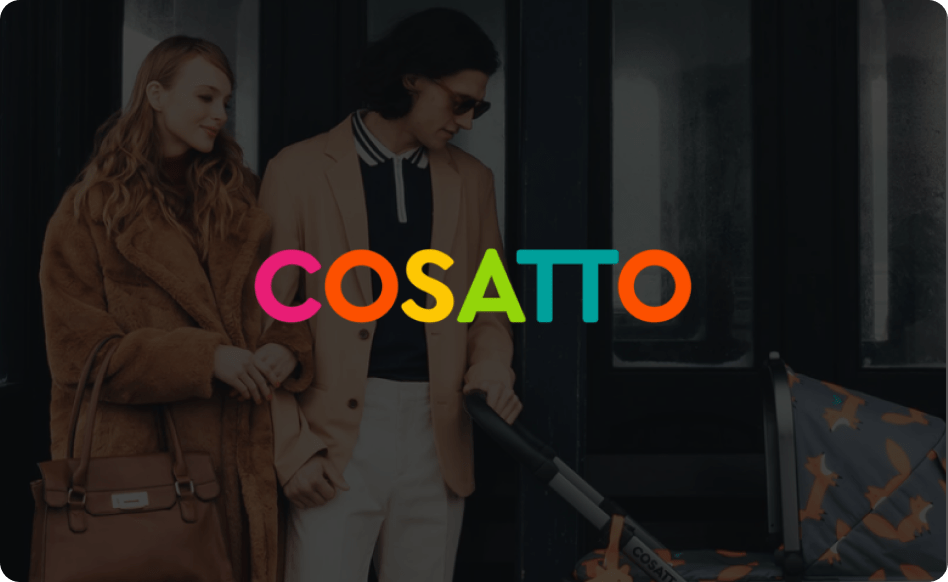 "We are extremely happy with this collaboration and definitely looking forward to solving new challenges with SegmentStream. "

— Dan McKenna, Associate Digital Marketing Director at Cosatto
Key results:
126% increase in purchases from Google Ads after the first month, with a further 190% increase in purchases the two months after
Improvement in the entire marketing mix: 25% more total purchases and a 12% decrease in cost per purchase
About Cosatto:
Cosatto is a well-known premium global nursery brand manufacturing travel systems, pushchairs, car seats and highchairs. They create friendly, thoughtful award-winning products with baby-engaging designs that enhance the lives of kids and parents.
In 1981, Andrew Kluge, the inventor of the framed pushchair raincover, created Cosatto with just a sewing machine and a patterned shirt. Now a famous nursery brand, with 3 million happy babies so far, Cosatto is saving the world from boring baby stuff.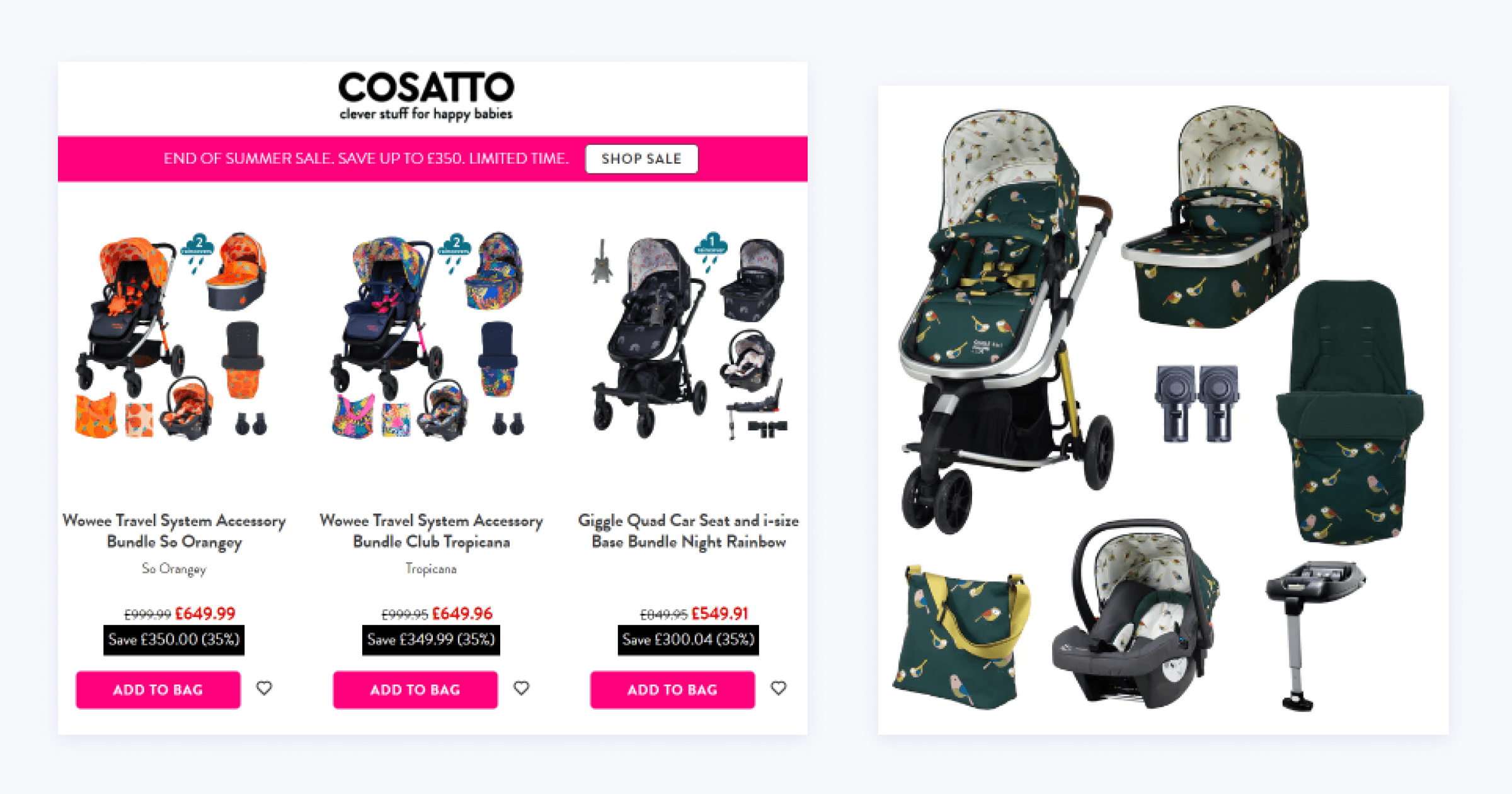 The challenge: 
When it comes to high-value products, customers typically spend more time evaluating the offers on the market and searching for better alternatives or deals. And now we're talking about parents that are choosing baby products — they definitely want what's best for their children and won't rush to make the right decision.
As a result, the brand has a long sales cycle — on average, it takes a user 8 days to complete a purchase from the initial website visit. However, this statement is only true for those conversions tracked by a single website cookie. This means that the real sales cycle is much longer, as people often use multiple browsers and devices, and website cookies can expire or be removed.  
Challenge #1: Proper attribution and budget allocation
Due to long sales cycles and complex cross-device customer journeys, it is impossible to track conversions down to the initial traffic source. 
As a result, Cosatto's marketers struggle to see the real value of upper-funnel and mid-funnel campaigns. For example, many conversions are attributed to the "direct/none" category no matter which attribution model was used for analysis purposes. 
A lack of insights into which traffic sources were actually responsible for generating conversions prevented Cosatto's marketers from efficient budget allocation and marketing mix optimisation.
Challenge #2: Inability to scale Google Ads efficiently
Popular ad platforms such as Google Ads and Facebook Ads rely on using Smart Bidding algorithms to drive as many conversions as possible for the advertisers. To maximise campaign performance, it's crucial to provide ad platforms with information about the value of each click as soon as possible. 
A lack of feedback signals about the value of ad clicks prevents Smart Bidding algorithms from efficient targeting, learning, and optimisation. This is a common problem for businesses that have long and complex customer journeys, such as Cosatto, as most of the ad clicks do not get any value or receive the value with a huge delay. 
For Cosatto, that meant that their Google Ads and Facebook Ads campaigns were not performing the best they could, which in turn impacted the ability of the company to scale their audiences on both channels.
SegmentStream — solution overview:
SegmentStream is a Conversion Modelling Platform that provides a next-generation solution to outdated attribution and conversion tracking tools. Traditional methods are no longer suitable for cross-device and cross-browser customer journeys and modern cookie restrictions.
Unlike most marketing attribution tools that assign a value from the conversion retrospectively, SegmentStream evaluates each website session by predicting the user's probability to convert in the future. 
This guarantees that each traffic source immediately gets the value it deserves even if a future conversion happens from another device, browser, or cookie. 
Now, let's see how this approach works in Cosatto's case.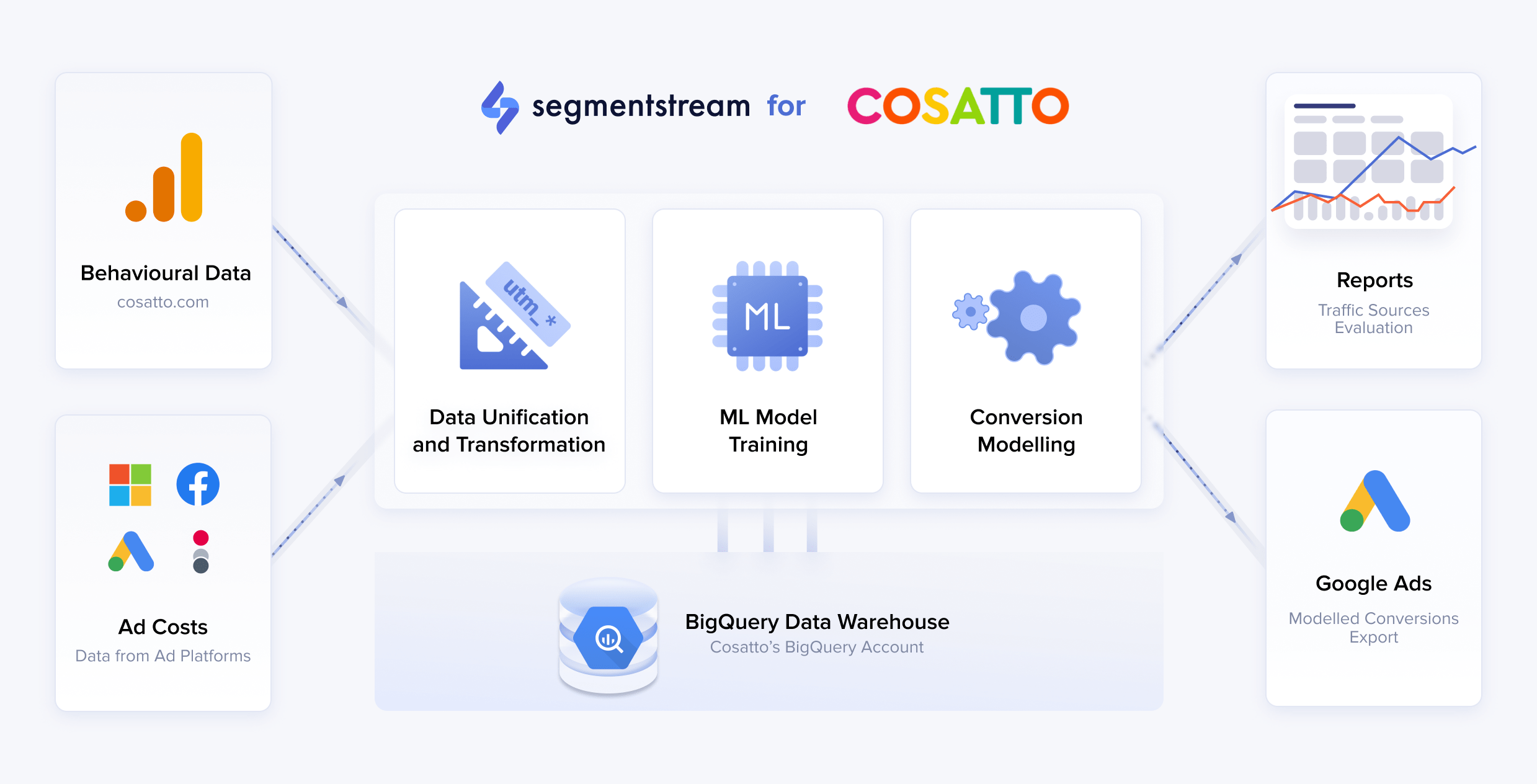 SegmentStream solution architecture for Cosatto
Step 1: Collect website behavioural data
SegmentStream uses Machine Learning to evaluate the impact of each website visit. To build an ML model, website behavioural events should be collected first.
Cosatto started to collect real-time user behaviour data from their Google Analytics into their own BigQuery data warehouse using SegmentStream's platform's "Data Sources" functionality in no time.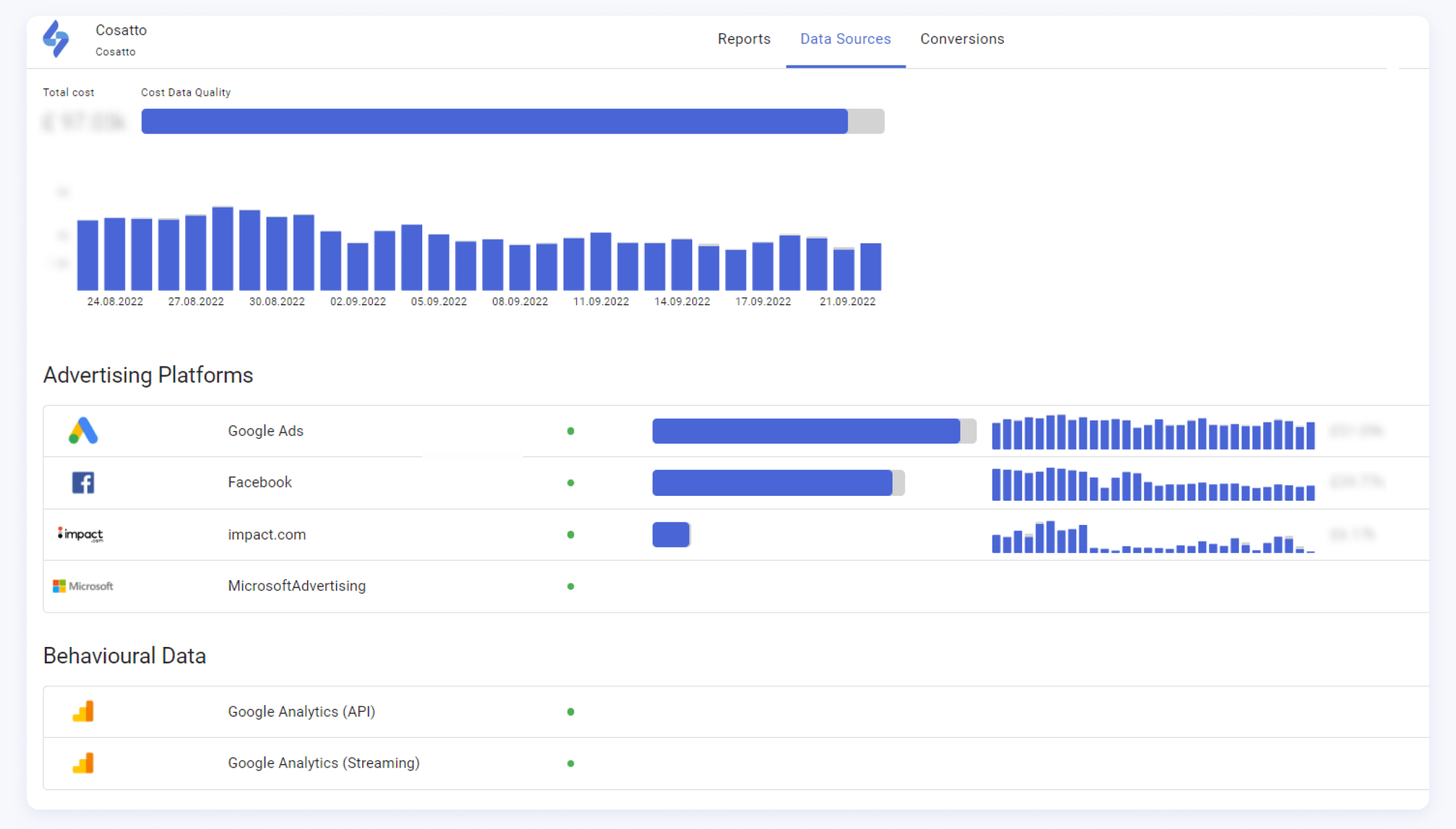 SegmentStream Data Sources functionality
Step 2: Collect ad costs from marketing channels 
SegmentStream has integrations with the most popular advertising platforms, so the setup usually takes little time. 
After the integration was completed, SegmentStream started to import all the information about ad clicks, costs, impressions, etc. regularly into Google BigQuery's warehouse. 
At this point, all valuable marketing data has been collected in one place for further analysis and reporting.
Step 3: Conversion Modelling
The data collected in Cosatto's BigQuery warehouse was used to build a machine learning model that evaluates each website session and calculates the user's probability to convert in the future. 
If the user has a high probability to convert, SegmentStream will consider this website session valuable and will create a Modelled Conversion. This Modelled Conversion will also provide a defined value for that visitor, based on their likelihood to purchase in the future.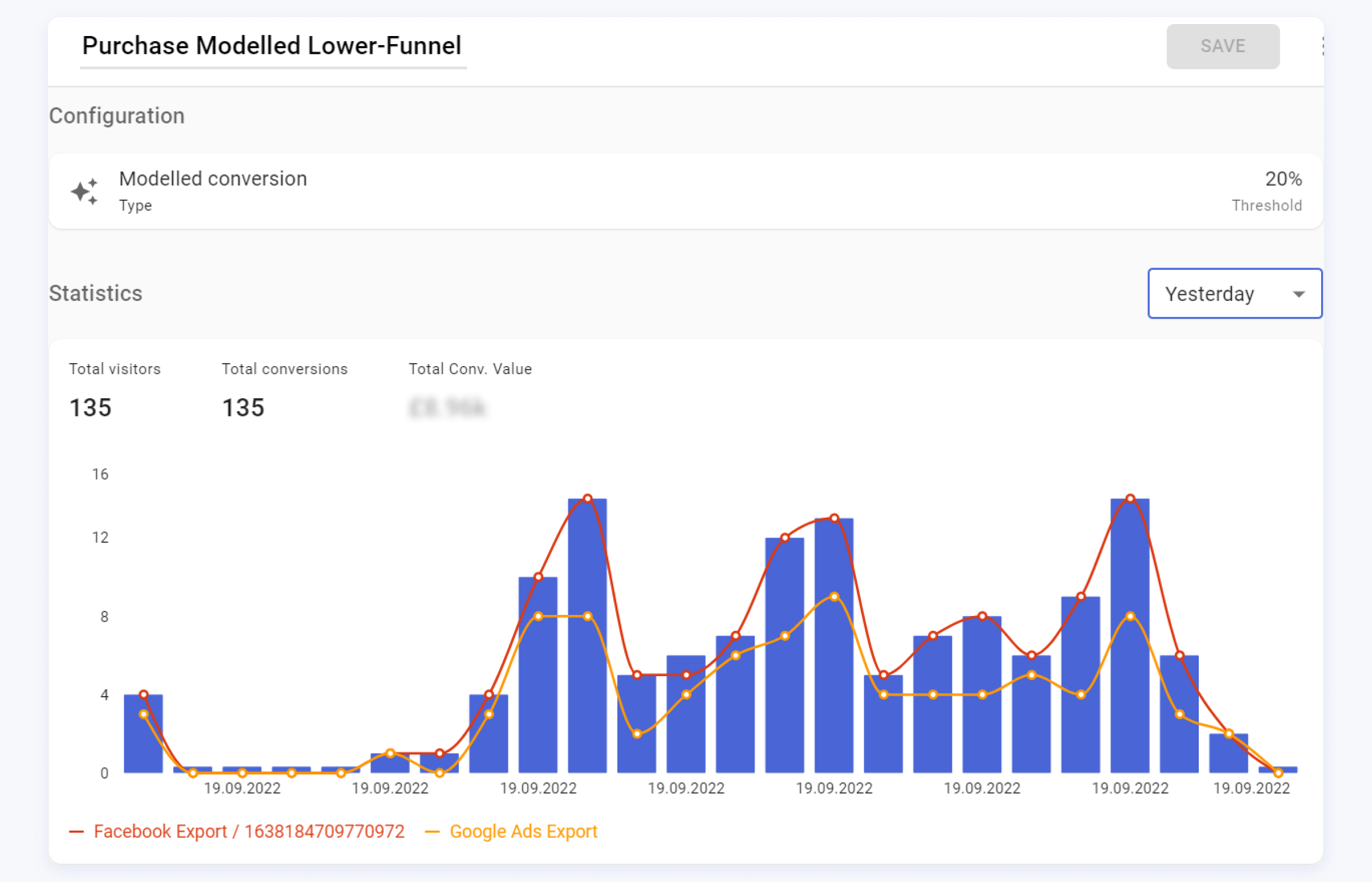 SegmentStream inferface - Modelled Conversion
Once a Modelled Conversion is created, it is attributed to the traffic source that generated this website session. This means it is possible to understand which traffic sources generated more valuable traffic to the website.
To dig deeper into the topic of Conversion Modelling, read our guide for performance marketers.

Step 4: Reporting and analysis 
Once Conversion Modelling was implemented, the team at Cosatto was able to measure the impact of all their marketing channels and campaigns in a new way. 
They were able to see which traffic sources have the biggest impact driving website visitors with a high chance to convert, compared to being able to measure only those conversions generated within the same cookie. 
This in turn helped Cosatto uncover issues like the fact that they were overspending on Facebook, while there was room to scale some of their Google Ads campaigns further.
Cosatto reallocated its marketing budget according to the insights generated by the Conversion Modelling platform and started to see an improvement in the entire marketing mix.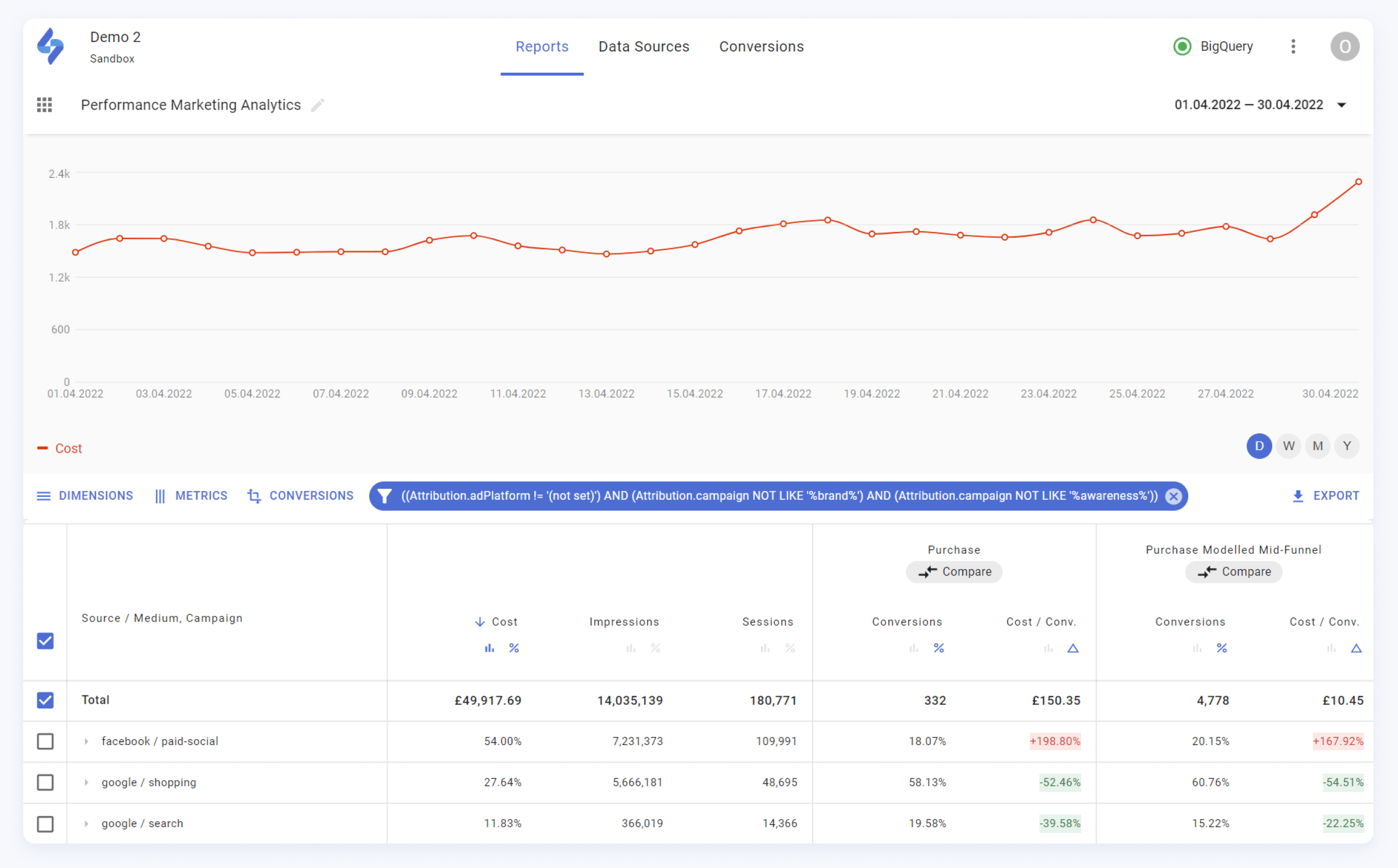 Example of a Performance Marketing report in SegmentStream (Demo data)
Step 5: Conversion export and Google Ads optimisation
SegmentStream's Conversion Modelling Platform not only enables clients to generate more accurate marketing reports, but also makes these insights actionable by feeding Modelled Conversion back into ad platforms, both Google Ads and Facebook Ads.
While Modelled Conversions don't equate to a final sale or closed deal, they are helpful indicators of intent to complete a final conversion and can be considered 'valuable visits'. 
To give Google Ads as much conversion data to work with as possible, and to optimise toward high-quality users, the marketers at Cosatto started to use Modelled Conversions as an amplification tool to add to data on regular Purchase conversions.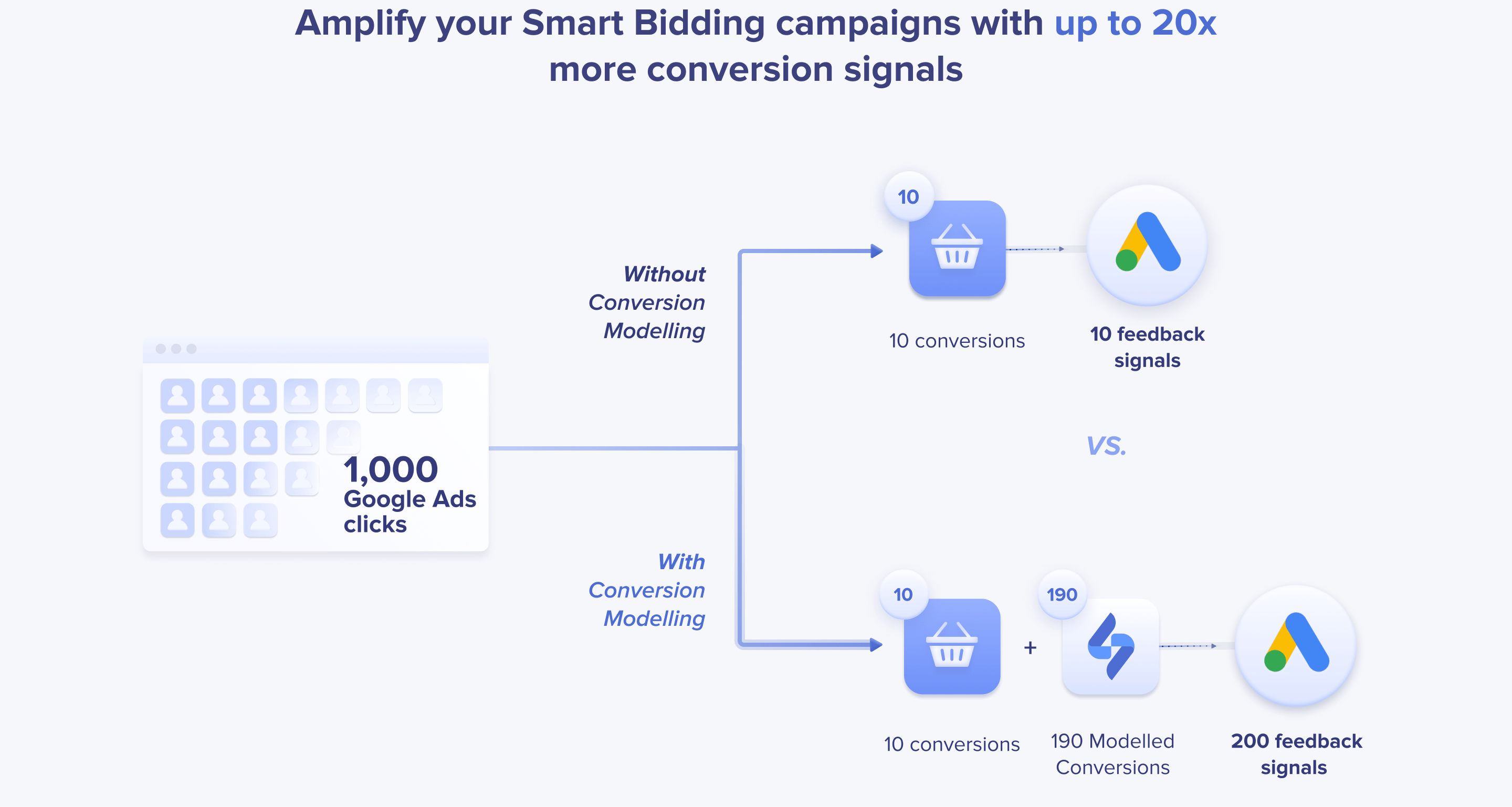 How SegmentStream amplifies Smart Bidding campaigns
This combined conversion action was exported to Google Ads and used as a custom conversion goal on the campaign level along with the Target CPA bid strategy. 
This method provided Google Ads with a lot of feedback signals about the value of each click and improved the performance of their smart bidding algorithms which, in turn, generated a higher number of Purchases for Cosatto. 
Results:
Using SegmentStream's Conversion Modelling Platform, the company was able to reach outstanding results in a short time.
1. A thorough analysis of the real impact of traffic sources
Using Conversion Modelling, Cosatto's marketing team was finally able to understand the impact of each session. Even when the conversion didn't happen within the same cookie it was still possible to analyse the impact of the paid ads.
2. Data-wise budget allocation and improvement of the marketing mix
As the performance of all paid ads started to be analysed properly, the team at Cosatto realised that budget allocation needed to be tweaked. The whole approach to budget allocation became data-driven.
Cosatto allocated more budget towards Google Ads Generic Search campaigns (the ones that use generic keywords without mentioning the brand) following insights from Conversion Modelling: 39% increase towards Search overall and +163% towards Generic Search specifically. 
This and other budget allocation actions resulted in an improvement of the overall marketing mix — the total number of purchases went up by 25% and the cost per purchase dropped by 12%.
3. 190% more purchases from Google Ads
By using Modelled Conversions as an additional conversion signal for Google Ads Smart Bidding optimisation of Generic campaigns, Cosatto's team was able to see positive results after the very first month.
According to SegmentStream reporting, the number of purchases increased by 126% and the CPA dropped by 13%. While their CPC was expected to rise and it did by 37%, the quality of traffic to Cosatto's website was much better.
Also, the growth didn't stop after the first month. For the two following months, there was an even higher increase in purchases by 190% and a decrease in CPA by 10% as well.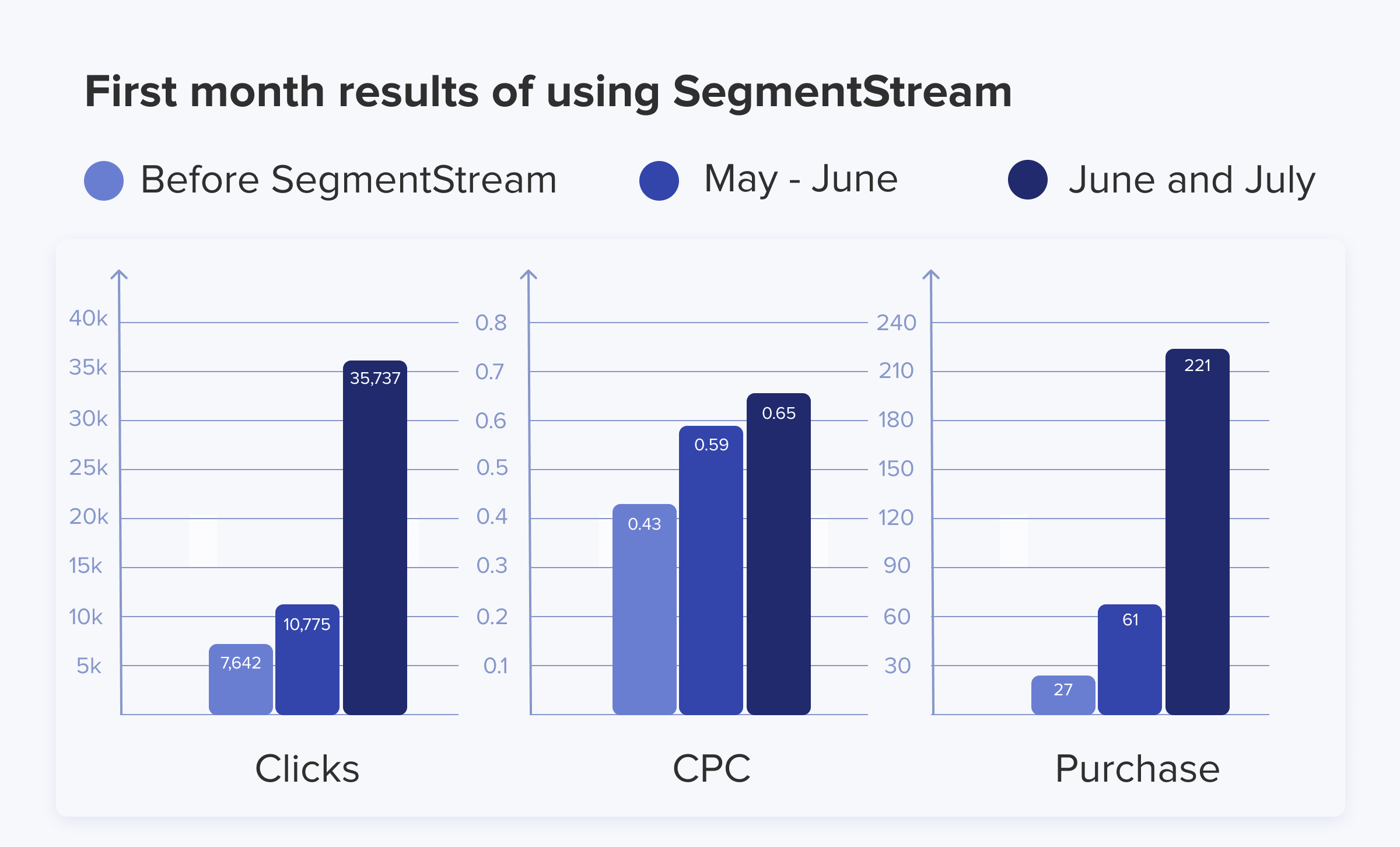 Not only did Cosatto see an uplift in Purchases but they also found that Generic Search campaigns optimised towards Modelled Conversion generated 4 times more visits with a high probability to convert in the future: 
Mid-Funnel Modelled Conversions number (visits with at least 10% probability to convert) increased by +289%
The cost per Modelled Conversion dropped by 32%.
This demonstrates that by using Modelled Conversion as an additional feedback signal for Smart Bidding optimisation, advertisers such as Cosatto can increase both cookie-tracked conversions and high-quality website visitors that may convert within another device, browser, or cookie.
Customer Testimonial:
Before we learned about SegmentStream, we weren't able to allocate budgets between paid ads channels properly due to the inability to analyse their real impact in depth. All the attribution models that we tried granted too little credit to upper-funnel campaigns. However, we knew that they do bring a lot of value in generating sales from other traffic sources. Yet, we could not measure their impact in a data-driven manner.

SegmentStream's approach was different. Their Conversion Modelling Platform provided us with insights into which traffic sources truly contribute to moving users towards future purchases, even if the purchase might happen from another browser or device.

The team at SegmentStream not only accompanied us during the implementation stage but also helped us to comprehend attribution insights properly. 

More importantly, we were able to make these insights truly actionable by providing our ad platforms with the modelled value of each ad click. This, in turn, improved their auto targeting capabilities and we started to see a solid, continuous increase in ROAS. In just a month, the ROAS from Google Ads increased by 126%

The performance of the overall marketing mix improved as well — we saw a little under a 25% increase in total purchase, with the cost of sale going down by 12%

We are extremely happy with this collaboration and definitely looking forward to solving new challenges with SegmentStream.
— Dan McKenna, Associate Digital Marketing Director at Cosatto
Never miss an article
Get the latest articles, event invitations and product updates delivered straight to your inbox.
Thank you! You've been signed up for our newsletter.
Get started with SegmentStream
Learn about Conversion Modelling and why it is a true next-generation solution to outdated marketing attribution and conversion tracking tools.