Case study
Lanieri achieves a 50% performance uplift with SegmentStream
Learn how Lanieri collaborated with SegmentStream to achieve outstanding results from ad campaigns during Black Friday — comparing the results of 2021 and 2022.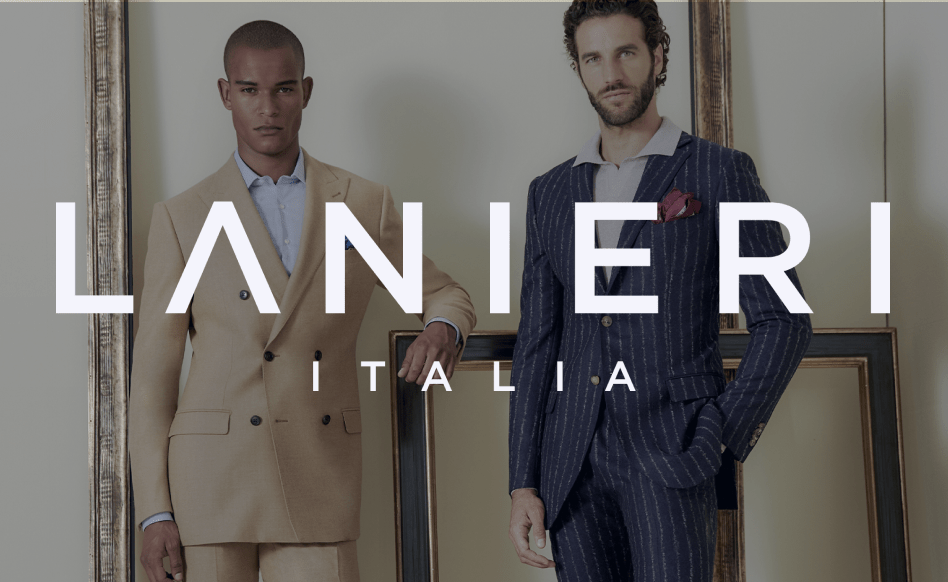 "I'm very happy with the added value that SegmentStream has brought to our Marketing Mix so far."

— Riccardo Campaci, Head Of Digital Marketing
Key results:
50% increase in ROAS for Google Ads campaigns with a 55% CPC reduction
103% increase in ROAS for Facebook Ads campaigns with a 27% decrease in cost per conversion
About Lanieri
Lanieri is an Italian e-commerce company offering the finest designs of men's clothing, dedicated to elegance with a blend of tradition and technology. The custom-tailored suits have been delivered to clients from 35 countries already making Made in Italy clothing available to any gentleman.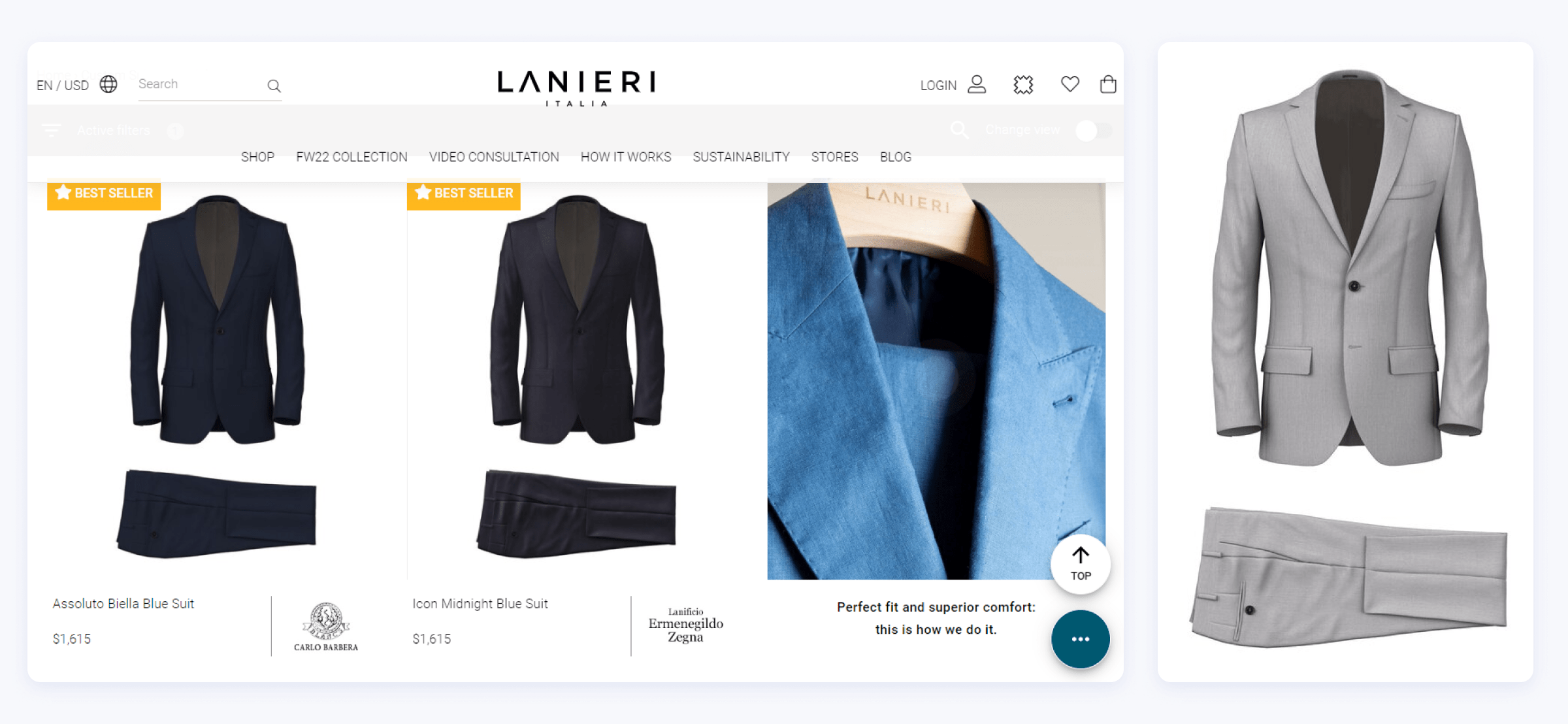 The challenge: 
Due to the nature of the business, the customer buying journey is long and complex. It can take up to 45 days for a user to complete a purchase after the initial interaction with Lanieri's website.
This results in multiple challenges for Lanieri's marketing team:
Ad platforms do not get timely feedback about the value of each click, and very often do not get any feedback at all. For example, if the user clicks on a Facebook ad campaign but makes a purchase after 7 days this conversion will not be attributed to the initial Facebook ad click. The lack of value signals prevents the ad platforms' algorithms from efficient targeting, bidding, and optimisation.   
It is not possible to make confident budget allocation decisions as most of the traffic sources do not get the value they deserve. Due to modern-day cookie tracking restrictions, cross-browser and cross-device customer journeys, it is not possible to track the entire customer journey anymore. As a result, a lot of conversion value is being attributed to direct/none, organic, and brand campaigns, while paid campaigns, especially awareness campaigns, are heavily undervalued. With this in mind, it was extremely difficult for Lanieri's team to make data-driven budget allocation decisions. 
To solve both of these challenges, Lanieri has partnered with SegmentStream. 
SegmentStream — solution overview:
SegmentStream is a Conversion Modelling Platform that provides a next-generation solution to outdated attribution and conversion tracking tools. 
Unlike most marketing attribution tools that assign a value from the conversion retrospectively, SegmentStream evaluates each website session by predicting the user's probability to convert in the future. When this probability is sufficient enough, the platform creates a Modelled Conversion that can be used for measurement and ad optimisation.
This guarantees that each traffic source immediately gets the value it deserves even if a future conversion happens from another device, browser, or cookie. 
Now, let's see how this approach works in Lanieri's case.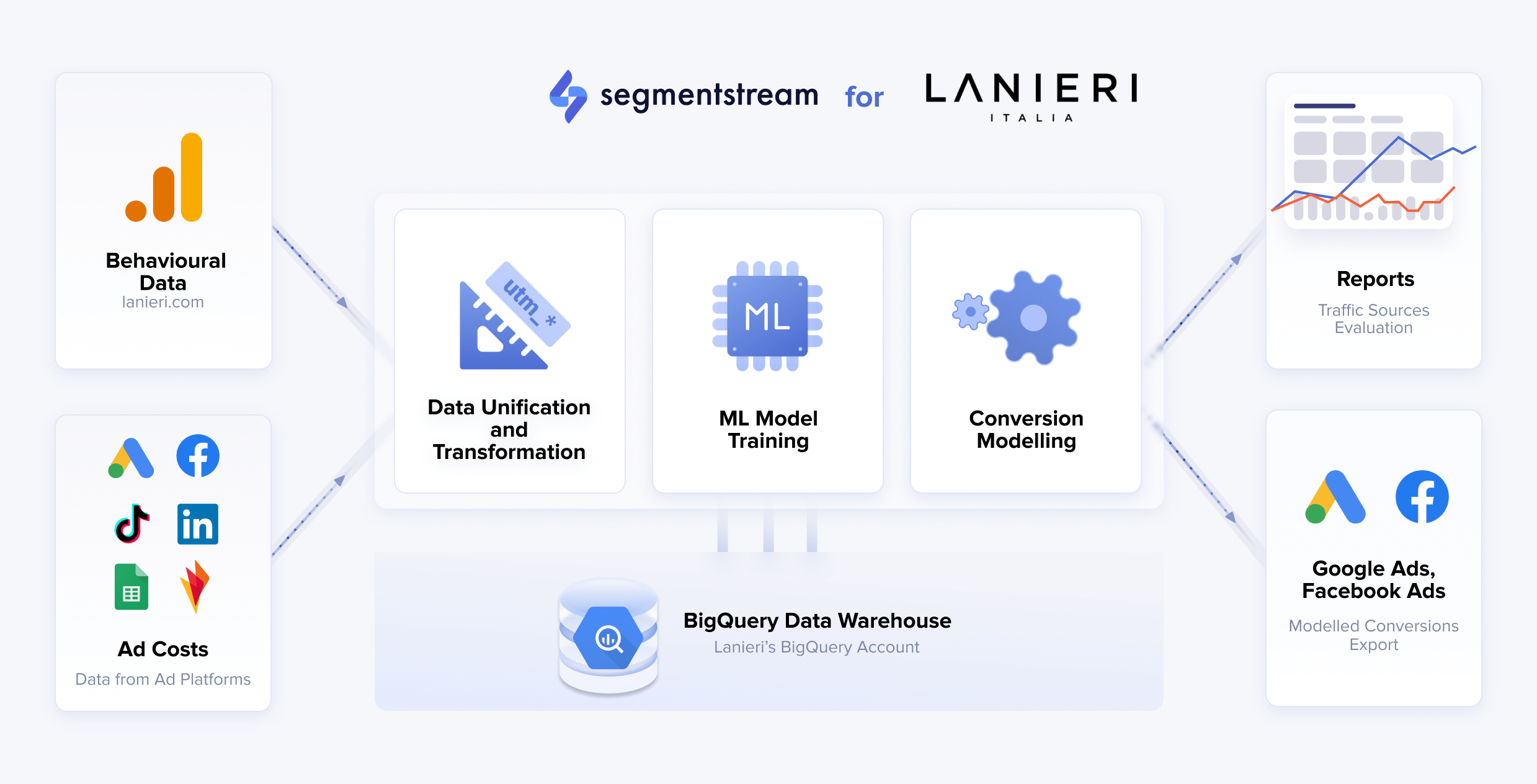 Step 1: Collect website behavioural data
SegmentStream Conversion Modelling Platform uses Machine Learning algorithms to analyse the impact of each website visit. To build an accurate ML model, SegmentStream requires website data on user behaviour. 
Since Lanieri uses Google Analytics 4, the website behavioural data was already available in the client's Google BigQuery account. By connecting to the GA4 dataset, SegmentStream was able to use already collected historical behavioural data without a need to implement any JS code on Lanieri's website.  
Step 2: Collect ad costs from marketing channels 
SegmentStream already has turn-key integrations with the most popular advertising platforms, so the setup usually takes little time.
Once the ad platforms are connected, SegmentStream automatically imports all the data about ad clicks, costs, impressions, etc. into the client's Google BigQuery. 
Once collected, ad cost data is stitched with website sessions and conversions, fully automatically. 
Step 3: Conversion Modelling
SegmentStream Conversion Modelling Platform assesses all actions every website visitor takes and measures the users' probability to convert in the future. Once the probability is sufficient enough, SegmentStream creates a Modelled Conversion that can be used both for measurement and optimisation.
After a Modelled Conversion is created, it is immediately attributed to the traffic source that started this website session. Therefore it is possible to understand which channels and campaign sources generated more valuable visits and send this information back to ad platforms to help them drive high-quality traffic.

To dig deeper into the topic of Conversion Modelling, read our guide for performance marketers.

Step 4: Reporting and analysis 
SegmentStream provided Lanieri with a detailed overview of campaigns' performance, which was a number one priority for their business.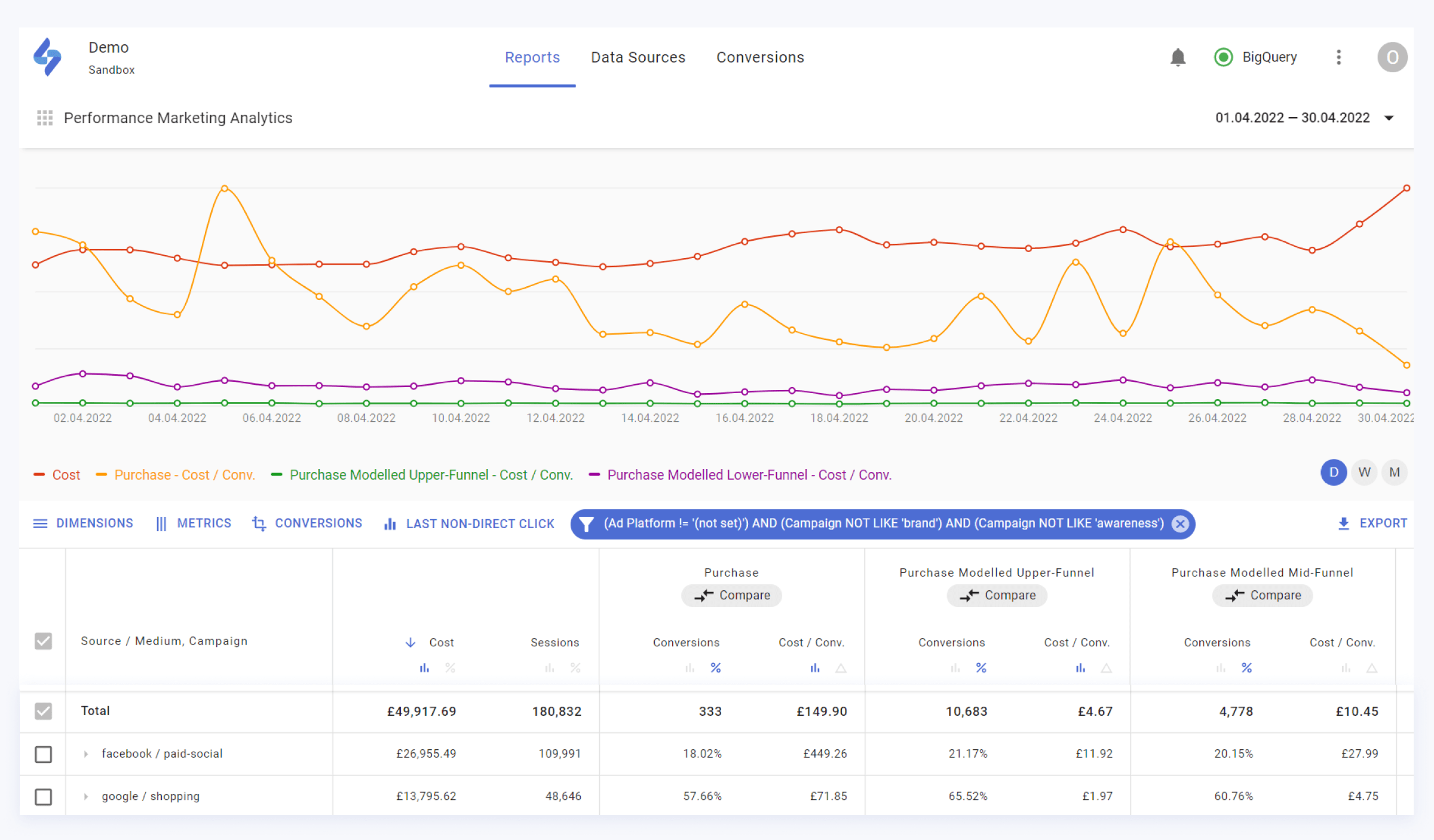 Demo data dashboard
By using Conversion Modelling, the Lanieri team was able to see which channels and campaigns make the highest contribution to sales and make confident budget allocation decisions. 
As well, Lanieri's marketing team was able to compare the performance of ad campaigns from 2022 against 2021 using SegmentStream's reports.
Step 5: Conversion export and paid ads optimisation
This year, the team at Lanieri set up automated export of SegmentStream's Modelled Conversions to Google Ads and Facebook Ads using turn-key server-to-server integration.
Once Modelled Conversions started to flow into ad platforms, Lanieri enabled them for optimisation across Black Friday ad campaigns.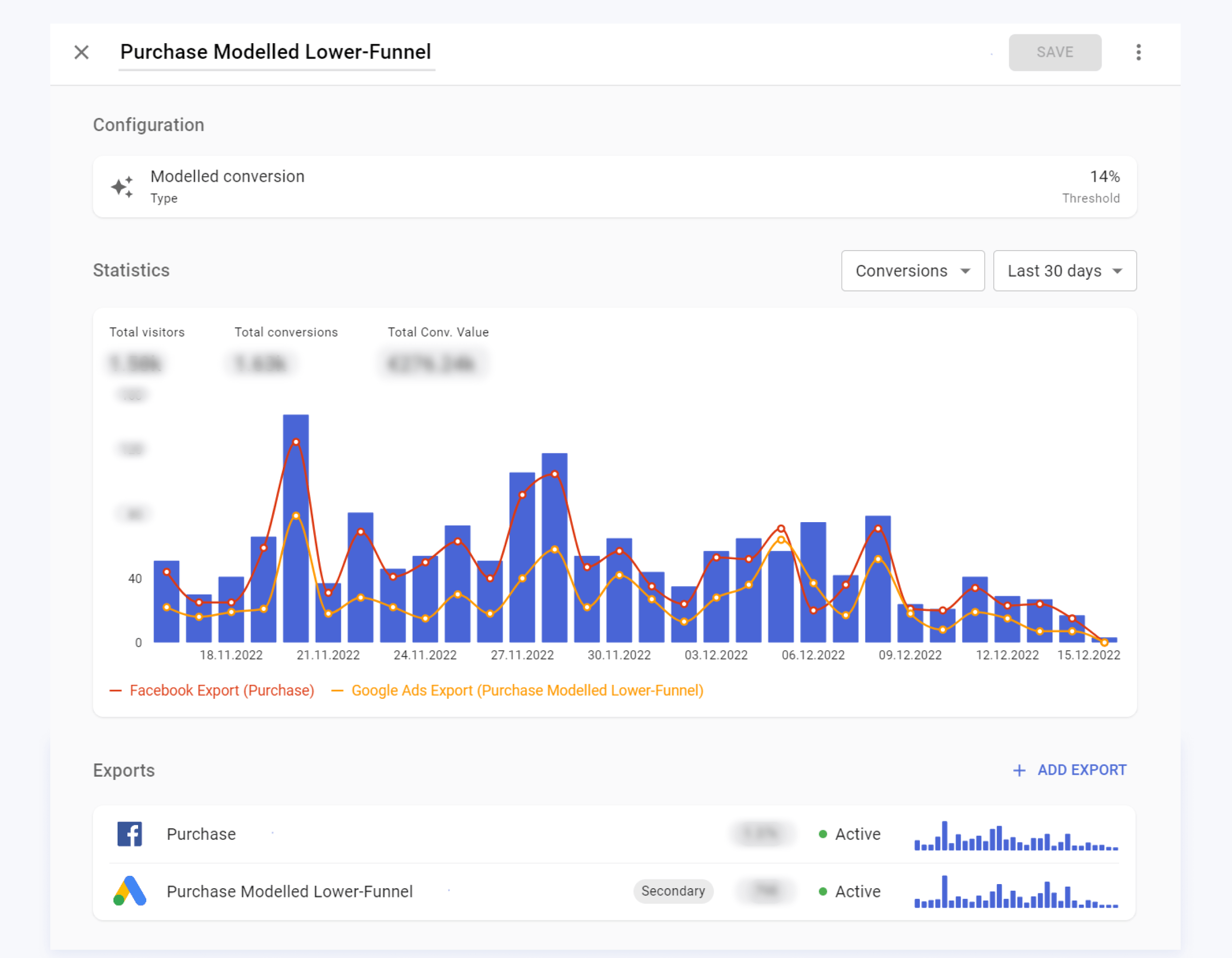 Results:
When analysing total marketing performance, October and November this year resulted in a 16.6% ROAS increase compared to 2021 while ad costs remained unchanged.

Results of SegmentStream's implementation mid-October: the graph clearly shows how overall Marketing Mix CPA decreased
Moreover, the Black Friday / Cyber Period is typically the most expensive period in the digital marketing calendar. Yet, the implementation of SegmentStream resulted in a significant decrease in cost per conversion across both ad platforms.
ROAS of Google Ads campaigns increased by 50%, while the CPC decreased by 55%;
ROAS of Facebook Ads increased by 103% while the Cost per Conversion decreased by 27%.
Customer Testimonial:
I'm very happy with the added value that SegmentStream has brought to our Marketing Mix so far, in particular (but not only):

The interface is essential to have an overview of the performance of our Marketing Mix;
Suggestions and continuous support have been invaluable in implementing a new strategy on Facebook and are indispensable for constantly improving the quality of our campaigns. Also, the optimised campaign is one of the best-performing campaigns ever based on Facebook data;
The Modelled Conversion concept at the moment seems to be able to distinguish on the fly in which part of the funnel a specific campaign is more effective.

Revenues are important, but the reason why we decided to rely on SegmenStream is that for many years we have been looking for a tool that is able to identify a data-based decision-making model to follow for budget allocation. Finding the answer to this question is our ultimate goal, and I believe we've found it with SegmentStream. 
— Riccardo Campaci, Head Of Digital Marketing
Never miss an article
Get the latest articles, event invitations and product updates delivered straight to your inbox.
Thank you! You've been signed up for our newsletter.
Get started with SegmentStream
Learn about Conversion Modelling and why it is a true next-generation solution to outdated marketing attribution and conversion tracking tools.