Success story
Freshly Cosmetics: +146% more conversions from Facebook Ads while decreasing Cost of Sale by 32%
Learn how Freshly Cosmetics, a leading clean beauty brand from Spain, partnered with SegmentStream to understand the proper value of its upper-funnel marketing campaigns and boost Facebook Ads performance by applying SegmentStream's AI-driven multi-touch attribution.
Request a demo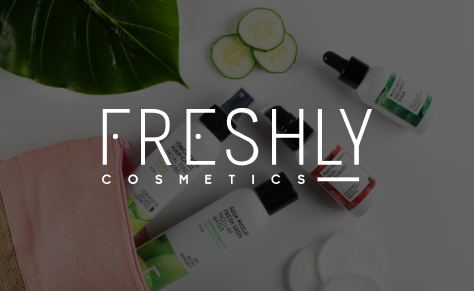 Company name:
Freshly Cosmetics
"I really enjoy working with SegmentStream, both with the product and their team, and look forward to expanding our partnership as we scale the Freshly Cosmetics business globally!"

— Sergi Pijuan Hereu, Digital Product & Ecommerce Manager at Freshly Cosmetics
About Freshly Cosmetics:
Freshly Cosmetics (www.freshlycosmetics.com) is a clean vegan beauty brand, 100% digital and committed to the environment. With its HQ in Reus, Catalonia, the company sells its products in the UK, France, Italy, and Portugal, and, of course, Spain. The company's revenues in 2020 reached €30 million and the number of employees grew to 200. 
Part of their secret to success lies in a strong digital marketing strategy. Initially, the company generated awareness about its products through social media and influencer marketing and then started to invest in Facebook and Google Ads to support its growth. 
The challenge:
Facebook Ads is a crucial marketing channel for Freshly Cosmetics to generate awareness about their brand and attract new customers. However, it was very difficult to understand the real impact of Facebook campaigns, and optimise them accordingly:
Due to a huge amount of website visitors, Facebook becomes very biased towards retargeting due to 1-day post-view and 7-day post-click attribution. Because of that, Freshly Cosmetics separated Facebook Ads into two campaigns: Prospecting and Retargeting.
While retargeting campaign optimisation was relatively easy, it was very difficult to optimise Prospecting campaigns due to the relatively small amount of attributed post-click conversions. Mostly this happens because of cross-browser and cross-device interactions, and other limitations around cookies. For example, a lot of users interact with Facebook Ads from mobile devices, so when people click on the mobile ad — the Freshly Cosmetics website opens in Facebook's in-app browser. However, many people prefer to use their primary browser (like Safari or Chrome) to make a purchase or even buy later from the desktop.
Because of this, it was very difficult to set up an automated optimisation strategy for an upper-funnel campaign as clicks from this campaign tend to receive only a few conversions Post-Click or Last-non-direct-Click attribution. Freshly Cosmetics marketing team had to manually manage CPA for retargeting and prospecting campaigns based on "gut feeling".
In conclusion, because of these issues in the upper-funnel campaign measurement, it was much riskier to invest in such awareness campaigns compared to more lower-funnel channels like paid search and shopping campaigns, where the campaign's impact is much more clear. 
However, in order to scale, Freshly's team wanted to find a way to properly evaluate all marketing traffic sources, including upper-funnel Facebook campaigns. Luckily, they've found SegmentStream and its AI-driven marketing attribution and optimisation platform that solves this exact challenge. 
Solution overview:
SegmentStream — AI-driven marketing attribution and optimisation platform built for advanced digital marketing teams. It helps businesses to collect and unify all marketing data, apply cross-device & cross-browser AI-driven multi-touch attribution, and send AI-insights back to advertising tools to optimise their performance in an automated way.

After implementing SegmentStream, customers are able to automate cross-channel marketing reporting, understand the true ROAS of all their traffic sources, and increase revenue across all the channels by applying AI-driven attribution insights.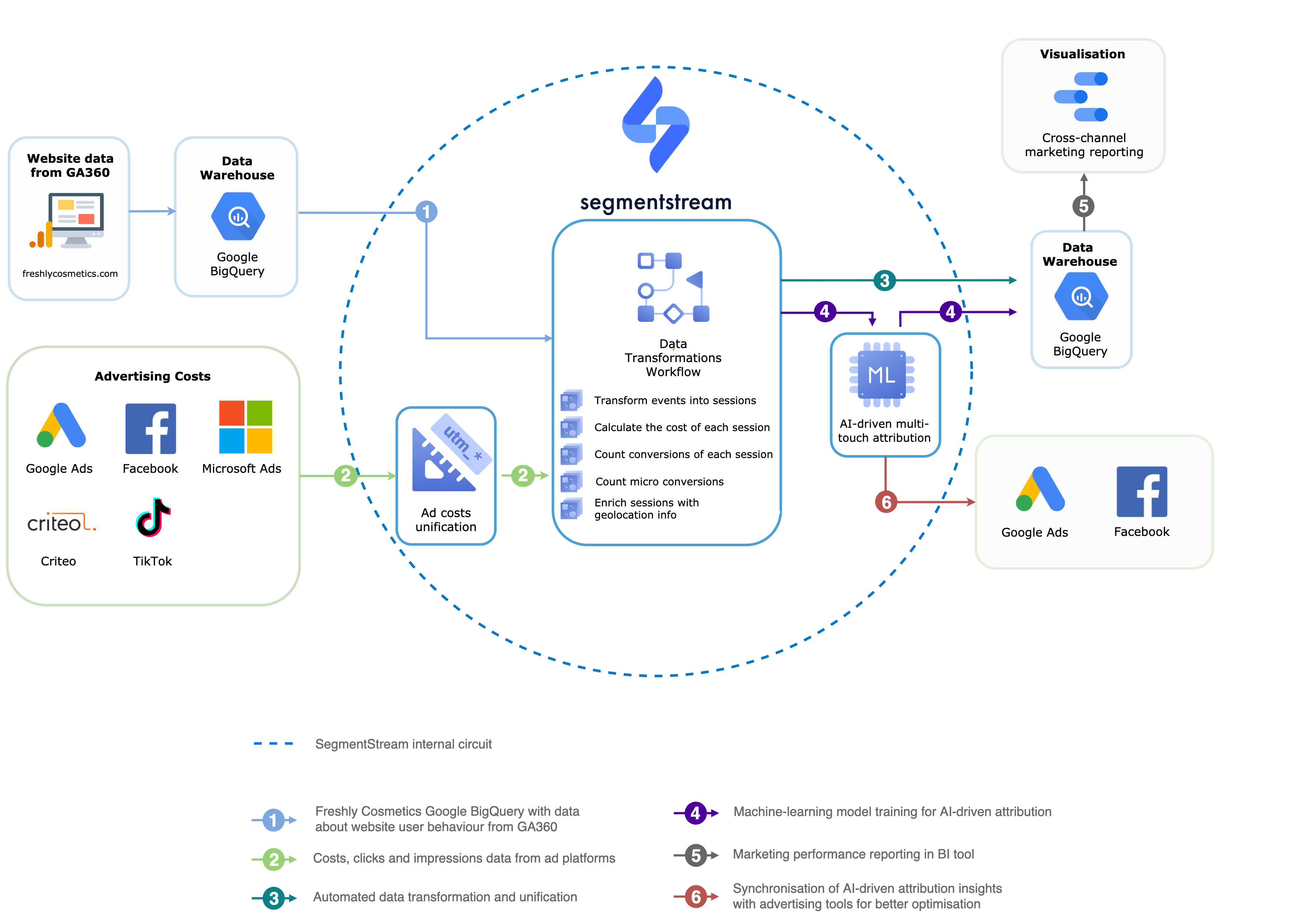 *SegmentStream solution architecture for Freshly Cosmetics*
Step 1: Google BigQuery marketing data collection
In order to build AI-driven multi-touch attribution and properly evaluate the performance of all marketing channels and campaigns, unsampled website behavioural events should be collected first to the Google BigQuery data warehouse of the client. 
Freshly Cosmetics uses Google Analytics 360 as their primary web analytics tool to track user behaviour which is then imported into their Google BigQuery through the native built-in integration.
SegmentStream can work with any user behaviour data source (it could be a free version of Google Analytics, Google Analytics 360, or GA4), so there were no issues in connecting to the already collected historical behavioural data. SegmentStream simply connected to the raw GA360 data in Freshly's BigQuery, and no involvement of the development team was required.   
After that, Freshly's digital marketing team easily connected all their advertising data sources (Google Ads, Facebook, Microsoft Ads, TikTok, and Criteo) to the SegmentStream admin panel to automatically import information about clicks, impressions, and cost across all advertising platforms.
Overall, the initial setup process didn't take more than 15 minutes for Freshly's team. 

*SegmentStream admin panel with connected data sources*
Step 2: Reporting & Attribution
After all marketing data started to flow into Google BigQuery data warehouse, everything was ready to build an automated cross-channel marketing dashboard that would show the true picture of overall marketing performance by using SegmentStream's AI-driven attribution.
In short, SegmentStream's AI-driven attribution helps to measure the incremental value of each marketing channel and campaign and how they contribute to future conversions. 
To achieve this, under the hood of SegmentStream lies a sophisticated machine learning model that analyses historical user behaviour and predicts the future behaviour of current website visitors. This calculates the quality of this session by measuring how the probability to convert changes during each website session and then uses this predictive indicator (Purchase Score) to understand the efficiency of each traffic source. 
To understand the detailed logic behind SegmentStream AI-driven multi-touch attribution we suggest reading our detailed articles and other customer success stories.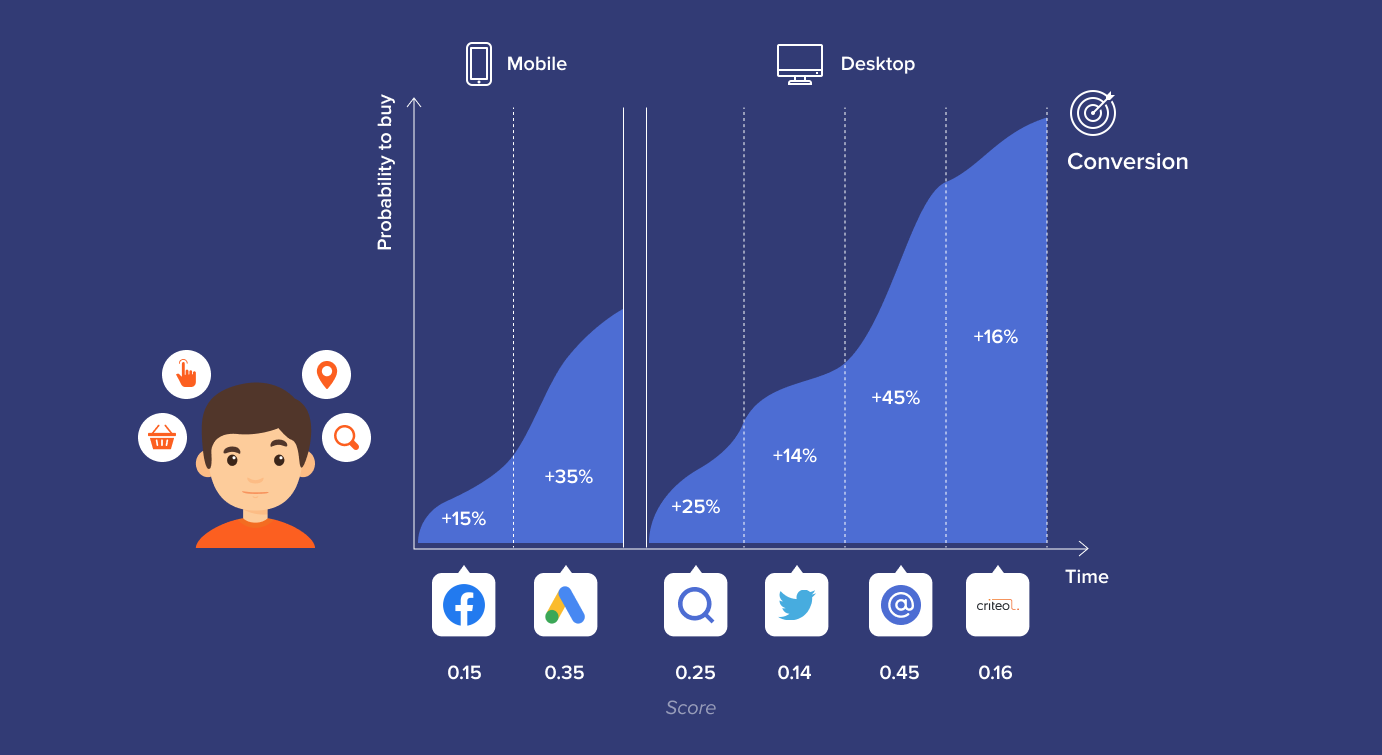 After SegmentStream's marketing dashboard was prepared, Freshly's team was finally able to see the proper value of each channel, including a Prospecting campaign on Facebook that previously showed only a little amount of conversions when analysed by Post-Click or Last-non-Direct-Click attribution. 
After the quick analysis, it was clear that the Facebook Prospecting campaign plays a big role in moving customers toward a purchase that might happen from another channel, or another browser or device. In other words, Facebook initiates a lot of customer journeys that actually finish with the conversion but because of limitations around cookies, it is impossible to track such customer journeys from the first interaction till the final purchase. Thus, the ROAS of such campaigns is very low when analysed using Last-non-Direct-Click or 7-day post-click attribution, however, when analysed by SegmentStream – the campaigns are very efficient in terms of increasing the total amount of website conversions.
With these insights in mind, Freshly's marketing team decided to start optimising their Facebook campaigns not based on Post-Click and Post-View conversions, but based on SegmentStream's Purchase Score instead, which assigns proper value to each paid click - not only to a single click that finished with a conversion. 
Step 3: Automated Facebook Ads optimisation by AI-driven attribution
SegmentStream has a very powerful Data Destinations feature that enables marketers to automatically send AI-driven attribution conversion (Purchase Score) to external advertising tools such as Google Ads, Facebook Ads, and others for automated campaign optimisation. 
After Facebook Ads Data Destination was enabled by Freshly's marketing team, the current post-click conversion (Purchase) was replaced with SegmentStream's Purchase Score which attributes proper value to each session on the website.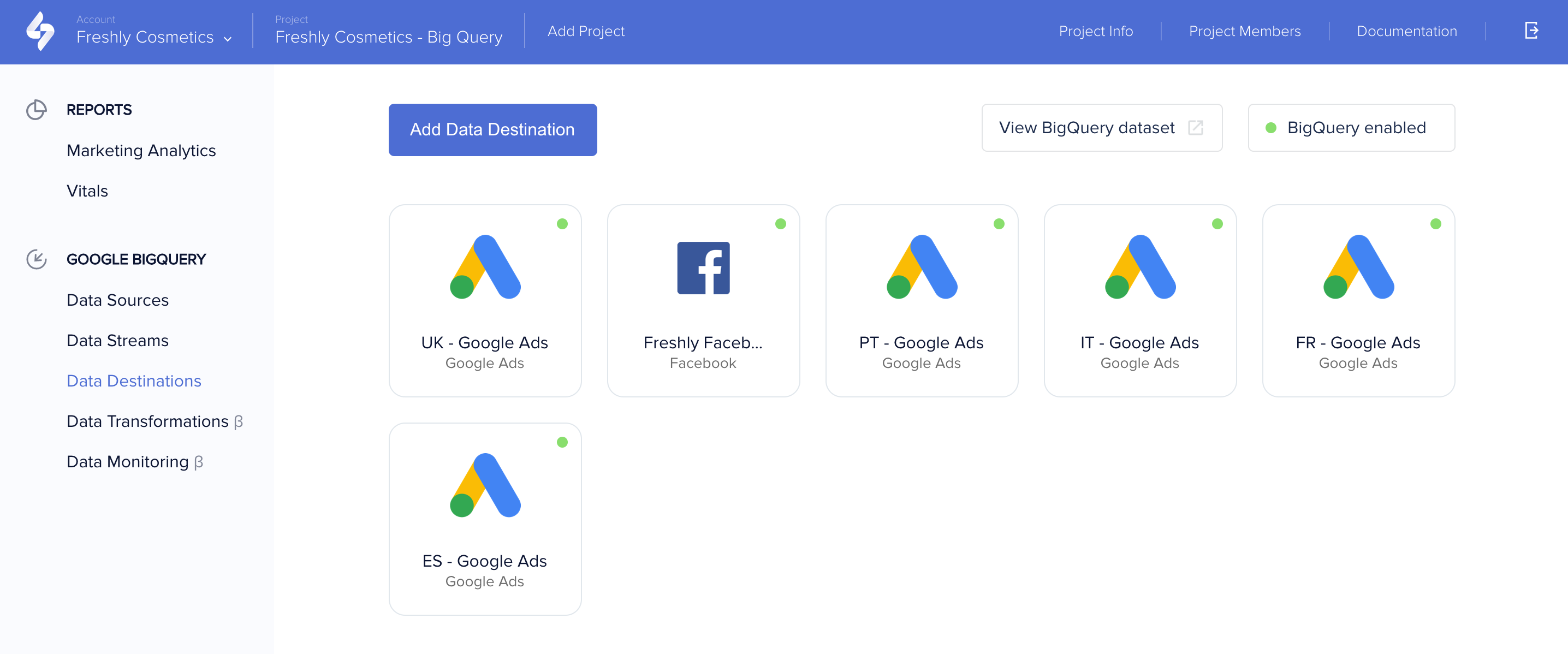 *Data Destinations in SegmentStream*
Now, everything was ready to launch optimisation based on SegmentStream's Purchase Score. 
In order to run a very accurate and safe experiment, Freshly Cosmetics decided to launch optimisation for one country, and simply compare performance to other countries. Freshly Cosmetics decided to use Portugal as their pilot country.
Previously, Freshly's marketers had to separate campaigns for prospecting and retargeting to optimise them properly. Each campaign had different ad sets and each ad set had multiple ads optimized by post-click (and sometimes post-view) performance.
As a strategy for the new experiment, the SegmentStream team proposed to launch a new campaign that only had one ad set — with absolutely no audience targeting besides the country. 
This way, we decided to give full freedom to Facebook to choose the best creatives and placements based on the conversion data SegmentStream provides (Purchase Score).
Results:
We expected that due to a very broad targeting and absolutely new ads (without any likes and comments) it would take at least 7 days for the campaign to gain its power. To our surprise, it started to beat original campaigns in just 2 days. After 2 weeks it became clear that the new campaign outperforms all old campaigns by 2-3 times!
During that time Freshly achieved amazing results by increasing the number of conversions from Facebook by 146% whilst decreasing the Cost of Sale by 32%.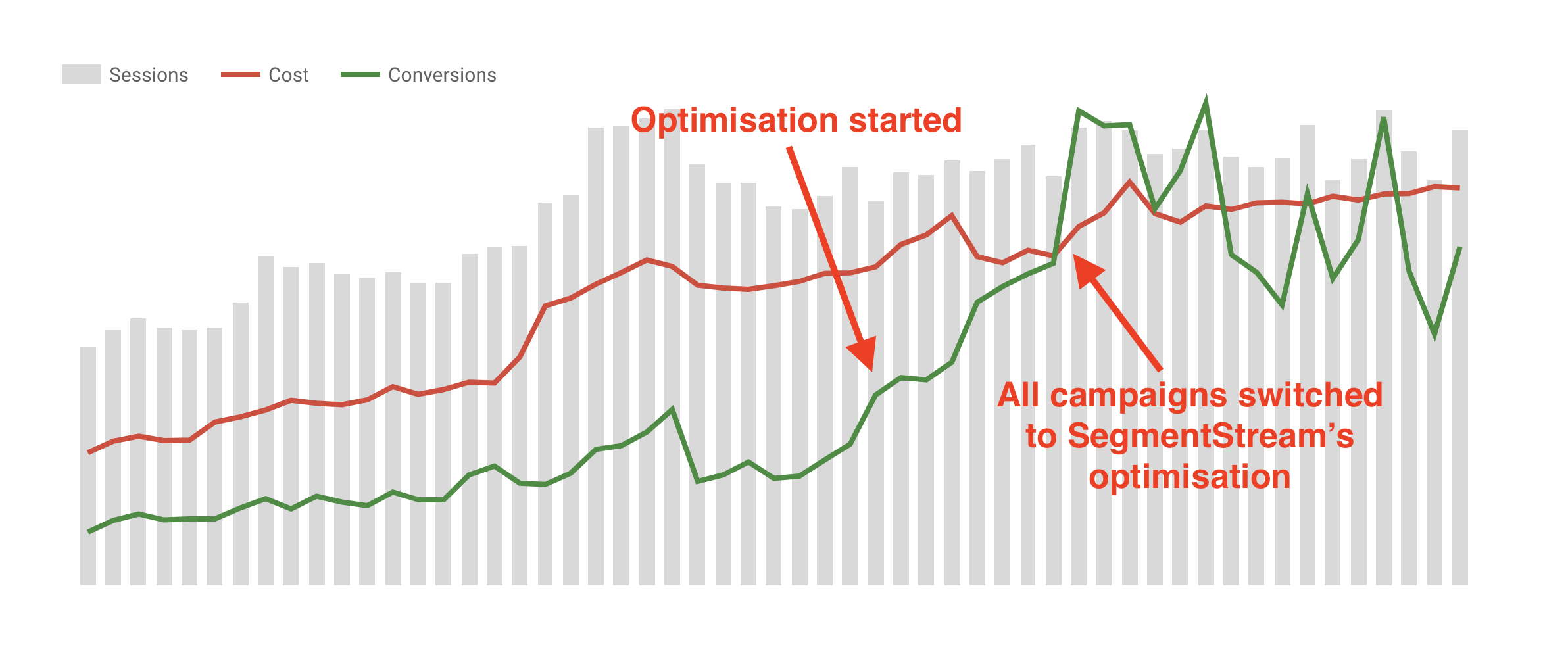 *Conversions dynamics after optimisation by SegmentStream AI-driven attribution*
As a result of this experiment, Freshly Cosmetics decided to expand optimisation by utilising SegmentStream's Purchase Score for all other countries, including Spain — their main market. 
Now all old campaigns are switched off completely, and all the budget is allocated to new broad-targeting campaigns which are optimised based on SegmentStream's predicted conversions.
It is worth noting that this new approach also saves a lot of time for Freshly's marketing team, as the number of campaigns and ad sets decreased dramatically, and it is much easier to manage everything with only one main prospecting campaign per country.
Customer testimonial:
Social media was always one of our main channels used to tell the story about the Freshly Cosmetics brand and acquire new customers. Initially, we heavily relied on SMM marketing by partnering with influencers. After that, we started to experiment with Facebook Ads but for a long time, we couldn't make it work with the target CPA and ROAS we had in mind.

The problem was that the efficiency of Facebook Ads was not great when measured by Facebook's Post-Click or Google's Last-non-Direct-Click attribution. We felt that it might be due to the nature of Facebook and Instagram — in comparison to Google Ads where people mostly have a clear buying intent, social advertising is mostly an upper-funnel channel which we use to promote our brand and generate demand among new customers. So the traditional attribution models will not work well. 

However, we knew that this channel is very important for us and will play a huge role in our marketing strategy as we scale the business, so we had to find a way to properly analyse the quality and performance of Facebook Ads before increasing our advertising budgets.

When we found SegmentStream, we really liked their predictive attribution approach that aimed to evaluate all marketing campaigns more precisely, including upper-funnel ones, and overcome all these challenges where other attribution models have failed. 

We decided to try SegmentStream and test it on one of our countries to see if this would bring us positive results, and we were pleasantly surprised by what has been achieved.  Optimisation by SegmentStream's AI-attribution allowed us to increase our budget on Facebook while improving our Return on Ad Spend, and now we are switching all our countries to this new approach to grow even faster.    

I really enjoy working with SegmentStream, both with the product and their team, and look forward to expanding our partnership as we scale the Freshly Cosmetics business globally!
— Sergi Pijuan Hereu, Digital Product & Ecommerce Manager at Freshly Cosmetics
Get started with SegmentStream
Request a personalized demo with our team!