Guide
E-book
Complete Guide to Digital Marketing Analytics Solutions
Marketing measurement 101 — learn everything about digital marketing analytics and become an expert in marketing measurement with this guide. Learn about the most adopted approaches on the market and how they tackle marketing attribution.
7 min
Marketing measurement 101 — learn about the most adopted approaches to marketing analytics. Find out how they work with cookies, cross-device and cross-browser journeys.
What is this guide about?
When choosing between available options, such as Multi-Touch Attribution, Marketing Mix Modelling, etc. marketers need to decide which approach will work best for their business. 
However, the majority of modern marketing analytics solutions are dramatically affected by cookie restrictions and tracking limitations, hence can no longer provide adequate results. 
So how to pick the right one? This guide will help you make the right choice.
Download this guide to find out how these approaches compare to each other, their pros and cons, how they compete with Conversion Modelling, and how to utilise them to get the most out of each one. This digital marketing guide has been crafted to become every performance marketer's handbook of marketing analytics tools.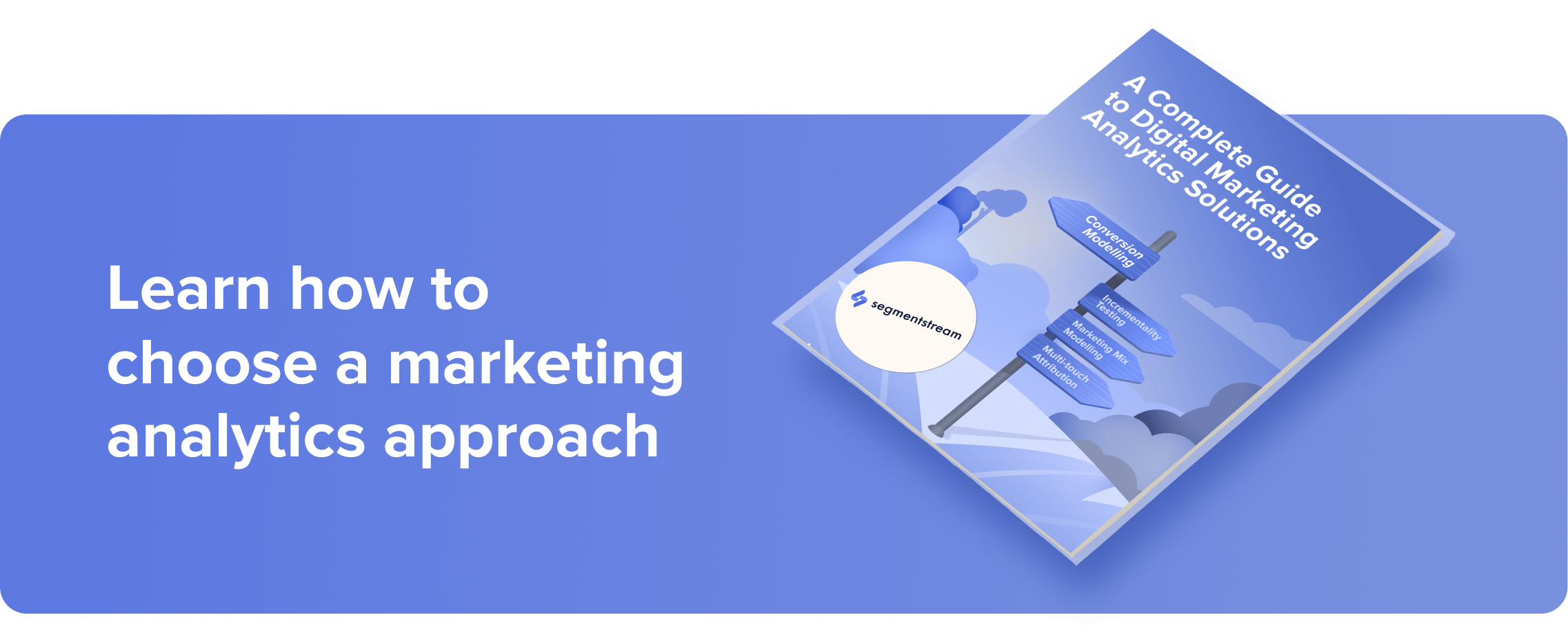 Who may benefit from this guide:
Performance marketers who want to keep up with modern marketing measurement technologies;
Marketing analysts who seek a 101 marketing analytics guide to keep at hand;
CMOs who are struggling to decide between available options to evaluate marketing activities;
Business owners who want to understand how to measure the performance of marketing campaigns and make data-wise decisions on budget allocation.
In this guide you'll learn:
Digital marketing approaches: an overview
Multi-Touch Attribution: pros and cons
Marketing Mix Modelling: pros and cons
Incrementality Testing: pros and cons
Conversions Modelling: pros and cons
How to choose wisely from all analytics solutions?
How SegmentStream can help
Never miss an article
Get the latest articles, event invitations and product updates delivered straight to your inbox.
Thank you! You've been signed up for our newsletter.
Get started with SegmentStream
Learn about Conversion Modelling and why it is a true next-generation solution to outdated marketing attribution and conversion tracking tools.