Case study
Szallas.hu: 243% revenue increase from Google Ads whilst lowering Cost of Sale by 6%
Learn how Hungary's #1 accommodation booking portal, Szallas.hu, partnered with SegmentStream to solve its marketing analytics and attribution challenge and achieve better results from the online marketing budget.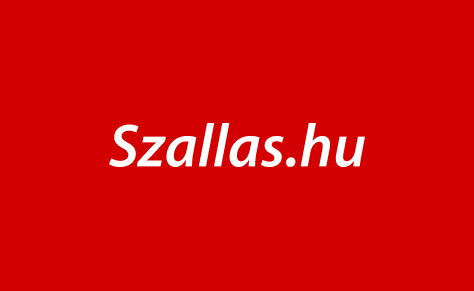 "We are very happy with our choice, and looking forward to expanding our collaboration by implementing SegmentStream to other websites in Szallas.hu Group later this year. "

— Szallas.hu
About Szallas.hu:
Szallas.hu (szallas.hu) is Hungary's #1 accommodation booking portal, annually delivering bookings in value of €90 million for its accommodation partners. With 15.000 contracted direct partners, available in 8 languages, and offices in Budapest, Zagreb, Warsaw, Cluj-Napoca, the Szallas Group is rapidly growing in Central Eastern Europe.
The Szallas.hu Group websites have more than 1 million registered users and are visited by more than 2 million users every month. It also helps customers find suitable accommodation with over 1.2 million independent and valid customer reviews.
The challenge:
#1: Cross-channel marketing reporting 
Szallas uses many advertising platforms: Google Ads, Microsoft Ads, Facebook Ads, Criteo, RTB House, and others. 
With so many different advertising sources there was no single place to analyse cross-channel marketing performance. To understand the ROAS and CPA of different campaigns, Szallas's marketers had to manually go into each ad platform and check the cost, revenue, and other key metrics to understand the performance of each channel and campaign.
Not only did it take a lot of time and effort, but it was also difficult to understand the real impact of each marketing channel and campaign. Attribution models of Facebook, Google Ads, and other ad platforms tend to give much more credit to themselves as there is no deduplication for post-click and post-view. Because of this, if you combine attributed conversions that you see in all your advertising platforms, you would see many more conversions than you've actually had.
At the same time, while Google Analytics 360 showed the true amount of total conversions, it was difficult to understand how many conversions each marketing channel and campaign brought. Of course, Google Analytics multi-touch attribution models can distribute the value from the conversion between multiple user sessions according to some logic. However, the main problem regards interrupted customer journeys — nowadays people use multiple browsers and devices with different cookies, so there is no way to stitch a full customer journey together. This also happens due to technical limitations such as ITP and private browsing that remove or limit cookies.
Because of this, all existing attribution models tend to undervalue upper-funnel channels such as social or display campaigns while giving more credit to lower-funnel campaigns (i.e. retargeting). While Szallas's team understood the value of upper-funnel awareness campaigns, it was impossible to measure the true impact of such campaigns in hard numbers. 
#2: Google Ads campaign evaluation and optimisation
Google Ads is the main source of website traffic and revenue for Szallas. However, it is not so easy to buy and optimise Google Ads at such scale — as a leading booking company, Szallas has tens of thousands of different hotels on their website, so there is no way to define all possible keywords for the broad targeting in Google Ads. 
To overcome this challenge, Szallas's marketing team relies on keywordless dynamic search ads by automatically matching people's searches on Google with specific hotel pages on their website.

Example of keywordless campaign
The main goal of such keywordless campaigns is to generate awareness about Szallas and drive users toward the booking in the future, not always immediately. The problem is that due to the nature of such campaigns, it didn't bring a lot of immediate post-click conversions (hotel bookings), and Google Ads significantly limited the reach of this campaign. 
To overcome this issue and get more traffic, Szallas tried to use the Enhanced CPC strategy but it did not give enough flexibility in bid auctions when competing versus giants like Booking.com and other competitors and was not really effective. 
To overcome both of these challenges, Szallas's marketing team decided to partner with SegmentStream and try its AI-driven measurement and optimisation platform.  
Solution overview:
SegmentStream is an advanced Conversion Modelling Platform that provides future-thinking marketing teams with a next-generation solution to outdated multi-touch attribution tools that are no longer suitable for today's complex customer journeys and modern tracking restrictions.
SegmentStream Conversion Modelling Platform combines first-party behavioural visitor data with machine learning algorithms to enable comprehensive measurement and performance optimisation. SegmentStream solution architecture for Szallas.hu
Step 1: Google BigQuery marketing data collection
SegmentStream does not store any customer data on its own servers. Instead, all the data is collected and stored in the client's own Google BigQuery data warehouse.
We use machine learning to evaluate the incremental impact of each visit based on website visitor behaviour data, even if a final conversion can not be observed. In order to build a machine learning model, unsampled website behavioural events should be collected first. As Szallas already had Google Analytics 360 that supports native raw data export to Google BigQuery, there was no need for any additional implementation — SegmentStream simply connected to the raw GA360 data in Szallas's BigQuery.  
After that, Szallas marketers easily authenticated all additional marketing data sources in the SegmentStream admin panel to automatically import information about clicks, impressions and cost across all advertising platforms. The entire setup process didn't take more than 30 minutes for the Szallas team.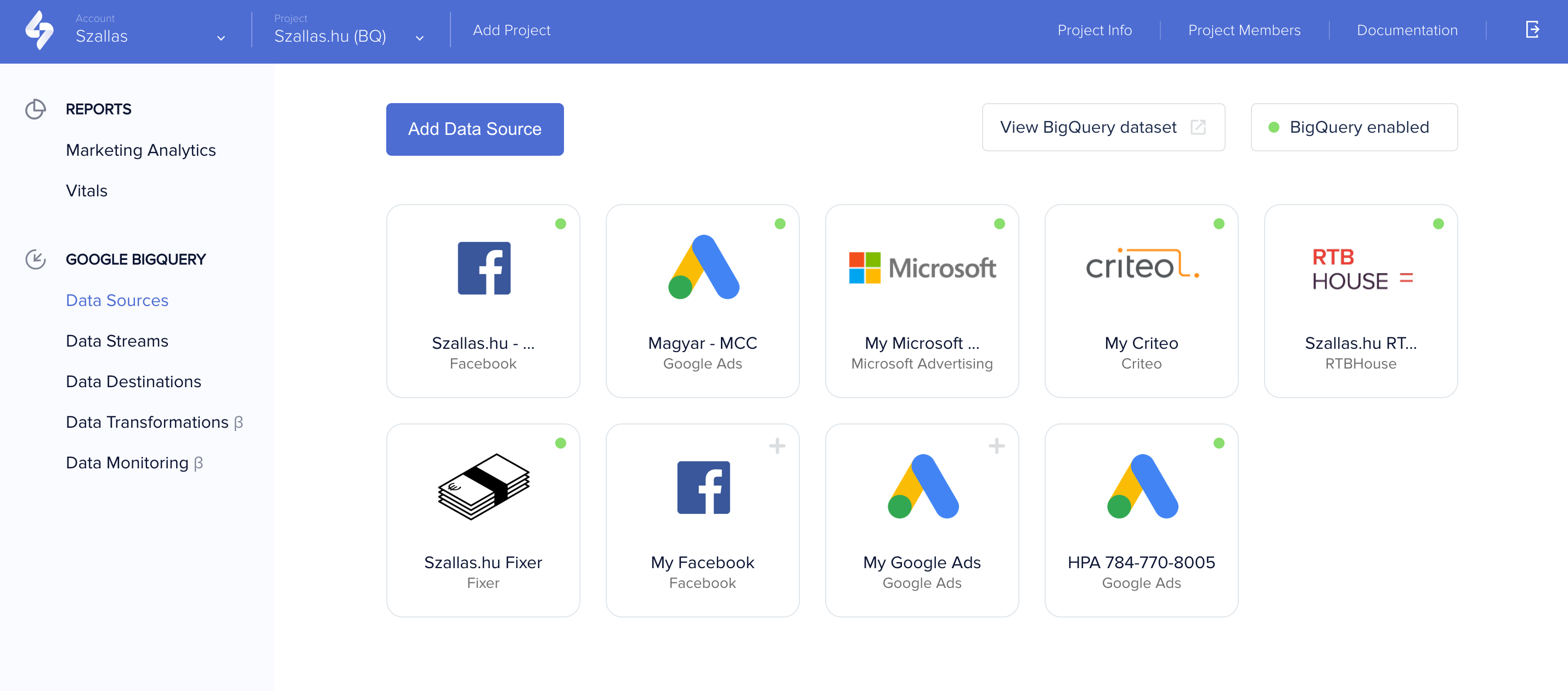 SegmentStream admin panel with connected data sources
Step 2: Analytics and optimisation
After all the data started to flow into Szallas's Google BigQuery, it was now possible to implement SegmentStream's Conversion Modelling to understand the incremental value of each marketing channel and campaign. 
SegmentStream Conversion Modelling platform carefully evaluates actions and micro-conversions each website visitor takes, and measures that users probability to convert in the future. Depending on the visitor's behavioural pattern and the contextual information about the visit, the probability to convert can be high or low.
To understand the detailed logic behind SegmentStream platform, we suggest reading our guide.
After all the data has been unified and analysed using machine learning, everything was ready to prepare a visual Google Data Studio dashboard that shows a true picture of overall marketing performance across all the channels in a single interface.
This automated marketing dashboard saved a lot of time and effort for Szallas's marketing team, as there was no need to manually go to each advertising platform to calculate the ROAS of each channel and campaign. Also, it helped Szallas to understand the difference in campaign performance by comparing the amount of Last Non-Direct Click conversions versus Conversion Modelling.
This approach helped the Szallas team to understand how to reallocate their advertising budget between multiple channels and campaigns to increase the total amount of conversions and improve overall ROAS across all the channels.
Step 3: Google Ads optimisation using Modelled Conversions
As we mentioned earlier, Szallas.hu has tens of thousands of hotels on their website, so it is not possible to manually optimise ads by changing budget or bids. Luckily, SegmentStream has a Conversion Export (Data Destinations) functionality that allows you to automatically send Modelled conversions to external advertising tools such as Google Ads, Facebook Ads, and others. 

Conversion Export (Data Destinations) in SegmentStream 
After Google Ads Conversion Export was enabled, the current post-click conversion (Booking) was replaced with *Modelled conversion which attributes proper value to each session on the website, and not only to a single session that finished with a final conversion. 
This way, instead of optimising for the post-click hotel booking right away, Google Ads was able to optimise for engaged users that will most likely convert in the near future.
Results:
Not only was the Szallas team finally able to get a unified and deduplicated cross-channel marketing reporting in a single place, but they were also able to automatically improve the performance of its key marketing channel — Google Ads. 
After starting optimising using Modelled conversions, revenue from keywordless dynamic search ads campaign increased by 242.6% whilst the cost of sale decreased by 5.8%. 

Revenue dynamics after optimisation using Conversion Modelling
This result is not a surprise — awareness campaigns are rarely converting customers right away. Instead, they play a huge role in driving customers towards the conversion in the nearest future. That is why it is important not only to measure conversions that happened directly after the click but also to understand how such campaigns influence future conversions from other traffic sources such as organic, direct, and others. 
So, when the conversion in Google Ads was replaced from Hotel Booking to SegmentStream Modelled conversion, Google Ads started to receive much more quality signals and generate much more traffic at a lower Cost of Sale.  
Sure, seasonality and positive after-COVID mood also played a big role in this growth. That's why we decided to check the dynamics of non-paid traffic. For the same period of time increase in non-paid traffic was only 81%. That clearly demonstrates the incremental impact of campaign optimisation. 
Customer testimonial:
Before partnering with SegmentStream, we experimented with many different attribution models but all of them were not able to show the real impact of our upper-funnel marketing activities. Instead, they've always attributed much more credit to lower-funnel channels and campaigns. 

SegmentStream's approach to marketing attribution was very different from what we have tried before, as it was not dependent on cookies like all other "retrospective" attribution models out there. Instead, SegmentStream's "predictive" approach was something new as it analyses actual user behaviour to understand the incremental shift in terms of moving users to the future conversion. This approach to evaluating marketing performance sounded pretty interesting, so we decided to give it a shot. 

We started with the unification of all our marketing data in Google BigQuery, and visualisation of cross-channel marketing reporting in the Google Data Studio dashboard. After that, we started to optimise our ads according to SegmentStream. SegmentStream's team not only supported us during the initial implementation phase but also helped us to properly look at attribution insights and optimise campaigns accordingly. After running optimisation experiments for more than a month, we saw a very positive ROAS improvement, which means that SegmentStream's approach actually works and brings business results. 

We are very happy with our choice, and looking forward to expanding our collaboration by implementing SegmentStream to other websites in Szallas.hu Group later this year. 
— Laszlo Benes, Head of Performance Marketing at Szallas.hu
Never miss an article
Get the latest articles, event invitations and product updates delivered straight to your inbox.
Thank you! You've been signed up for our newsletter.
Get started with SegmentStream
Learn about Conversion Modelling and why it is a true next-generation solution to outdated marketing attribution and conversion tracking tools.