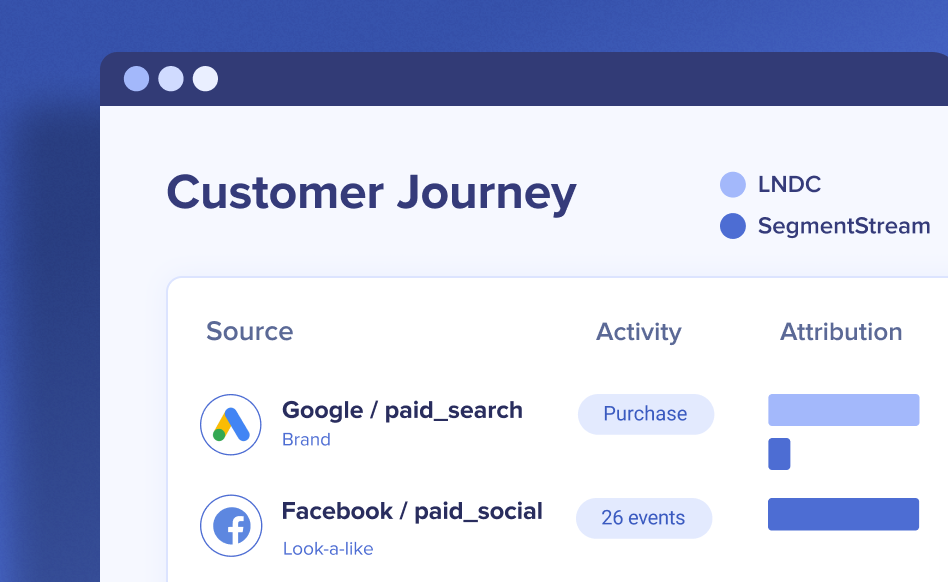 Product updates for July - September'23
Explore detailed user journeys, better evaluate top-of-funnel with view-through attribution and see other exciting features we've introduced in the last quarter.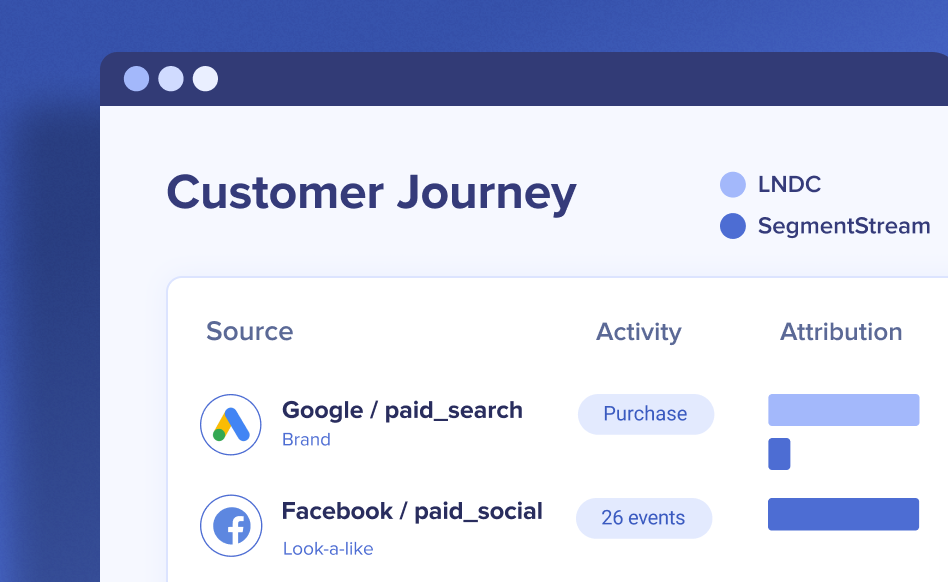 Explore detailed user journeys
Users can now drill down to a specific user journey directly from the report page to explore customers' paths.
Here's how to use this feature:
Add the "Client ID" dimension to the report.
Drill down to the "Client ID" dimension level.

Click on the "arrow fork" icon.

The user journey drawer will appear, displaying a list of visits.

You can click on any of the visits to view the events that occurred during that visit.
View-through attribution model
Many common attribution models, like multi-touch, don't fully capture the value of Social and Video campaigns, focusing too much on the bottom-of-funnel.
SegmentStream's post-click + post-view model fills this gap, crediting actions even if there isn't a direct click.
In this video, see how it works:
New Documentation
We've launched an all-encompassing guide ranging from the basics of attribution and online tracking to complete product onboarding. Access it here: https://docs.segmentstream.com/
External BI tools
Advanced teams can now craft custom dashboards using our pre-calculated data in Google BigQuery, enhancing flexibility in data analysis.
Notification Centre enhancements
Alert on missing UTM tags
If your Google Ads tracking template lacks the utm_id, utm_source, or utm_medium tags, you'll now receive a notification. These tags are essential for optimal stitching in the absence of gclid. Learn more here.
Duplicate UTM tags across campaigns
Unique UTM tags are crucial for the efficient functioning of SegmentStream's stitching algorithm. If the same tags are used in multiple campaigns, you'll get a notification with steps to fix it and info on which campaigns are affected.
Also, we've added a few new features for:
Report exporting: You can now export reports with all dimension levels to Google Sheets and CSV.
Data source filtering: Now filter reports at the campaign level, ideal for multi-market accounts. Supported on Google Ads, Facebook Ads, TikTok, and Microsoft Ads. Filters apply the next day.
UI enhancements: We've improved report export notifications and smoother app loading with fewer flickers.
Never miss an article
Get the latest articles, event invitations and product updates delivered straight to your inbox.
Thank you! You've been signed up for our newsletter.
Get started with SegmentStream
Learn about Conversion Modelling and why it is a true next-generation solution to outdated marketing attribution and conversion tracking tools.