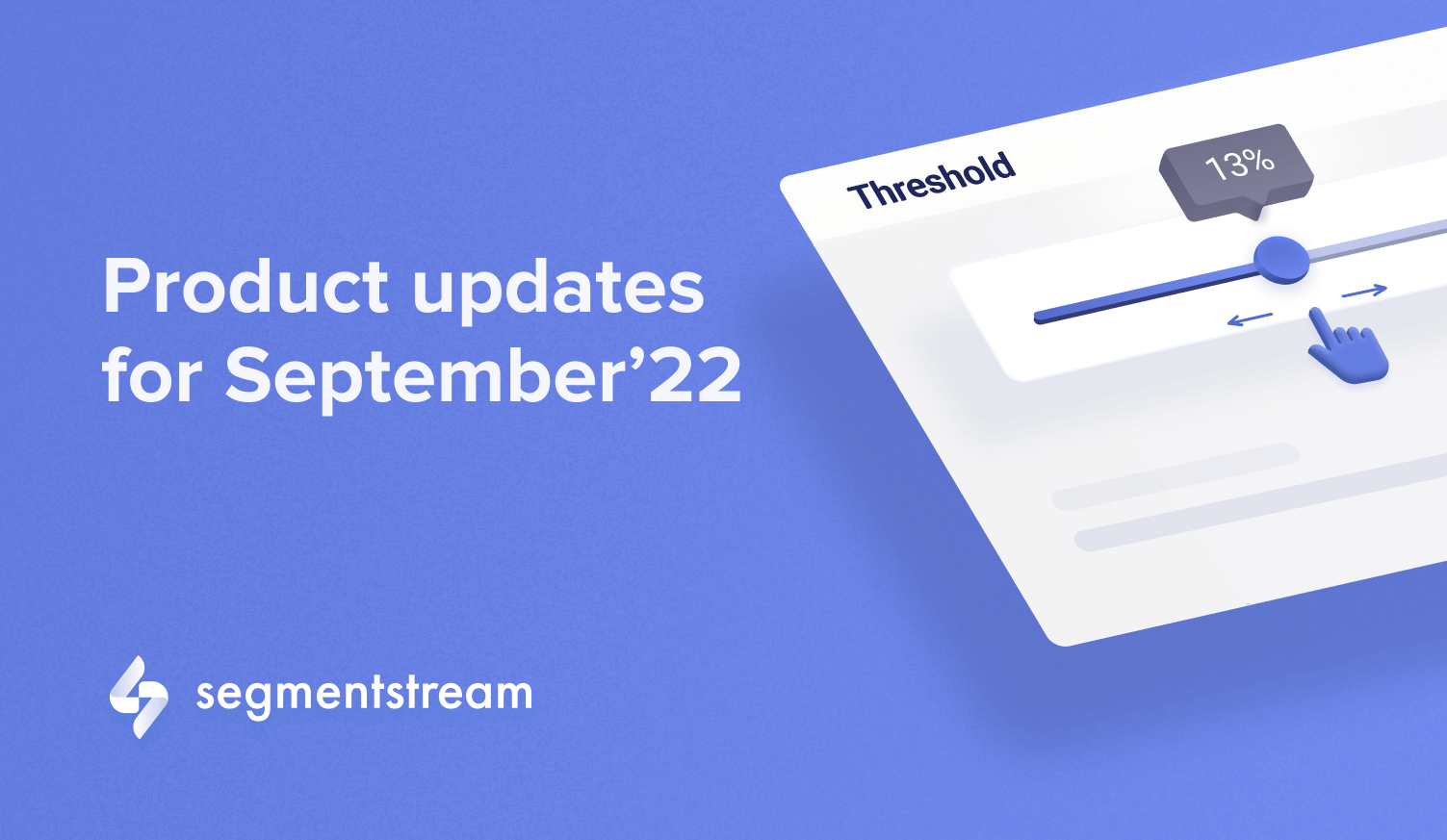 Product updates for September'22
During the month of September, we made it possible to create ML models just with one click. We have also simplified the process of creating Modelled Conversions and enhanced Modelled Conversions export. Read on to learn more!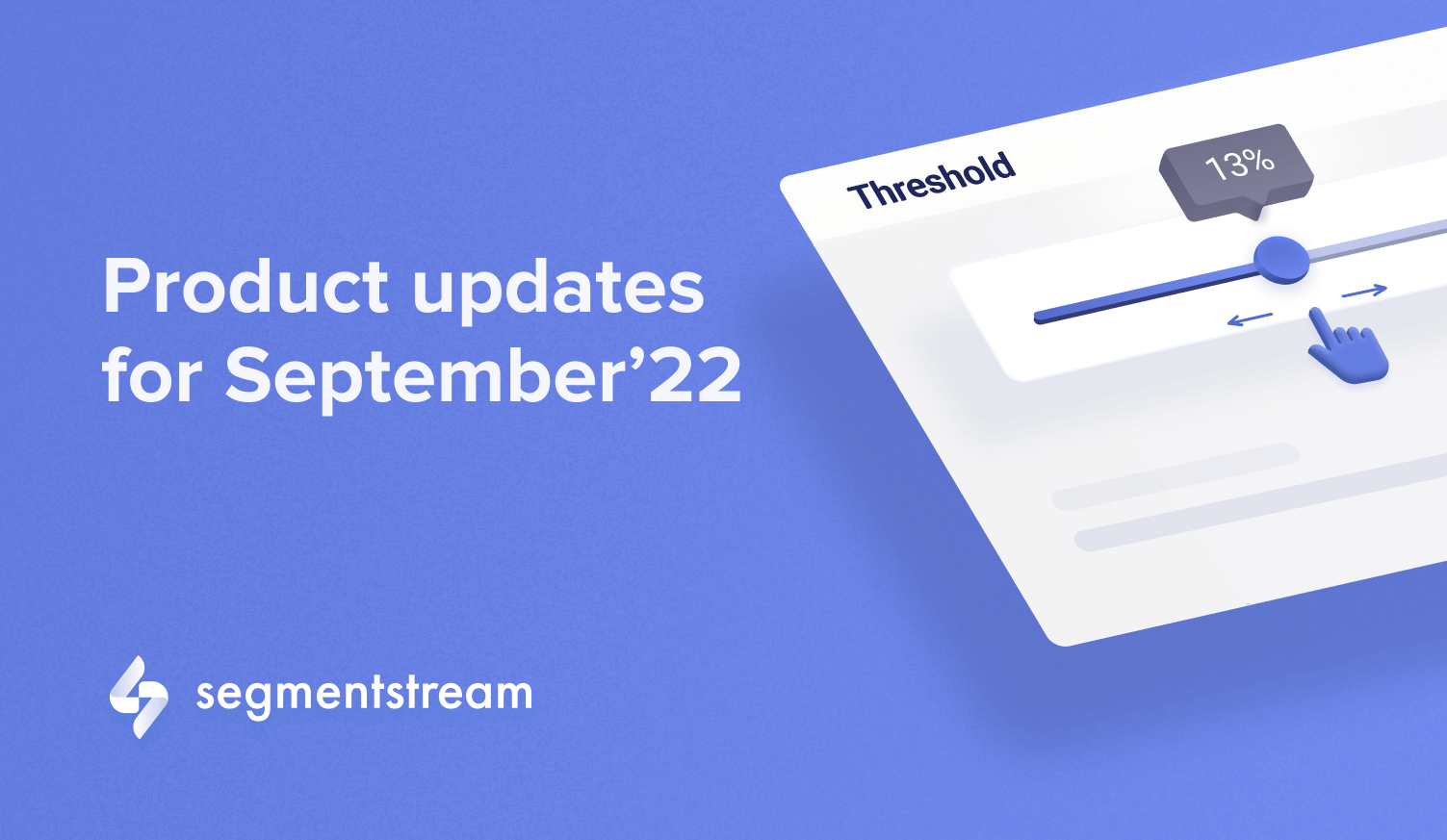 1. Automatic ML models – create a model in one click
Now every user can create ML models faster and easier.
With this new feature, SegmentStream takes the heavy lifting out of setting the model. No configuration is needed – new ML models will be set automatically.
How did it work before?
Previously, users had to follow several steps to configure a new ML model: choose a target, add features and define parameters. We have been working on making it simpler and more user-friendly.
How does it work now?
To create a new ML model now, users simply need to pick the conversion they want to predict. Then, a new model will be set up with the best features defined automatically by SegmentStream platform.
After the platform has completed its first training of the model, users can change the model's parameters or tune features to improve the predictions.
A step-by-step guide to creating a new ML model:
Navigate to Conversions
Click the conversion you want to predict

Click +Add ML model
2. Make sure you pick the right threshold with the threshold selection helper
Now users can see how a Modelled Conversion will amplify the number of signals sent to ad platforms. This is possible thanks to our new tool – the "Threshold selection helper".
What is a threshold?
In order to create a Modelled Conversion users need to define a threshold.
A threshold represents the minimal probability of conversion which makes the session valuable for the business. For all sessions and visitors that receive the probability to convert less than a threshold probabilistic conversions will not be fired nor sent to the advertising platform.
How did it work before?
Previously, users had to create multiple Modelled Conversions with different thresholds to evaluate the amplification and the number of conversions that will be generated. This was time-consuming and users were not able to understand the outcome of the selected threshold before the conversion was created.
How does it work now?
The new tool helps users choose the right threshold by evaluating the quality of each Modelled Conversion they create.
To use this feature:
Click on the "Conversions" section of the top navigation bar.
Click on the Modelled Conversion.
Click on the Threshold.
Move the slider to set the threshold and then click "Save".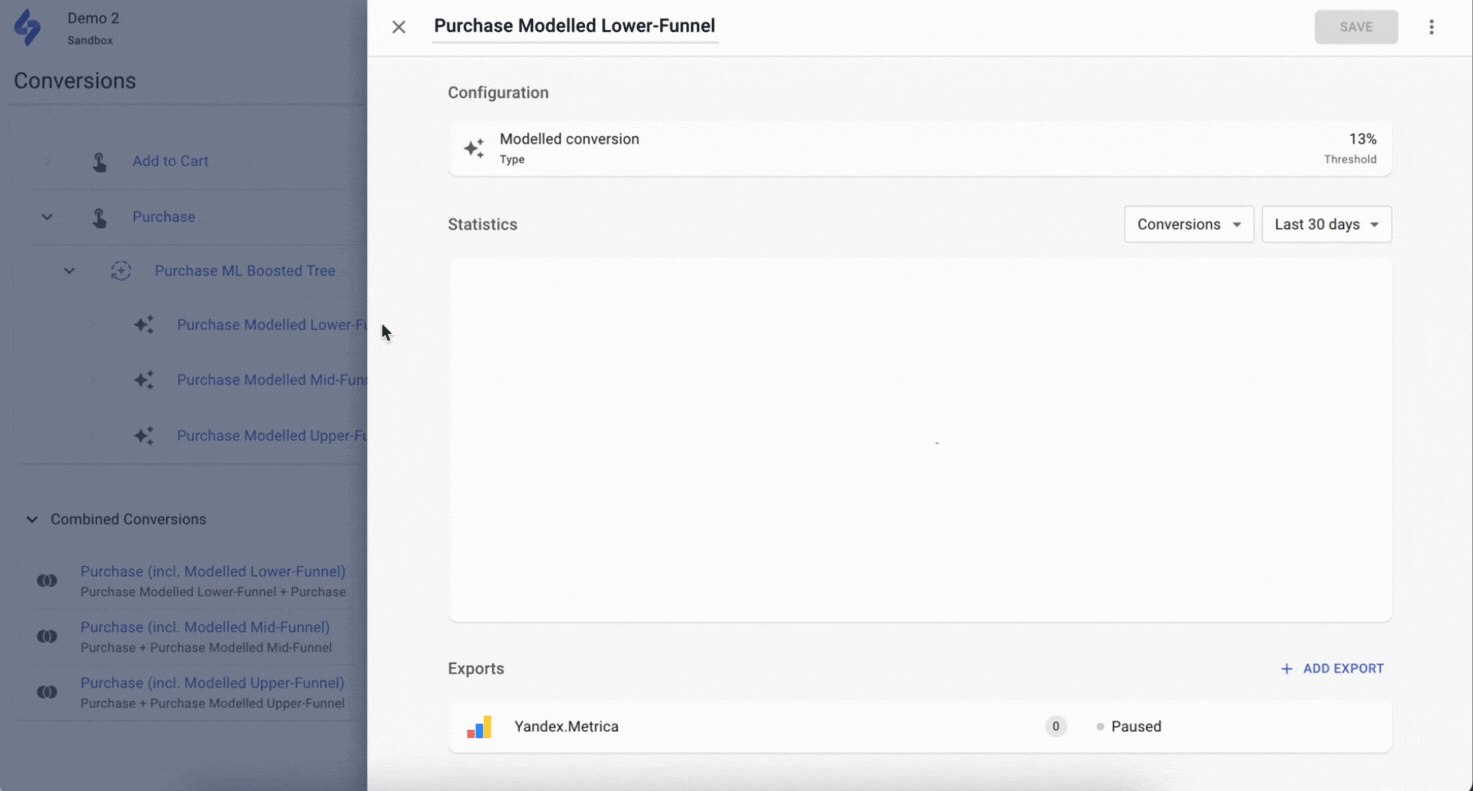 How to pick the right threshold?
SegmentStream's platform allows users to create Modelled Conversions for a number of goals and purposes: from marketing performance analytics to ad optimisation. If you want to learn how to use the threshold selection helper for your project, our Customer Success team will advise you on the best way to do that.
3. Understand how Modelled Conversions are used inside Google Ads
In Google Ads, there are two types of conversion actions: primary and secondary.
The ones that are reported in the "Conversions" column in your reports and used for bidding optimisation are called Primary.
Secondary actions, on the other hand, are for observation only and not for bidding.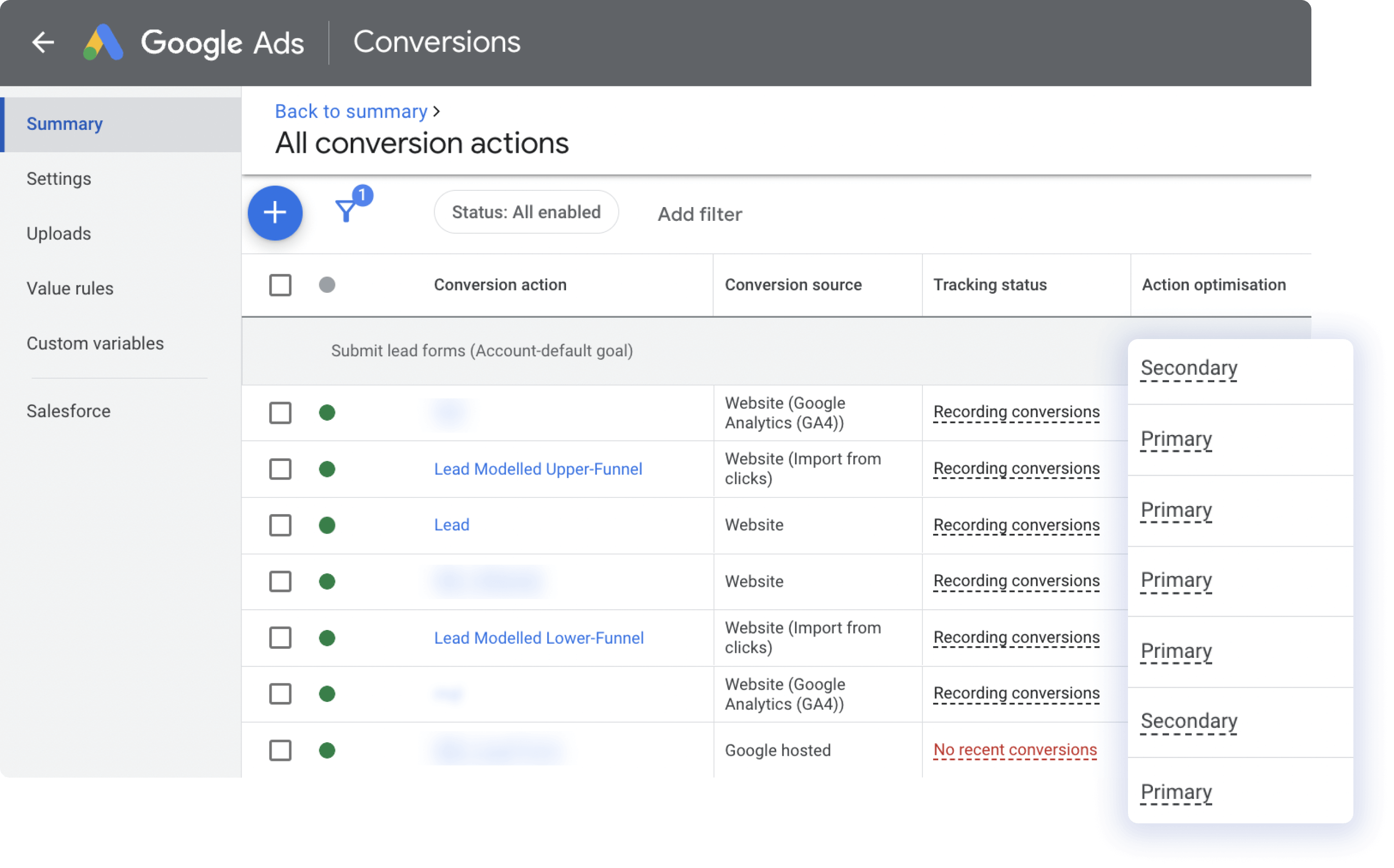 Primary and Secondary Actions in Google Ads
Now in SegmentStream's admin panel users see whether the exported conversion is Primary or Secondary.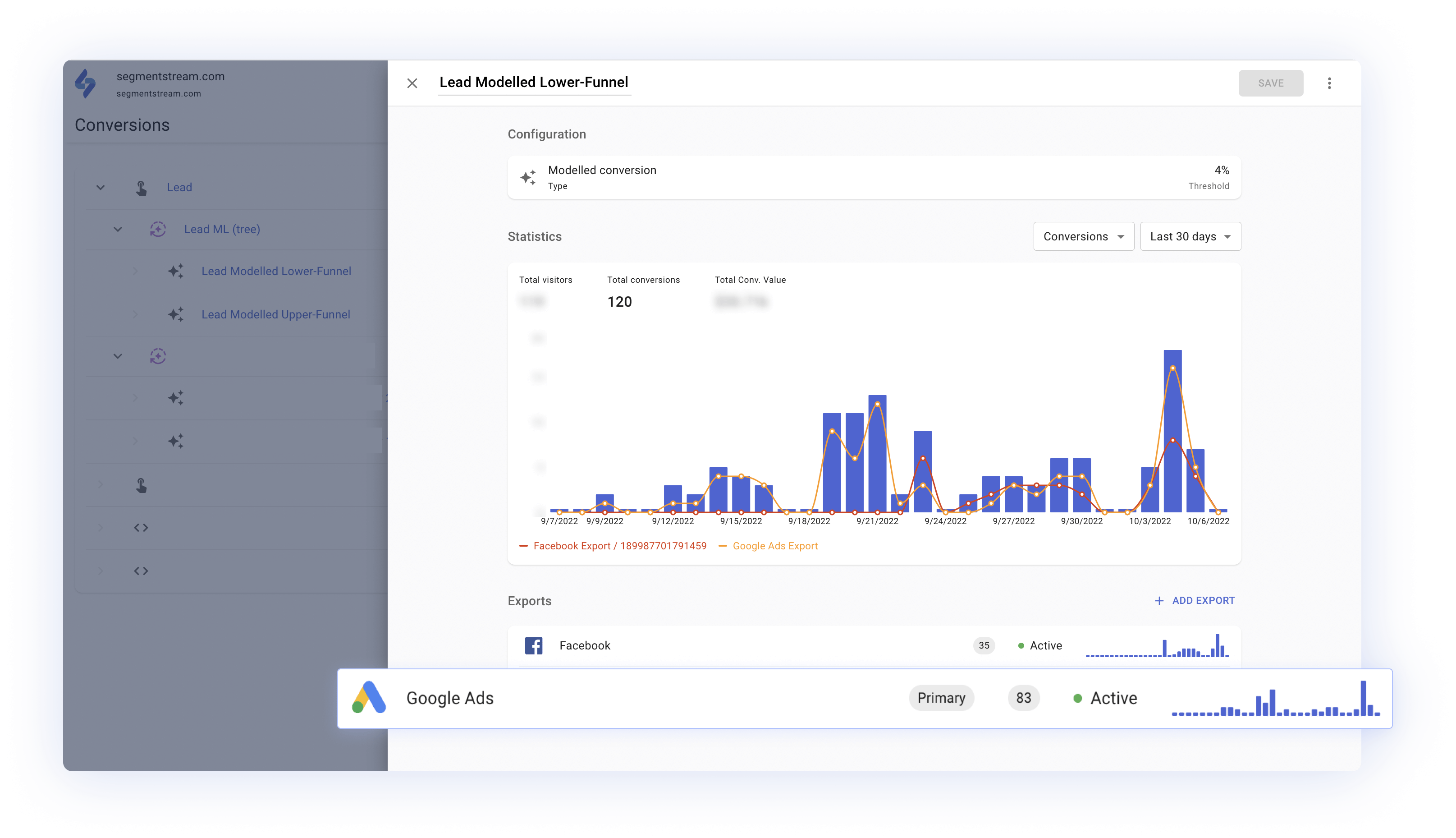 Primary/Secondary Conversion Action in SegmentStream Export
Never miss an article
Get the latest articles, event invitations and product updates delivered straight to your inbox.
Thank you! You've been signed up for our newsletter.
Get started with SegmentStream
Learn about Conversion Modelling and why it is a true next-generation solution to outdated marketing attribution and conversion tracking tools.