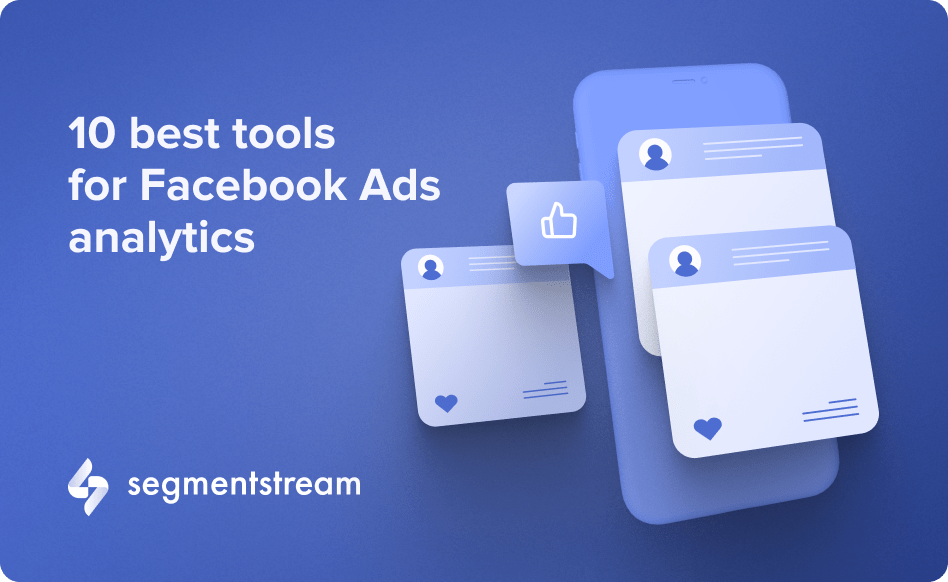 10 Best Tools for Facebook Ads Analytics
From tracking performance to analysing customer data, these top 10 Facebook Ads analytics tools provide the insights you need to make informed decisions.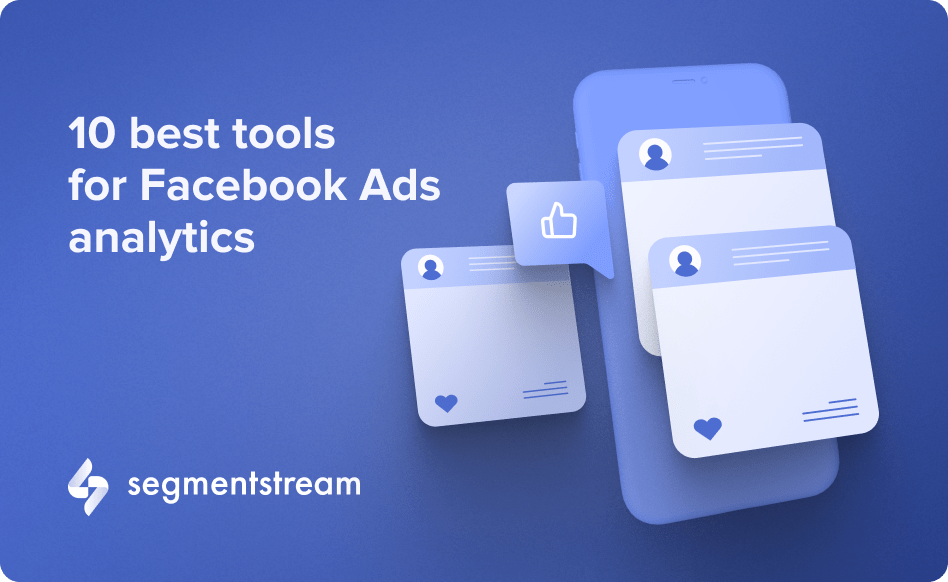 Facebook can be a powerful selling tool.
Just look at these stats:
Facebook has 2.91 billion monthly active users. (Statista)
Meta claims its total advertising audience is 2.11 billion people. (EmailStatCenter)
Facebook Ads have an average conversion rate of 9.21%. (Wordstream)
But how do you know if your ads are performing well? Without clear insight into the effectiveness of your campaigns, your business is only leaking money and not generating new income. 
The answer is simple!
If you're looking to get the most out of your Facebook Ads campaigns, you'll need the right tools to analyse and optimise them. 
Here, we'll discuss the ten best Facebook tools for ad analytics to make your campaigns more successful.
But first, let's look at the benefits of using Facebook Ads analytics tools in greater detail. 
Why Should Marketers Use Facebook Ads Analytics Tools?
Analytics is one of the most important aspects of marketing. 
Here are a few reasons why:
The best Facebook Ads tools provide insights into not only the performance of the campaigns but also recommendations on how to optimise the campaigns for better results. With the right tools, marketers can track the performance of their campaigns in real-time and adjust their strategies accordingly.
Facebook ads analytics tools also provide insights into customer behaviour, which can help marketers create better ads and target the right audience. This, in turn, helps reduce the cost of campaigns and increase the ROI.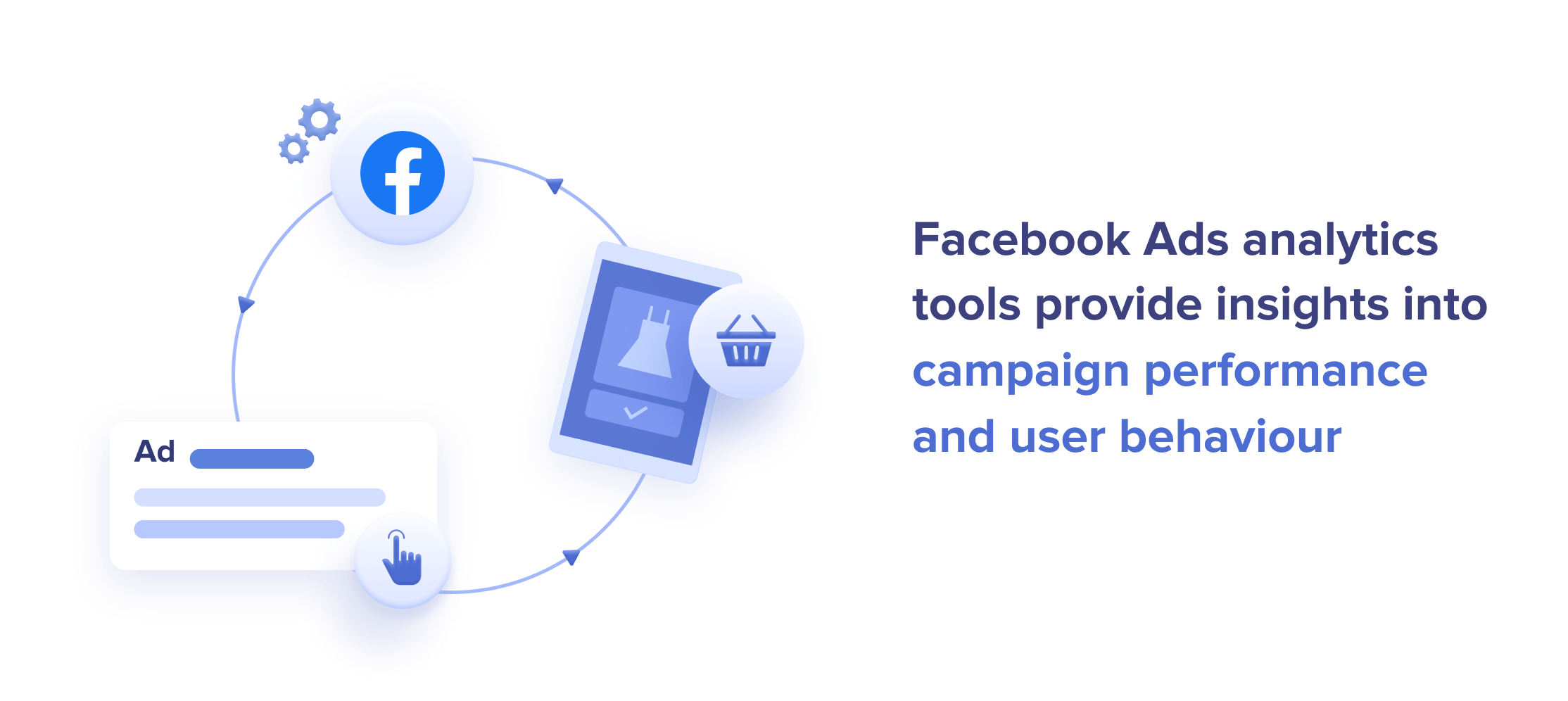 Overall, using the right tools to analyse Facebook ads is essential for business success.
Now that we cleared that out of the way, it's time to cover the ten best Facebook advertising tools you can use to measure your success.
Best Tools for Facebook Ads Analytics
Whether you're a small business owner or a larger company marketer, these ten analytics tools will help you get the most out of your Facebook ad campaigns. 
Each one offers unique features that can help you analyse and optimise your campaigns, maximizing your results and getting the best ROI for your ad spend. 
Let's dive in!
SegmentStream Conversion Modelling Platform

Did you know that only a small share of clicks on your Facebook ads are considered "valuable?" The reality is that users rarely purchase within a single visit to your website or app. The user might jump from one channel, device, or browser to another until they finally decide to convert. 
Let's imagine a user came across an ad for noise-cancelling headphones on Facebook on their mobile device. They clicked on the ad and opened the product in the Facebook in-app browser but decided to return later after some consideration. A few days later, the user reopened the link to the website in a different browser and added the headphones to the shopping cart. They had another change of heart and decided to wait for their next paycheck before they buy. When payday arrived, the user finally purchased the product on a work laptop. 
In this case, all analytics systems will think that the last direct channel is the most valuable, while the Facebook ad won't receive any credit. 
Without knowing the value of each ad click, the Facebook Ads algorithm is prevented from efficient targeting, bidding, and campaign optimization.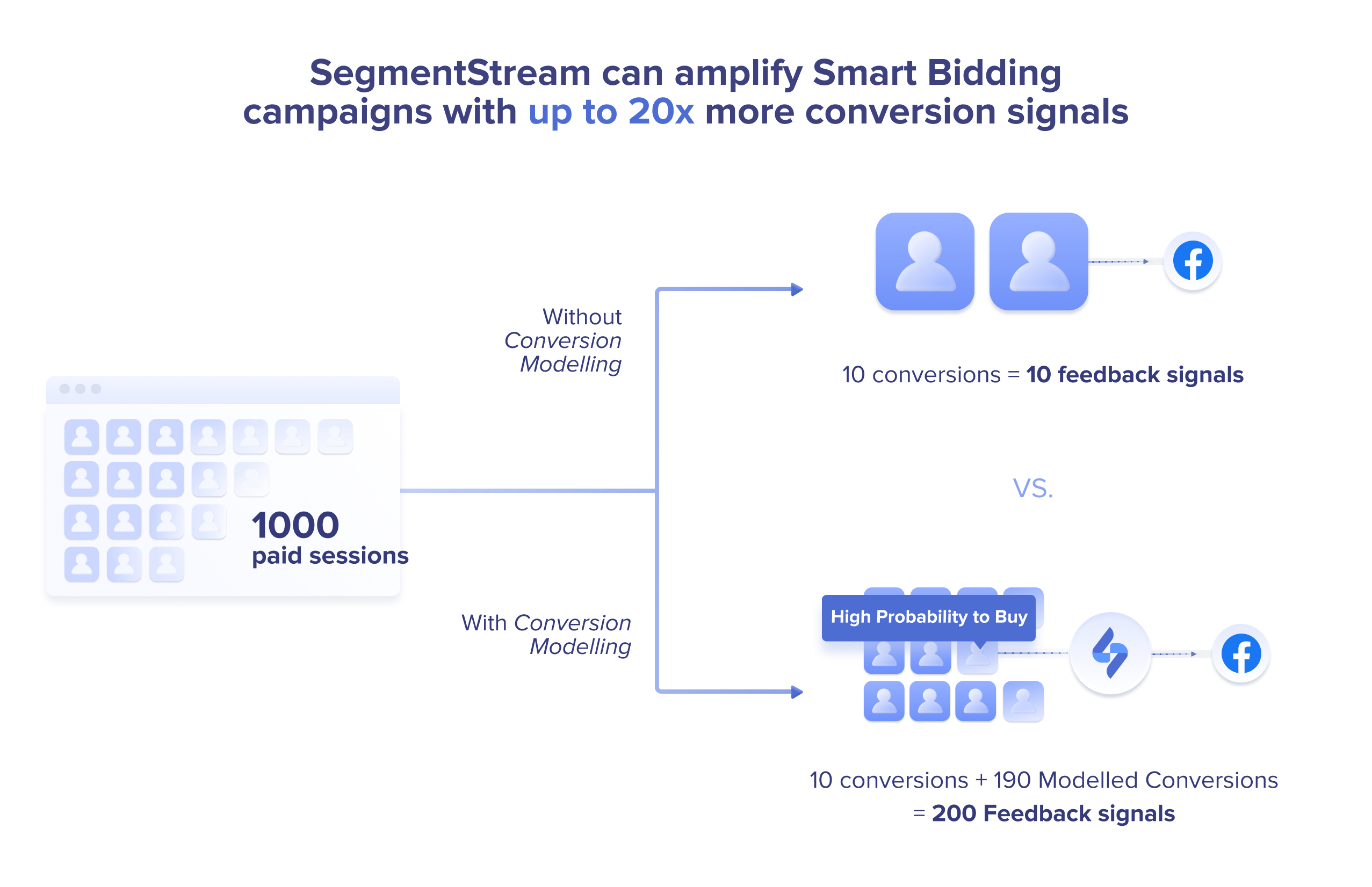 You need a better mechanism to evaluate the success of your campaign, and the SegmentStream Conversion Modelling Platform was built with this in mind.
How does SegmentStream fix this issue?
It evaluates each website visit and predicts the user's probability of converting in the future. When there's a higher probability of a user converting, the platform creates a Modelled Conversion that is attributed to the traffic source. In other words, even if the conversion happens via another device or browser, the original traffic source will get the value it deserves. 
Pros:
It helps you understand the real value of all your traffic sources.
It gives Facebook valuable conversion data to work with and to optimise toward high-quality users.
It lets you see the real picture of your cross-channel marketing performance.
Helps improve the performance of your key digital advertising channels.
Cons:
This approach requires at least three weeks of historical data for the Modelling Platform model to be trained.
In order for the model to ensure good prediction scores, it needs around 300 online conversions per month. 
Want to see SegmentStream in action? Request a free trial here. 
SocialPilot

SocialPilot is a social media management tool that can help you track your Facebook Ad campaigns. 
This is also a Facebook Ads reporting tool that helps to schedule posts, create and manage campaigns, and respond to customer inquiries. SocialPilot lets you manage multiple Facebook accounts from one place and allows you to collaborate with team members from inside the tool. 
This can be incredibly helpful if you're managing Facebook ad campaigns for multiple businesses. The Facebook Ads section allows you to track your campaigns and view information such as impressions, clicks, and costs. It also shows you the lifetime value of each ad and ad spend. In the content section, you can create posts and see scheduled ones.
Pros:
Great for solo entrepreneurs and agencies. 
Minimal learning curve.
Schedule posts in advance.
Powerful audience targeting options.
Affordable monthly plans starting at $25. 
Cons:
It can be slow at times.
Limited support options. 
The interface is not the most intuitive. 
AdEspresso

AdEspresso is a powerful Facebook Ads optimisation tool that helps you create, manage, and analyse your campaigns and get actionable insights. 
For instance, the Audience Insights tool lets you explore the data behind your audience to help you create better ad targeting. 
You can also use this tool to track your campaigns and view information such as impressions, clicks, and costs. 
With the built-in drag-and-drop PDF reporting tool, you can build custom reports for specific Facebook campaigns. And if you're managing multiple campaigns and clients, you can add tags to your campaigns and see aggregated statistics for each one. 
Pros:
Analyse your campaigns and get actionable insights.
Built-in drag-and-drop PDF reporting tool for creating custom reports. 
Tagging for aggregated reporting for managing multiple campaigns. 
Cons: 
Pricey monthly plans.
Not so friendly UX/UI.
Limited in features. 
Quintly 

Quintly is a social media analytics tool that allows you to see detailed analytics for all of your Facebook ads. This includes campaign information, ad performance, and audience insights. 
With the help of this powerful software Facebook ads platform, you'll be equipped with all the tools you need to track and analyse the Facebook KPIs that matter to your business. For instance, you can analyse how many new fans you gain, where they come from, their age and gender, etc. The platform also tracks what type of content resonates with your audience the most by tracking comments, shares, and likes. 
Another great thing is that you'll be able to integrate paid data into your overall marketing analyses and combine it with organic data to improve your overall strategy.  
Pros:
Choose from 350+ metrics to set up meaningful analyses.
Draw valuable conclusions from competitive analysis and stay on top of what other players do.
Convert your analysis into recurring, automated reports.
Cons: 
Facebook Ads Manager

If your business is already spending money on Facebook Ads, it makes sense to use the tool that you already have access to for free. Facebook Ads Manager is an amazing tool that comes with all the features you need to optimise your ads and deliver successful campaigns.
For example, let's say you're using Facebook ads to drive users to sign up for the demo version of your product. You'll be able to see which ad in your campaign is driving the most signups, the total number of people who signed up, how much each signup costs you, etc. 
Facebook Pixel is another neat functionality. It's a piece of code you can place on your website that tracks actions taken on your website by visitors. You can then use this insight to retarget people who have visited your site or taken a specific action.
Pros:
It's entirely free to use.
You can add employees and other users to manage the account.
View up-to-date data on the performance of your ads and schedule reports.
Ads Manager app for iOS and Android for work on the go. 
Cons: 
Occasional bugs and crashes.
Meta Business Suite

The Meta Business Suite is a comprehensive Facebook Ads management tool that allows you to manage your entire business from one dashboard. This tool allows you to track your campaigns, see ad performance, create ad variations, and run reports. 
With the Insights feature, you can see metrics, trends, and visual reports that will help you understand which strategies are performing the best and where you need to make improvements. For instance, you can see how each of your ads performed, such as impressions, clicks, and cost, but also more detailed data, like the number of returning views, earnings, comments, and shares. You can even set a goal and track your progress toward that goal.
The software also lets you create ad variations from your best-performing ads. This can be a great way to optimise how you spend your time and resources. 
The report section lets you run various reports on your campaigns.
Pros:
Brings all the needed tools together in one place.
Lets you manage the entire business from a single dashboard.
Great UX/UI and ease of use. 
Campaign optimisation with minimal manual effort.
Cons:
Frequent changes to the interface. 
The mobile app needs some improvements. 
SproutSocial

Sprout Social is another fantastic platform that has landed on our list of best Facebook tools for measuring the performance of your Facebook ads. This social media management tool has a special feature that allows you to connect your Facebook Ads account. 
With this integration, you can track overall campaign health, ad performance, and paid media metrics. It's also helpful for managing multiple ad accounts, as you can assign different teams to each account. 
The tool lets you view detailed data such as impressions, clicks, and the average cost per click (CPC). You'll be able to see the demographic data of your audience and run reports based on these metrics. 
Additionally, the platform offers a competitive analysis feature that lets you compare your ad metrics against that of your competitors' campaigns, which can be quite useful for seeing how your ad metrics stack up against other advertisers in your industry. 
Pros:
The platform is easy to onboard and navigate.
It includes competitors' comparisons.
You can manage several Facebook pages at once.
Easy-to-read graphs that give you insight into how your Facebook ads are doing.
Cons:
Pricing plans might be too expensive for some businesses.
Limited customer support. 
Keyhole 

Keyhole is a powerful software for the Facebook Ads platform that lets you track and monitor your campaign data across all social media channels. 
This social media management tool offers an easy-to-use interface that lets you view the performance and data of your campaigns in real time. You can easily track metrics such as click-through rate, impressions, and engagement. 
The Social Listening feature tracks your competitors and industry trends and helps you get key consumer insights so that you can make informed timely marketing decisions. 
The tool has a fantastic Machine-Learning Prediction feature that lets you anticipate the performance of your campaign in the next 24 hours, 7 days, or 30 days based on real-time data. 
Pros:
Generate easy-to-understand and shareable reports in seconds.
Download reports in XLS & PDF formats.
Uncover your competitor's content strategy.
Great features like social listening, brand monitoring, and hashtag tracking. 
Cons: 
It can get expensive very quickly.
The platform can be a bit difficult to navigate.
Rival IQ

Rival IQ offers a wide range of Facebook ad analytics metrics, including post engagement, reach, and demographics. It also has a competitive analysis feature that allows you to compare your ad metrics against those of your top competitors.
What's more, the tool lets you collaborate with your team members, assign tasks, and review social campaigns. You can also schedule posts, view reports, and export your data in various formats.
The good thing about this tool is that it has some free tools you can use to analyse your Facebook campaigns. The free Head-to-Head Report gives you insight into post engagement, shares, and post frequency so that you know how your performance compares to that of your competitors. You'll be able to see top-performing posts, so you can tailor your campaigns to match what is trending at a given moment. 
Pros:
Offers many free tools for companies with tight budgets. 
Head-to-head reports that tell you how you compare to your biggest competitors. 
Sends you alerts on breakout posts from competitors.
Cons:
It can get expensive fast. 
Hootsuite 

Our list of best Facebook advertising tools wouldn't be complete without a tool like Hootsuite. There are many things to like about the platform. First of all, you can track the performance of your ad campaigns and view detailed data such as impressions, reach, and engagement metrics. 
What's more, you can also see the average cost per click and overall ad health of your campaigns. The tool's Ads feature offers helpful features such as scheduling social media posts, creating ad variations, and managing paid campaigns. A neat heatmap feature tells you when your audience is most likely to be active and provides you with useful tips for what and when to post based on your engagement goals.
You can create and export custom reports and even schedule reports to be delivered to your inbox on a specific date and time. There are various options to share the reports with your coworkers and other stakeholders.
Pros:
Easy-to-read customizable dashboards.
Suitable for beginners.
Affordable for small businesses with limited budgets. 
Cons:
Might be too limited for growing businesses. 
Add-ons can get expensive quickly.
The Final Verdict: Looking for the Best Facebook Ads Tool for Analytics
If you want to improve your ad campaigns, you need to know where you can make improvements. 
By measuring the performance of your Facebook ads, you can make data-driven decisions and improve your ad campaigns over time.
This way, you can get the most out of your ad campaigns and increase your ROI. 
Simply choose the Facebook ads reporting tool that fits your budget and needs, and let it work its magic. Good luck!
Never miss an article
Get the latest articles, event invitations and product updates delivered straight to your inbox.
Thank you! You've been signed up for our newsletter.
Get started with SegmentStream
Learn about Conversion Modelling and why it is a true next-generation solution to outdated marketing attribution and conversion tracking tools.