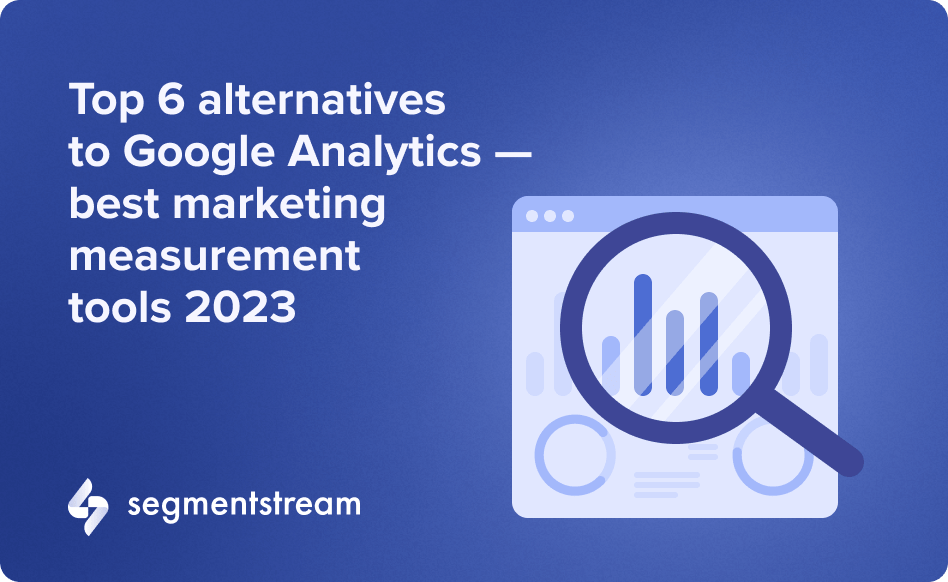 Top 6 alternatives to Google Analytics — best marketing measurement tools 2023
Which marketing measurement tool is the best Google Analytics alternative? Explore new, more effective approaches to digital marketing analysis.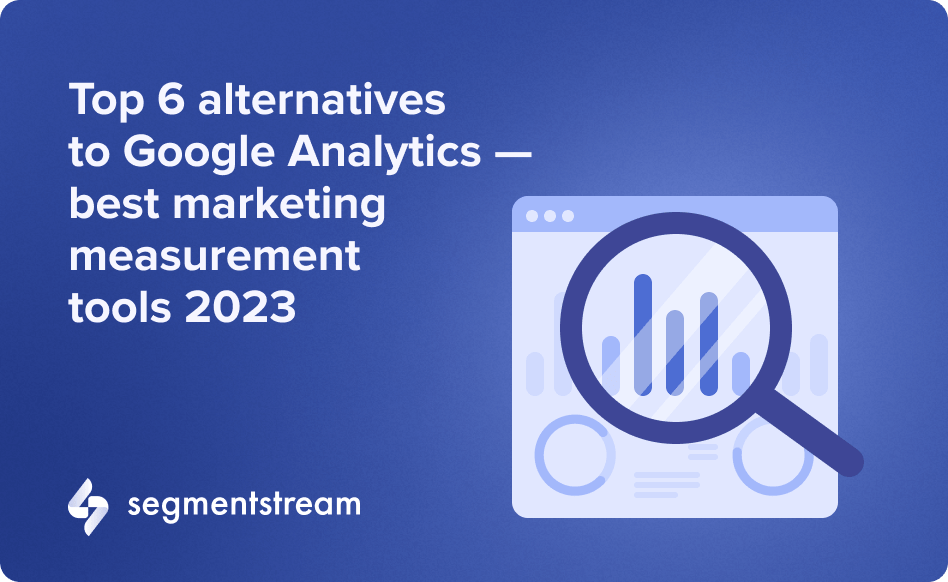 Universal Analytics has been a go-to for marketers since the inception of online advertising. So, why would Google sunset its Universal Analytics (UA), with its 30% market share, to shift to Google Analytics 4 (GA4) without offering users even essential data migration? The new GA4 also emphasises event-focused analytics rather than straightforward cookie-tracking data. Does that mean Google has changed the way it rates and counts events?
These changes indicate that there has been a fundamental shift in the basics underlying the data analytics industry, and that it's time to look at new ways to measure marketing goals. But before you move to a replacement analytical tool, what is the best Google Analytics alternative to avoid getting you into trouble with privacy laws? 
First, you need to understand Google's well-documented privacy debacles and the tool limitations inherent in Google Universal Analytics to help you avoid similar issues when choosing an alternative to Google Analytics.
Let's look at the pros and cons of the new Google Analytics 4, check the current best alternatives to Google Analytics, and find out why some alternative marketing measurement tools could be on dangerous ground in increasingly restrictive privacy environments.
Why do marketers look for alternatives to Google Analytics?
Customer journeys have become extraordinarily complex. People now use multiple digital tools besides robust privacy protection. They leap across devices like digital grasshoppers, leaving marketers scrambling for ways to track the impact of their marketing campaigns and attribute the value of each touchpoint correctly.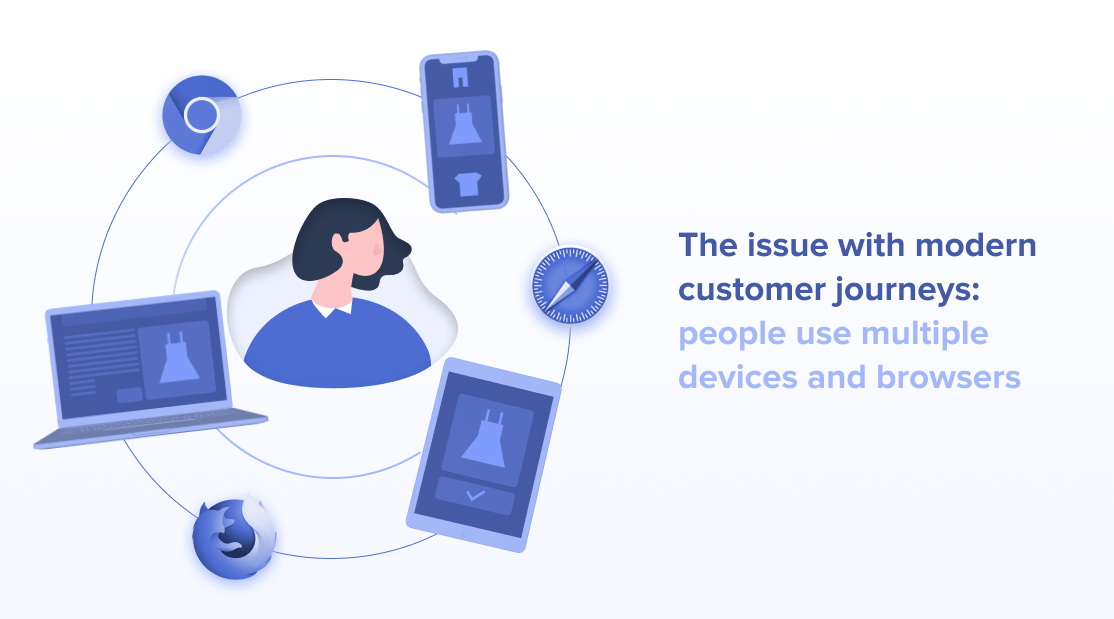 A customer may first see your product on Twitter, read about it on a website while on a home laptop, then see it in action on Facebook and search for a stockist on their mobile device. Perhaps they'll add it to an Amazon wishlist on Amazon from a home laptop - before finally buying it directly from your website from a work desktop.
None of the conventional multi-touch attribution or analytics tools can follow each customer journey correctly. That creates a massive problem when marketers have to justify their Facebook or Google advertising spending.
What are the main problems to avoid with Google Analytics alternatives? Tool limitations
The main problems with Google Analytics are the increasing pressure on marketers to preserve user privacy and GA4's technological shortcomings.
Google Analytics Tool limitations
Google Analytics 4 may have been developed by the most powerful advertising company in the world, but the problems that plagued the old Universal Analytics will still be present in the new GA4:
Data sampling
Google commonly uses data sampling on large data sets which skews advanced analysis reports.
Data losses due to loss of consent to track
Google handles the data of people who ignore consent buttons in Google Consent mode. The resulting anonymised data may not be used for tracking, which lowers the quality of your dataset.
Complex manual migration process between UA and GA4
You can't import any data, tags, or settings between the platforms. Once UA shuts down, say "Goodbye!" to the historical records you need to analyse growth or trends. You'll have to start over.
The steep learning curve of GA4
Google Analytics 4 isn't a reporting tool, per se. It's simply a dashboard where you can integrate the outside DIY tools of your choice. You'll need to learn how to use each of those sophisticated tools to do an independent, off-platform analysis of your data, then integrate the results into your GA4 dashboard. If you're a data analyst, data analysis tools are all in a day's work. If you're a marketer or business owner, working with GA4 could be remarkably challenging.
The freshness of incoming data
In Universal Analytics, you wait at least 24 hours for your reports. GA4 is faster but still takes at least 4 to 8 hours to process incoming data.
Still no access to raw data
Unless a marketer has direct access to AWstats in CPanel you must pay for BigQuery to access your raw data.
Outdated multi-touch attribution
Google's Multi-Channel Funnels Model Comparison Tool allows you to compare different attribution models to evaluate the impact of your marketing channels. However, Google's tool is based on the flawed assumption that it is possible, in this day and age, to record people's every touch point. The reality is very different. 
Google Analytics Privacy issues
Privacy is the future. Third-party cookies are going away. Several European countries have fined Google for contravening GDPR. France, Belgium, and Sweden's data protection authorities recently hit Google with multi-million-dollar fines, but in early 2022 Austria went a step further when they declared GA illegal. The Dutch and Norwegian data protection authorities have since followed suit.
Even though Google has been forced to change its privacy practices, Google still profiles your users and shares your information with other users in environments where you can't protect and control your data.
If your new analytics tool collects Personally Identifiable Information (PII), even accidentally, that means that you, the analytics tool user, are a party to this transgression, and you will be held liable for violating GDPR. For example, Google's Remarketing or Display Network advertising services still rely on PII. Therefore, any marketing measurement tool that used the data Google previously obtained from its remarketing and display network services will be affected.
The important implication is that most alternative marketing measurement tools that claim to be GDPR-compliant may not be safe in the future.
We've recapped the shortcomings of Google's UA because the same problems have been ported to GA4. You'll need to keep these issues in mind as problems to avoid whether you stay with GA4 or look for an alternative to Google Analytics.
The Top 6 alternatives to Google Analytics for 2023
The analytics tool industry keeps inventing new ways to slurp up both relevant and irrelevant customer data while dodging the edges of privacy laws. But marketers don't need superfluous private information about people. Instead, they need their marketing measurement tools to tell them where, when, and how much of their marketing budget to spend.
We've included some of the newest digital marketing measurement tools in this list of alternatives to Google Analytics.
1. Fathom Analytics

If the idea is for the best Google Analytics alternative to provide "just enough" information about users, this tool is on a noble path.
How it works:
Their technology allows you to bypass ad blockers with a script that assigns attribution to a sub-domain uniquely associated with your business. Effectively, the solution doesn't know who visits your websites, but they know which pages are popular and which are the best referrers.
Pros:
It's a simple web analytics tool with an easy-to-read dashboard for essential reports.
It has some serious privacy credentials, including a European-owned infrastructure for EU traffic. 
If you use Google Analytics, Google owns the data and shares it according to its (opaque) privacy practices. With this tool, you own the data, which places you in the position to guarantee that the data you collect is never shared or sold.
Cons:
It fails to capture the customer journey via multiple digital devices for marketers who need proof that they are spending their marketing budget in the right places.
2. SegmentStream Conversion Modelling Platform

SegmentStream Conversion Modelling Platform is an outlier as far as analytics tools go. Their focus is helping you make budget decisions rather than gathering a surfeit of information about each user. Instead of clutching at new methods to collect the rapidly diminishing stream of user data, SegmentStream has developed an elegant solution that addresses the growing user data gaps.
How it works:
SegmentStream acknowledges the new data reality; that you cannot follow every user's journey from start to finish. Data gaps exist because people use ad blockers, decline cookies, and use multiple devices to access the Internet. 
These data gaps will become exponentially bigger as privacy restrictions become tighter and the use of numerous devices per person increases. Therefore, SegmentStream Conversion Modelling Platform combines your first-party data with their Machine Learning algorithms to fill in the data gaps. 
Every exposure to your product, be it social media, outreach articles, or a visit to your website, plays a role in the chain of events that leads to conversion. 
Machine Learning can spot trends that humans can't see. A user might swipe more emphatically, retrace a previous journey, or keep returning to a FAQ or checkout page without buying. SegmentStream uses all these signals to assign a conversion probability to every user. 
Pros:
SegmentStream's conversion probability weighs and distributes the 'value' of each touch point in the chain.
If a user initiates contact on his laptop on Facebook, then vanishes for a few days only to do a direct search for the website on his mobile device or work laptop, a marketer might be hard-pressed to decide whether to spend more on Google Ads or Facebook Campaigns. 
In this instance, the person may have clicked on a paid Google Ad, but the initial, and more definitive contact, should be attributed to the Facebook campaign. Conversion Modeling allows you to measure the success of every channel much more accurately. 
It's an innovative way to overcome the shortcomings of conventional multi-touch tracking in a world where cookie-based tracking is vanishing. 
There's no surplus of data. Instead of gathering a glut of irrelevant data about people, SegmentStream is a digital marketing tool that tells you where to focus your marketing efforts and budget.
Simple interface.
Cloud-based and secure.
Uses first-party data.
3. Piwik

This is an analytics suite that focuses on data security and the privacy of users.
How it works:
It provides the users with the ability to analyse the digital user experience in many places, e.g. post-login areas, SharePoint spaces, and so on. 
Pros
It allows for optimising the customer journey where it is typically impossible by analysing the digital customer journey.
The tool anonymises has on-premises and cloud storage options.
It has tailored and custom reports.
Cons:
The solution has limited integration options with third-party tools. Some users also report that creating custom events for some actions is limited.
4. Heap

This is an analytics tool for micromanaging and improving website interaction, tweaking funnels, and increasing website conversion. 
How it works:
It analyses user behaviour on your website and models predictive website improvements.
Pros
The main benefit is the tool's ability to pinpoint both hurdles to conversion and moments of greatest opportunity for users on your website. It shows scenarios for tweaking your site to improve user experience, lowering bounce rate, and other ways to optimise what you already have.
They offer all the expected analytics reports but also some beneficial custom add-ons. For example, Journey Maps visually compares each user's paths to reach a specific goal and quantifies the impact of optional steps in proposed funnels. 
The Digital Experience Insights highlights alternative paths to conversion that you may have missed and can even quantify user friction to help you identify product improvements.
Cons:
It provides excellent data on user behaviour, but no interpretation of user intent so it's not the best Google Analytics alternative. If you want help with focusing your marketing spend it must be integrated with other digital marketing tools.
5. MixPanel

MixPanel is an enterprise-level tool aimed at real-time user identification and behavioural tracking. 
How it works
It uses cookie-based tracking. It relies on extensive data-sharing networks to identify each user as an individual and then tracks real-time data.
Pros
The highly detailed user data includes devices, time, browser, and other familiar metrics. You can group users based on their actions, set up funnels and segmentations based on page-specific data, and add several other custom reports. Specifically, the tool allows you to send real-time messages or special offers to website visitors based on custom-defined triggers.
It also offers integration with over 50 marketing tools which can be considered a pro, but the drawback is that you share your data with a vast network of other marketers.
Cons
It prides itself on identifying each user, on an individual level. It will cause customer pushback like Google Analytics does.
It's a big tool for big companies. Marketers with smaller budgets may find that they spend more money on getting the data than they can afford to spend on advertising. 
The tool relies on gathering and using PII, and it's just a matter of time before some of the functions are curtailed by privacy laws, forcing you to consider another move. 
6. Matomo

This is the most conventional in our list of alternative analytics tools, being very similar to Google Analytics if slightly more complicated to use.
How it works
It uses cookie-based tracking that relies on a network of data-sharing tracking companies.
Pros
It's GDPR compliant if you choose an EU server. Still, if you handle sensitive data, you should note that there is no dedicated module for handling such user requests and that data anonymisation options are limited.
It offers basic Google Ads and Search Console integration, but if you request reports based on a large dataset, you'll need to pre-process the data because of the restrictions on the tool's MySQL backend. 
Cons
The basic package is free although you'll need to get some of their add-on features to enrich your data. These add-ons may quickly become expensive. 
A premium option is a powerful tool, but, like all traditional multi-attribution tools, the accuracy of their attribution reports depends on what users consent to share. That's becoming problematic for all conventional marketing measurement tools.
The tool is a big-box solution for bigger budgets that relies on a conventional, somewhat outdated multi-touch attribution model to advise you on how much money to spend on each channel. 
Additionally, in the face of almost weekly cybersecurity and data breach scandals, it is concerning that their last documented external security audit was in 2014.  
Key takeaways: looking for the best alternative to Google Analytics
Data privacy has become a significant concern for users, who object to rampant data collection and invasive advertising. The use of invasive cookies is officially at an end, and digital marketing measurement tools, including multi-touch attribution models that only use cookie technology to analyse traffic, will come to a sticky end at the hands of stricter data privacy laws.
The Conversion Modelling Platform is one of the best alternatives to Google Analytics, and marketers who bet on the technology behind it to optimise their marketing spending will be the future winners. After all, it's based on Machine Learning. ML algorithms can spot patterns that humans never even notice. A tiny new piece of data can make a vast difference to the interpretation of the whole sum of the data, so Machine Learning makes it possible for companies to think on their feet.
Conversion Modelling offers a light touch on user privacy while showing the importance of each contact point along each customer journey. It takes the guesswork out of deciding where to spend your marketing budget.
The old Universal Analytics is disappearing into the sunset. It's time to explore fresh thinking and an innovative approach to marketing measurement tools with a free SegmentStreams trial.
Let's ring in the changes!
Never miss an article
Get the latest articles, event invitations and product updates delivered straight to your inbox.
Thank you! You've been signed up for our newsletter.
Get started with SegmentStream
Learn about Conversion Modelling and why it is a true next-generation solution to outdated marketing attribution and conversion tracking tools.