The migration to GA4: a step by step guide
You must have heard by now Google's plan to move from Universal Analytics to Google Analytics 4 (GA4) in July. But what does this really mean for marketers, and how can you prepare for it?
As a digital marketer, you know that Google Analytics is an essential tool in your tech stack. It allows you to analyse the user behaviour on your website and evaluate the effectiveness of your marketing channels. 
Many marketers take the analysis a step further by using Machine Learning tools which feed on raw Google Analytics data to assess the impact of different traffic sources.
You must have heard by now Google's plan to move from Universal Analytics to Google Analytics 4 (GA4) in July. But what does this really mean for marketers, and how can you prepare for it?
Let's have a look at what this migration is all about and how you can get ready for it. We'll also provide some tips and tricks to make your migration to GA4 as smooth as possible.
What is GA4 and why do you need it to start using it?
According to Google, GA4 is "the next generation of Analytics which collects event-based data from both websites and apps". In other words, GA4 is a new type of property that combines web and app data in a single view to offer customer-centric data, privacy controls, and predictive capabilities.
If you created your Google Analytics property before October 14, 2020, most likely you have a Universal Analytics property, as it was a default type of property back then. You can also recognise it if your tag has the UA-xxxxxxxxx-x Measurement Id format (GA4 properties use G-xxxxxxxxxx format).
What's the urgency of knowing about GA4 today? It's simple – Universal Analytics properties will stop processing data from July 1, 2023 if you were using the free version. For Google Analytics 360 users, the sunset period has been extended to July 1, 2024.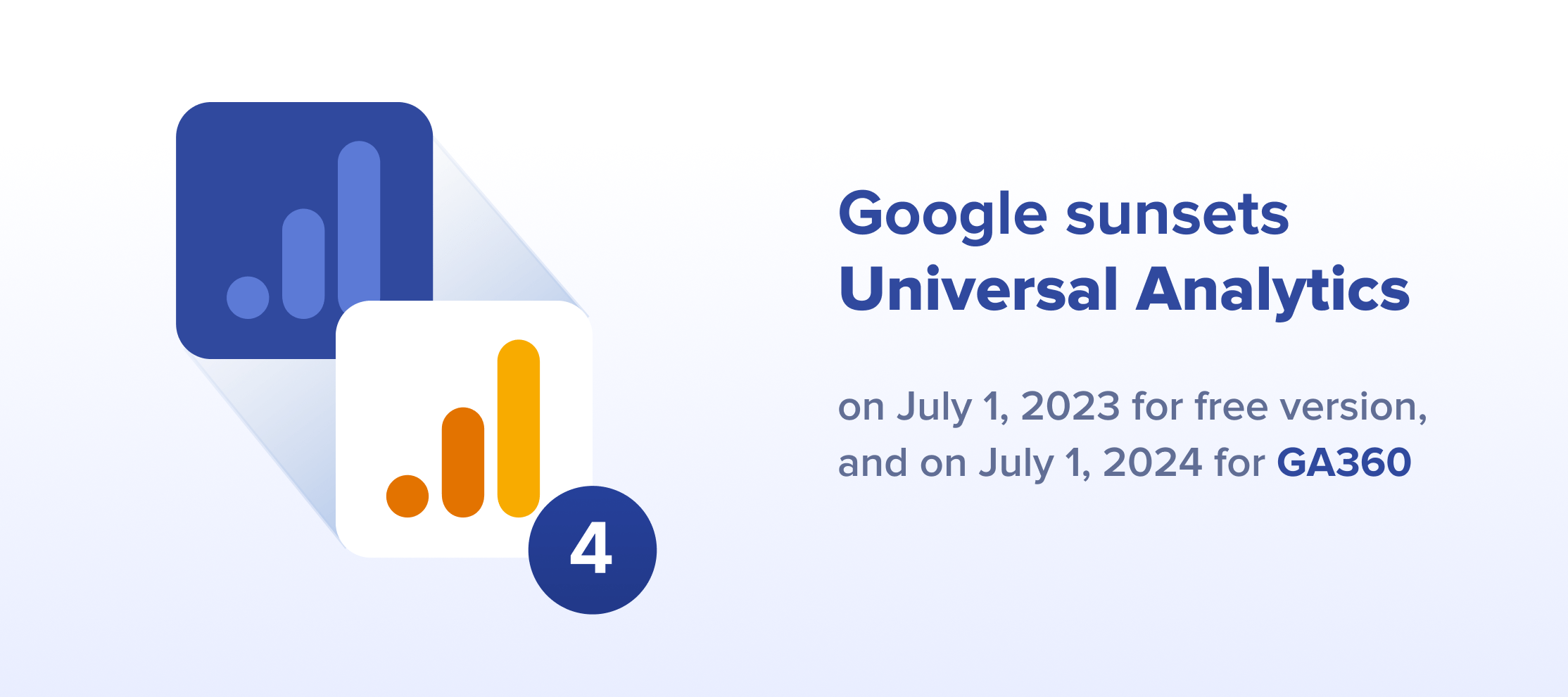 Since Universal Analytics and GA4 have different data models, you won't be able to migrate the historical data from UA to GA4. You also won't be able to backfill the data either, since GA4 is not retrospective. 
Thus, it's time to migrate as soon as possible and collect enough data to start using the new property or access raw data from it.
How is GA4 different from Universal Analytics?
Since the early days of the Urchin Software Corp. acquisition, Google has been constantly improving Google Analytics' measurement capabilities and properties for both their look and functionalities. 
Universal Analytics was first introduced in 2012 as an improvement to the Classic Google Analytics properties. It was still session-focused and allowed to measure only website data, while mobile apps could be tracked separately through Firebase Analytics.
This approach worked effectively for many years but as today's users own multiple devices, operate multiple across different browsers, and care a lot about data privacy, the data model leveraged in Universal Analytics stopped being as helpful as before. 
Now that GA4 is coming up, it's important to understand the key differences with UA and what they mean for marketers.
Data measurement model: UA is based on hits and sessions while GA4 is based on events and users.
Account structures: You can only have single-view reporting on GA4, which is different from UA's option to have up to 25 views. Instead, you can create data streams in GA4. 
Cross-platform and cross-device data collection: GA4 makes data collection more flexible by collecting data from both websites and apps into a single property, utilising the same data schema. It also offers a Blended Reporting Identity that would rely on any of the signals: Client Id (coming from the GA cookie), User Id (logged-in users), Google Signals, and any available identifier, making it easier to analyse the users' behaviour across multiple devices.
Event tracking setup: Event tracking becomes easier in GA4 – some events, such as page view, page scrolls, and file downloads can be tracked automatically without any extra tagging. The event structure is also simplified. Instead of specifying Event Category, Action, Value, and Label for each event,  you only need to add the Event Name and Event Parameters. 
User data retention: In UA you can set data retention starting from 14 months and you can even set it to not expire automatically. In GA4 you only have the option of data retention for 2 or 14 months.
Raw data access: GA4 offers a BigQuery connection for both free and 360 properties, which makes raw analytics data more accessible. 
Machine Learning: GA4 introduces Machine Learning to make predictions about your user behaviour that allows you to model the data for users who didn't provide cookie consent.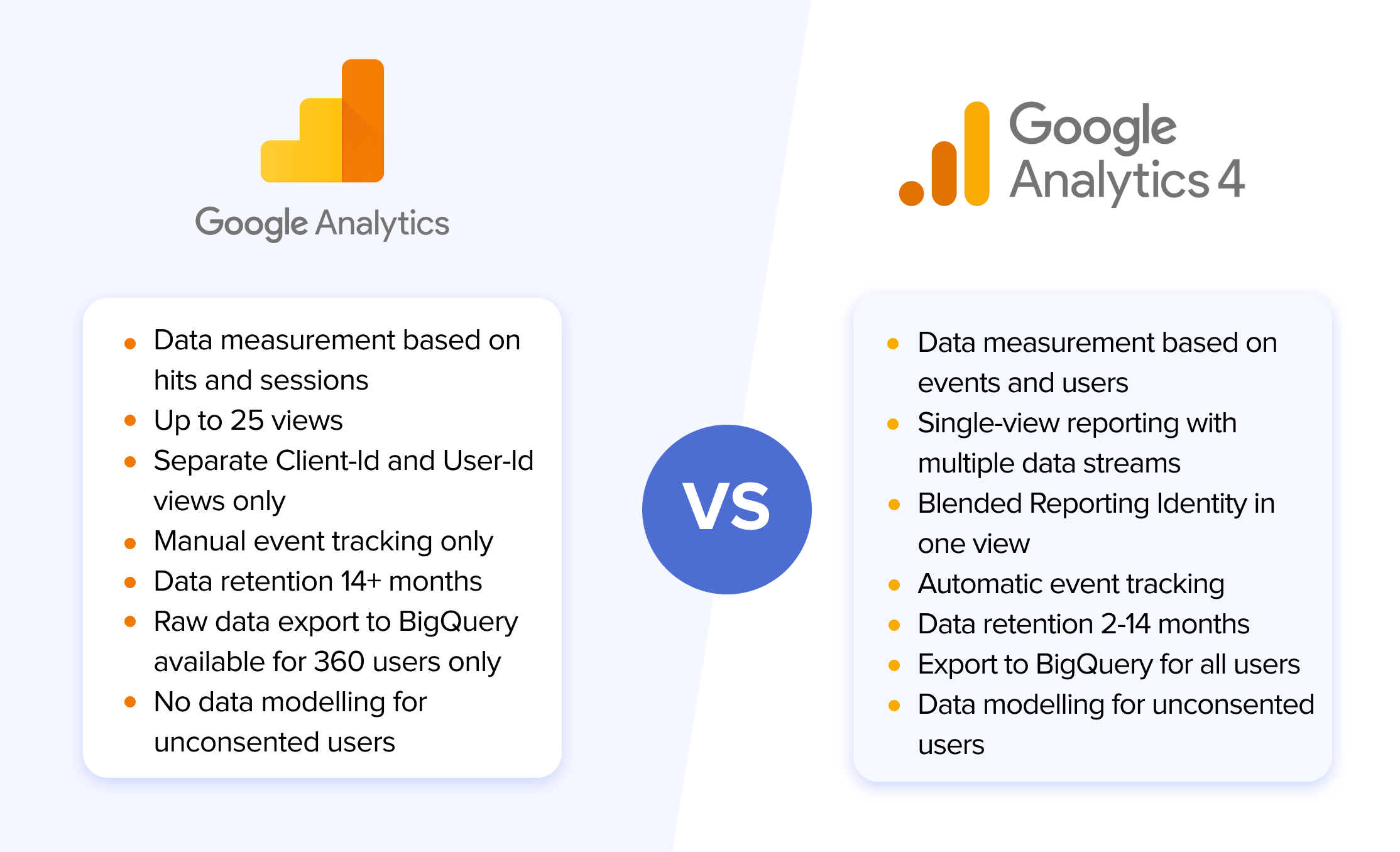 Why is GA4 important for the Machine Learning tools that are based on Google Analytics data?
Marketers use Machine Learning tools to make more informed decisions about their business. 
All Machine Learning tools that use Google Analytics data need to ensure that all necessary data points are collected. 
SegmentStream's Conversion Modelling Platform, for example, collects behavioural data from Google Analytics to apply ML algorithms and predict the probability of conversion. You don't even need to wait for the actual conversion to happen before you can make decisions based on this data and use it for smart bidding, which is even more important in a post-cookie world where attribution becomes a nightmare.
Even though you can use tools like SegmentStream both with UA and GA4, it's better to start collecting data in a GA4 property as soon as possible to make sure you aggregate enough raw data to build an ML model.
Since the change to GA4 is about to happen, it's time for everyone to be prepared for the migration. 
7 steps to migrate to GA4
How can you make the migration to GA4 as smooth as possible? Here are seven steps to follow.
Step 1 - Make an audit of your UA property
Start by making an audit of your Universal Analytics property and review your current structure and how it will change with GA4.
Step 2 - Set up a GA4 property and create a data stream
Use Google's GA4 Setup Assistant to create a GA4 property to collect data in parallel with your existing UA property.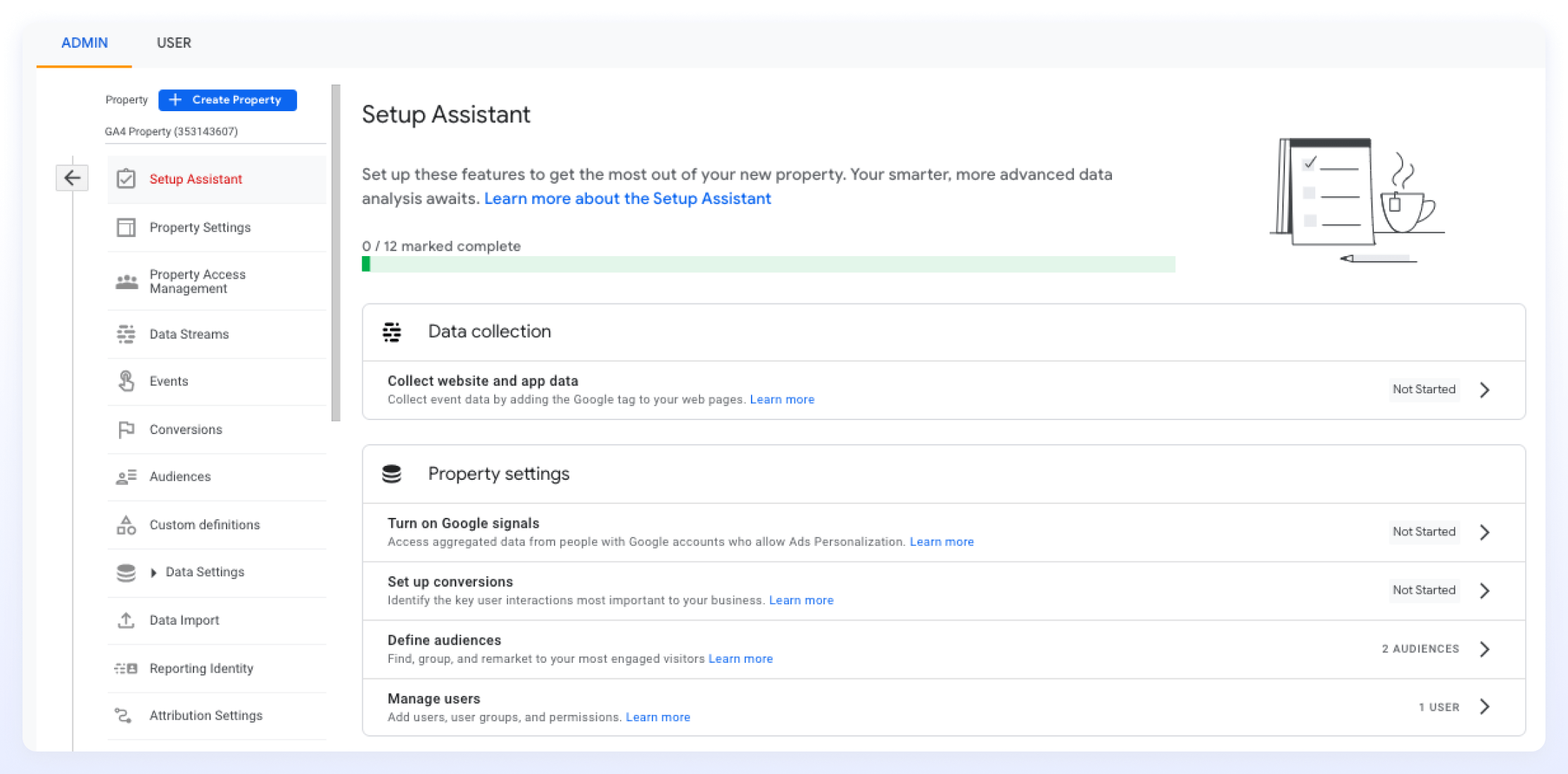 Step 3 - Set up base tracking
Use dual tagging to make sure you don't lose any data. If you were using a Google Tag (gtag.js snippet) in UA, you may reuse the existing tag with the GA4 Setup Assistant.
If you were using Tag Manager or analytics.js snippet, you can create a GA4 tag from scratch. This is the best time to clean up your setup and review your most important events.
You can implement the tag in the way that works best for you, i.e. Google Tag as a hard code snipped in the website code or Tag Manager.
Using the GA4 tag will help you collect all automated and enhanced measurement events to send core data to your GA4 property.
Step 4 - List your UA events and custom dimensions and map them with the GA4 structure
As the structure between UA and GA4 is different, it's important to map the events and the custom dimensions.
See what you're missing and what you need for GA4. 
GA4 offers four categories of events:
automated events, 
enhanced measurement events
recommended events
custom events
Before you create any custom events or dimensions/metrics, check if GA4 already collected them automatically or via the enhanced measurement feature. 
It's always better to align with recommended naming conventions as it makes your set-up cleaner and can unlock some further ML possibilities. 
Don't forget to take into account GA4 limits as they are also different from UA. 
Step 5 - List your UA goals and decide which ones you'd like to implement in GA4 as conversions
Google has a Goals migration tool that automatically migrates your UA goals to GA4 conversion events.
Before you do this, list all your UA goals and decide the ones you want to migrate.
GA4 allows an increased number of conversions compared to UA (30 in free GA4 properties and 50 in GA4 360 compared to 20 goals per view in UA).
Step 6 - Implement e-commerce tracking
You can use a single e-commerce tag implementation for both UA and GA4. However, you will still need a new e-commerce implementation in the long run as GA4 offers a new data schema. 
Step 7. Link your GA4 to other tools, like Google Ads and BigQuery
This is a very important step, especially if you use tools based on Machine Learning like SegmentStream. The connection with BigQuery allows you to access the raw data so we recommend you do the connection as soon as possible to ensure raw data is collected.
The connection to BigQuery used to be a feature only available to GA360 but now it is available even for GA4 free properties.
It's equally important to connect GA4 with your Google Ads account to understand how users interact with your campaigns. 
Takeaway
Migrating to GA4 offers a wealth of new features that can help marketers gain a more comprehensive understanding of their users and make more informed decisions. However, the migration to GA4 can be a complex process so it's essential to plan ahead and follow the right steps to ensure a smooth transition. 
Start with an audit of your UA property to review the current structure.
Dedicate the right time to create a roadmap for the migration and keep UA side-by-side to compare the data during the process.
Test and validate the implementation before you're ready for the full migration to GA4.
Monitor the migration and be ready to optimise the implementation. 
Follow our tips and tricks and you'll be well on your way to a successful migration.
Never miss an article
Get the latest articles, event invitations and product updates delivered straight to your inbox.
Thank you! You've been signed up for our newsletter.
Get started with SegmentStream
Learn about Conversion Modelling and why it is a true next-generation solution to outdated marketing attribution and conversion tracking tools.