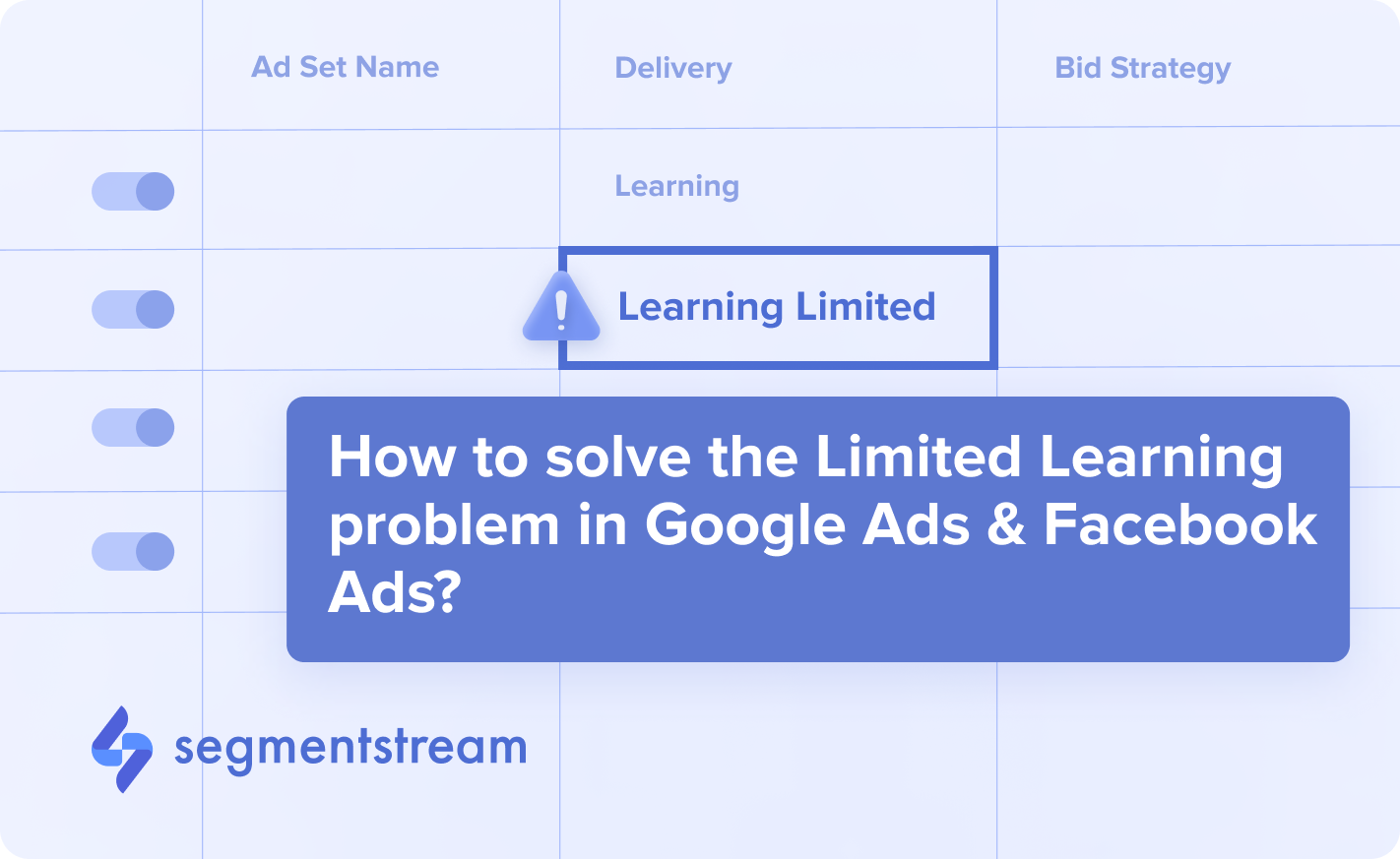 How to finally solve the Limited Learning problem in Facebook Ads and Google Ads?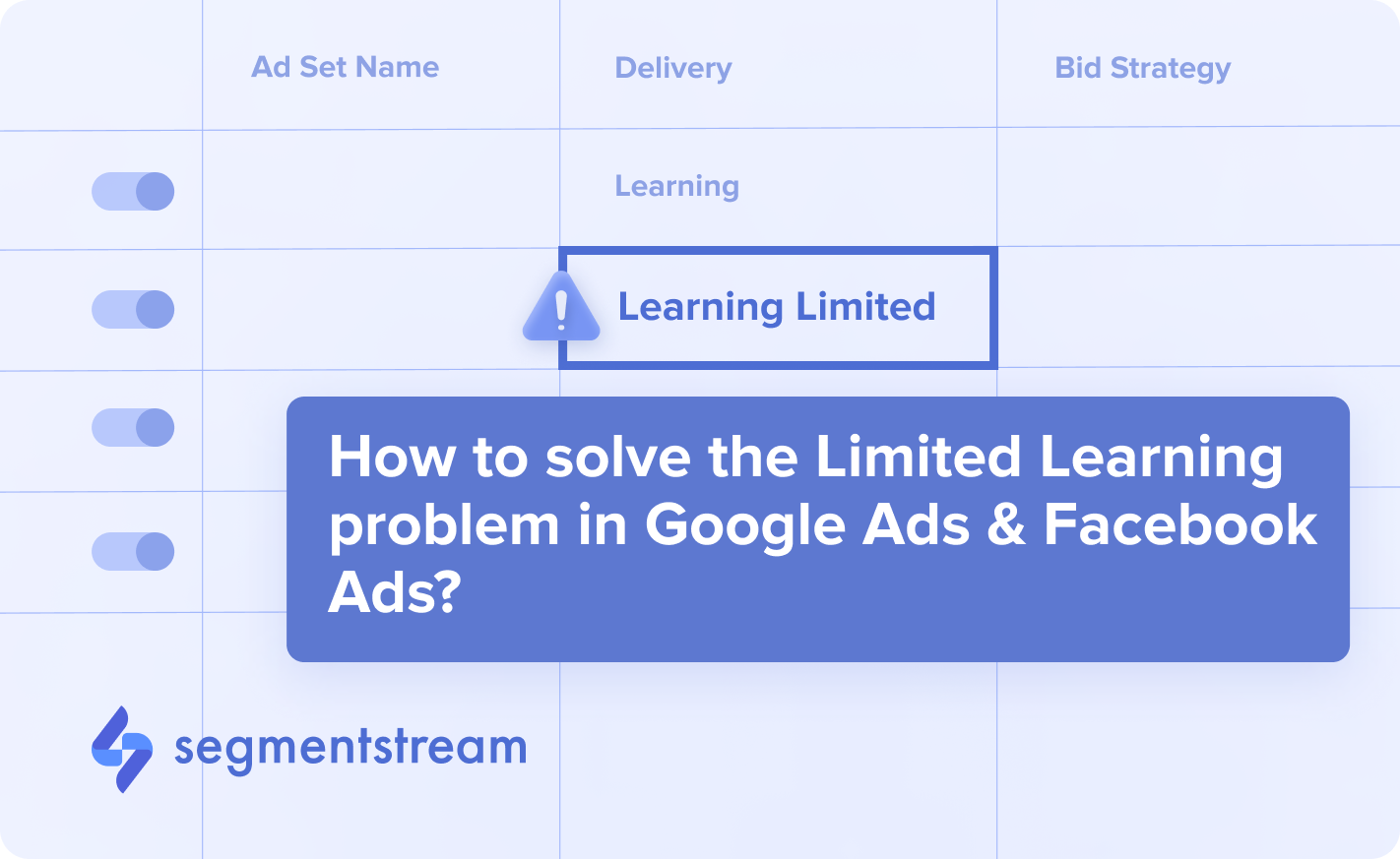 Advertising platforms use advanced AI technologies to show your ads in the most efficient way to maximise the results for your business. However, these algorithms rely heavily on the feedback to understand whether the ad was successful or not. This feedback loop is the conversion type you're optimising towards. Every time a conversion happens, the publisher interprets this as a successful interaction. The algorithms use these interactions to better train themselves.
If the objective a lower-funnel, such as Purchase or completing a Lead Generation form, the volume of signals sent back to the Ad platform may be too small to ensure adequate algorithms' training. This restricts AI learning and, in turn, campaign performance. 
Additionally, a further issue can occur if the sales cycle is long. The rollout of iOS 14, saw Facebook reduce their attribution window to 7 days post-click. If a conversion happens greater than 7-Days post-click, this conversion will not be tracked. As a result, Facebook receives no feedback.
Facebook Ads: Learning Limited
According to Facebook, to exit the learning phase an Ad Set should receive around 50 conversions per week. Overwise you will see "Learning Limited" in the delivery. 
For many businesses it can be hard to reach this number. In such cases the best practice is to choose a broader event higher in the funnel. However, this can often lead to irrelevant traffic with much poorer conversion intent.
One option is to choose micro-conversion, for example the Add to Cart event tracked by Pixel. This is a good approach, however, it takes into account only one event. 
Another approach is to lean on SegmentStream. Advertisers who partner with SegmentStream can seamlessly export Modelled Conversions into Facebook's bidding engines. 
SegmentStream's Modelled Conversions are based on an advanced ML algorithm, which takes into account hundreds of micro-conversions within the customer path to accurately predict the probability to convert. If the probability within a session is above a certain threshold, a modelled conversion is sent back to Facebook as a positive signal. The signal is generated right after the session is completed, meaning the publisher is receiving real-time feedback on the value of the visit, even if a final conversion hasn't occurred.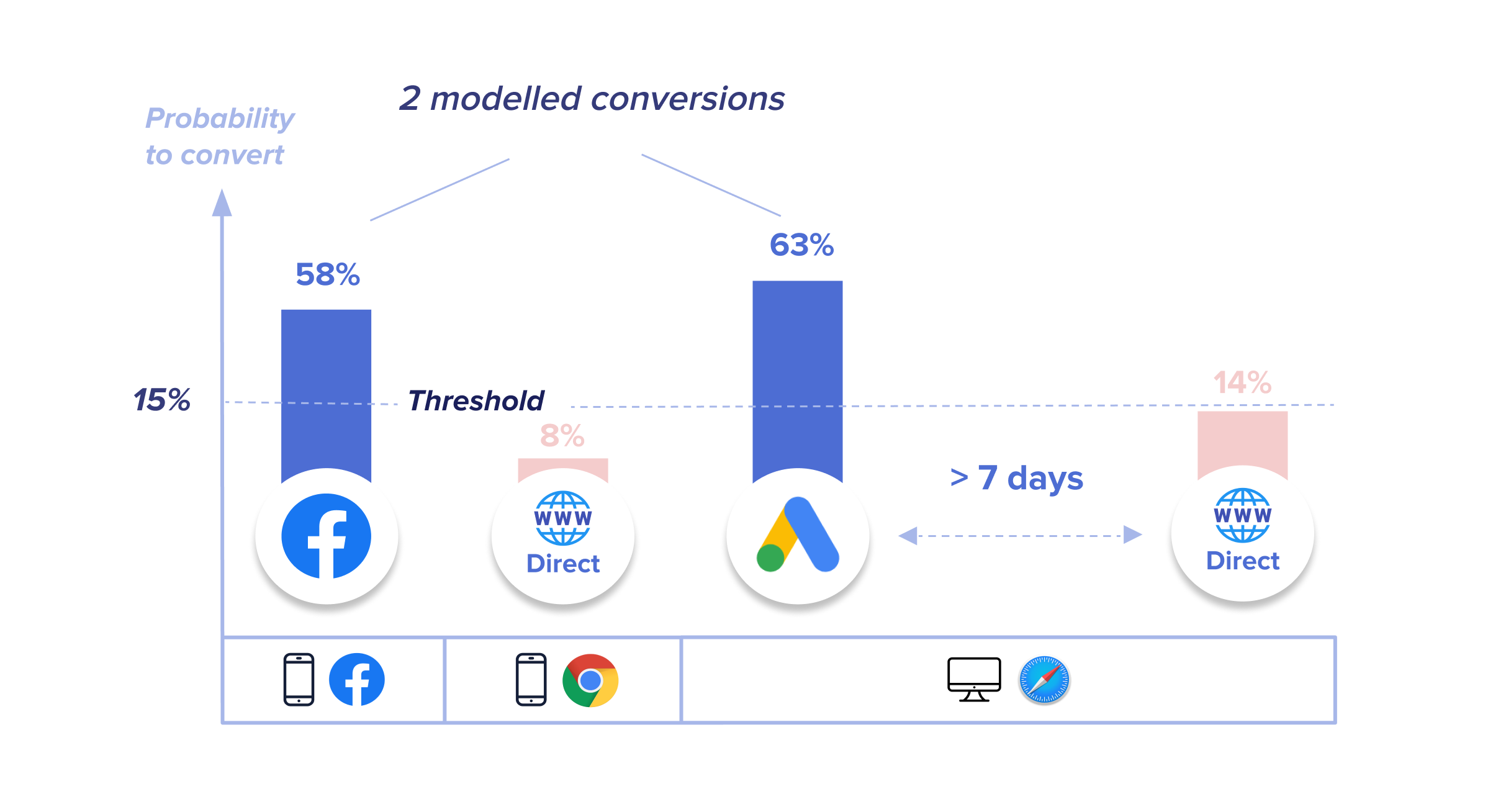 Since Modelled Conversions use a combination of many micro-conversions and show intent to buy, they are highly correlated with the final business goal. 
In the example below, Modelled Conversion (Purchase (incl. Modelled 5%)) shows 13x more signals when compared with the simple cookie tracked Purchase; 889 vs 65. Sending these additional signals is proven to dramatically increase overall campaign efficiencies. 
Google Ads limitation
According to Google, Google Ads does not have minimum conversion requirements for almost all bidding strategies, except Target ROAS (15 within the last 30 days). However, the more conversions, the faster campaigns ramp up and exit the learning period. 
SegmentStream supports the ability to export Modelled Conversions to Google Ads too. Modelled conversion will provide Google feedback if the session was valuable and generated a user with probability to convert. 
In example below, Modelled Conversion (Purchase (incl. Modelled 5%)) shows 5x more signals than Purchase for google in general, 369 vs 77. The ability to send these enhanced signals to the publishers bidding engines makes a dramatic different to the systems algorithmic performance and overall efficiency. 
To sum up
Advertising platforms need feedback in order to train their algorithms. SegmentStream's Modelled Conversions can increase the amount of signals with valuable users who are likely to convert. This will ramp up the campaign's performance and help faster exiting of the learning phase. Lastly, these additional performance signals are generated right after the session is completed, so there is no need to wait for an actual conversion to happen.
Want to know more? Speak to a member of our team today!
Get started with SegmentStream
Request a personalized demo with our team!