Maximise revenue and ROAS with AI-powered analytics & marketing mix optimisation
Go beyond unreliable attribution tools to finally gain confidence in your budget allocation decisions.
Request a demo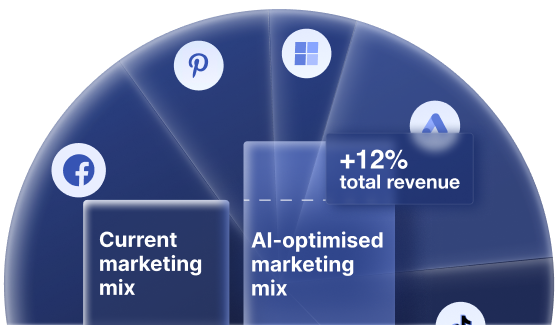 Traditional marketing attribution is
no longer reliable
Privacy regulations and tracking restrictions broke analytics tools

Cookie-based attribution solutions are not able to accurately measure ROAS in a modern world, where deterministic user tracking is no longer possible due to GDPR, cross-device, and various other limitations.

As a result, top-of-funnel marketing activities are heavily undervalued

Due to the inability to track the real customer journey, both single- and multi-touch attribution tools cannot measure the true sales impact of prospecting activities, such as Paid Social, Display, or Video.

Marketers lack trustworthy data to guide and support their budget allocation decisions

Although there is a gut-feeling that upper-funnel activities may drive sales generated from direct, organic or brand traffic, marketers often lack hard numbers to back up these conclusions and justify further spending.
Introducing a solution — SegmentStream
The AI-powered Marketing Mix Optimisation Platform
The next-generation solution that helps understand the incremental value of each marketing activity and find the most optimal marketing mix.
Request a demo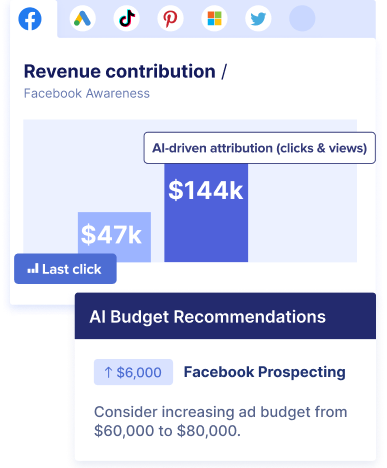 Solve all the problems of traditional attribution tools

Discover what actually drives sales & revenue

Measure the true impact of top-of-funnel paid media

Improve ROAS with AI-driven budget allocation
Unlock the full potential of your digital advertising budget
Automated cross-channel marketing reporting

SegmentStream brings all your marketing and sales data in one place, providing you with a fully unified view of your entire marketing performance.

AI-driven attribution to measure the real, incremental ROAS

SegmentStream is a cookieless analytics solution that measures the actual contribution of your ad activities in total revenue, rather than a single conversion that may not be tracked when relying on cookies.

Actionable, AI-powered budget reallocation recommendations

SegmentStream's AI engine continuously analyzes your marketing mix, pinpointing opportunities for revenue growth by optimizing budget allocation.
Trusted by leading brands and agencies across the globe
Not just a tool. A true solution, supported by world-class expertise.
At SegmentStream, we combine next-generation AI technology with deep performance marketing knowledge. From tailored onboarding to ongoing consultations, our Customer Success team is here to ensure that you achieve your business goals.
"Customer Care is a big strength of the team."
Optimal marketing
Achieve the most optimal marketing mix with SegmentStream
Request a demo