Success story
Eventim automated complex marketing reporting using Google BigQuery
Learn how a European leader in ticket sales use SegmentStream platform to analyse and improve the performance of online marketing.
Request a demo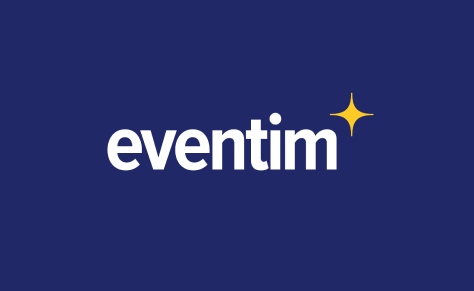 Company name:
CTS Eventim
Industry:
Online ticketing
Location:
Germany, Russia
"The professionalism and customer focus of the SegmentStream team helped us to find solutions for any, often non-trivial issues related to the specifics of our industry."

— CTS Eventim
About the company
CTS Eventim AG Is the European leader in ticket sales with offices in 20 countries. In November 2019, Eventim's revenue exceeded €1 billion for the first time in a nine-month period, and the share price had risen 60% that year to reach a market capitalisation of €5.2 billion.
Paid online marketing is a crucial channel of driving ticket sales for events presented on the Eventim platform. Yet, the ticketing industry has its own specifics, so traditional "out-of-the-box" marketing analytics tools make the proper ROAS analysis very tough and sometimes almost impossible.
Because of this, the Eventim marketing team had to prepare necessary marketing reports by manually collecting and combining all the data in various spreadsheets files. Not only was this approach inefficient in terms of human resources, but it also didn't allow to solve the complex problem of marketing attribution and funnel analytics.
To be able to grow faster, Eventim had to rethink their approach to marketing analytics. That's why they decided to partner with SegmentStream to get customisable marketing reports tailored to their unique business, yet make the entire process fully automated.
Problems
1. Manual marketing reporting takes a lot of time
Ticketing industry has its own specifics. As ticket agents make money on sales commission, it's important to analyse and optimise online marketing campaigns not on "gross revenue" metric but on "net revenue" (service fee commission). As different events have different margins, it is also important to analyse the performance of online marketing campaigns not only on "source/medium level" but on "event" level.
Traditional marketing tools such as Google Analytics, Yandex Metrica and others were not able to provide such reporting in an easy-to-use format. As well, they missed information about marketing costs which made ROAS and profit analysis impossible.
Because of this, the Eventim marketing team had to spend a lot of time and energy on manual marketing reporting by collecting and combining all of the data into various spreadsheets.
2. Standard attribution models don't fit the ticketing industry
For a long time, Eventim used a very popular "Last-non-direct-click" and "First click" attribution models in Google Analytics to evaluate the performance of each marketing channel and campaign. Unfortunately, these attribution models don't fit the ticketing industry. Why?
Imagine you run a paid advertising campaign on Facebook, promoting a specific show with a particular event date. A user clicks on the ad campaign and buys tickets for this show.
A few weeks later, the same user decided to check the ticket prices for a new show by visiting the Eventim website through paid search ads on Google. He found the tickets but wasn't ready to make a purchase. A week later this user saw a retargeting ad campaign powered by Criteo while browsing the internet and finally decided to buy the tickets.
With the standard "First click" attribution model all the conversion value will be attributed to Facebook traffic source, and with "Last-non-direct Click" it will be assigned to Criteo source. And Google Ads will get nothing in both cases.
In the ticketing industry, it is essential to analyse ROAS of specific show promotion. That's why when the user buys a ticket, the chain of traffic sources should break and start over. So when the next time the user purchases a ticket for a new show, all his previous marketing touchpoints (related to the past show) should not receive any conversion value.
Because of this, the process of performance marketing optimisation has always been a tough and non-trivial task. It was clear that the attribution model should be customised to these important specifics of the ticketing industry.
3. Funnel performance analytics and monitoring
Purchasing funnel on ticketing websites usually is more complicated than compared to classic e-commerce websites. The user should not only choose the event which he wants to visit but also select the particular area and the seat on an interactive event hall map.
Sometimes, such interactive elements can load with some issues because of old browsers, slow internet connection or other reasons. Because of this, some users may get stuck in the process of buying tickets and abandon the buying journey. For Eventim, it can mean a loss of a good chunk of revenue.
That's why it is crucial to track the performance of all the funnel steps from the moment of website visitors to the moment of ticket purchase. And if there are any technical issues, the Eventim team should immediately understand what's going on and how this issue affected conversion rate and revenue metrics.
Goals
Automate the whole end-to-end marketing reporting process, from a dollar spent to profit earned. All reports should contain all the necessary information and be automatically updated daily to allow the Eventim marketing team to make quick budget decisions and improve ROAS.
Build & apply customised attribution models to understand the performance of different traffic sources considering unique specifics of the ticketing industry. Be able to compare different attribution models in a single report.
Setup conversion tracking for the entire website to analyse the performance of each funnel step and quickly react to any problems, such as an error in an event hall plan loading.
Russia was chosen as the first market to implement and pilot this project. In Russia, Eventim has a brand — "Parter.ru" which is one of the leaders of the local market.
Solution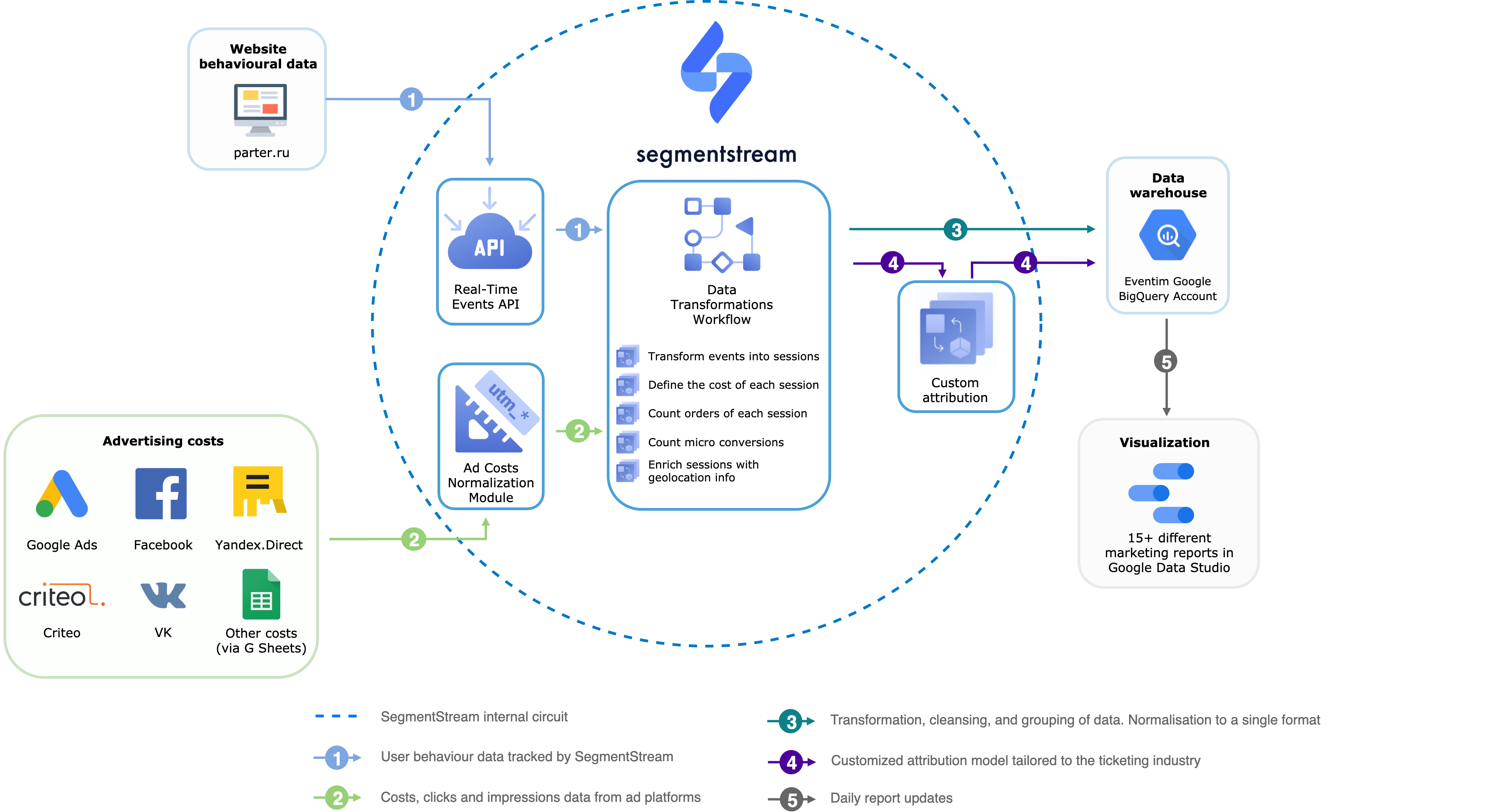 Overall SegmentStream solution architecture for the Parter.ru (Eventim)
Step 1: Automated marketing data collection to Google BigQuery
The first step in the process of marketing reporting automation is data collection. Eventim uses Google BigQuery as its primary cloud data warehouse across many countries. So it was necessary to automate marketing data collection from many different sources into Eventim's Google BigQuery account.
Thankfully, SegmentStream platform has native integration with Google BigQuery, which makes it easy to connect the necessary account and start collecting the data. The entire process of Google BigQuery integration took around 5 minutes.
After Google BigQuery integration has been configured, the Eventim team moved forward with the connection of required data sources.
1.1. Cost data import
To attract event participants in Russia, Eventim uses a large number of paid advertising platforms such as:
Google Ads
Yandex Direct
Facebook
VK
Criteo
and others.
Each platform may contain multiple ad accounts, so it is necessary to collect all of the data from all of the accounts daily. As well, it is important to see affiliate marketing and email marketing costs in the final reports.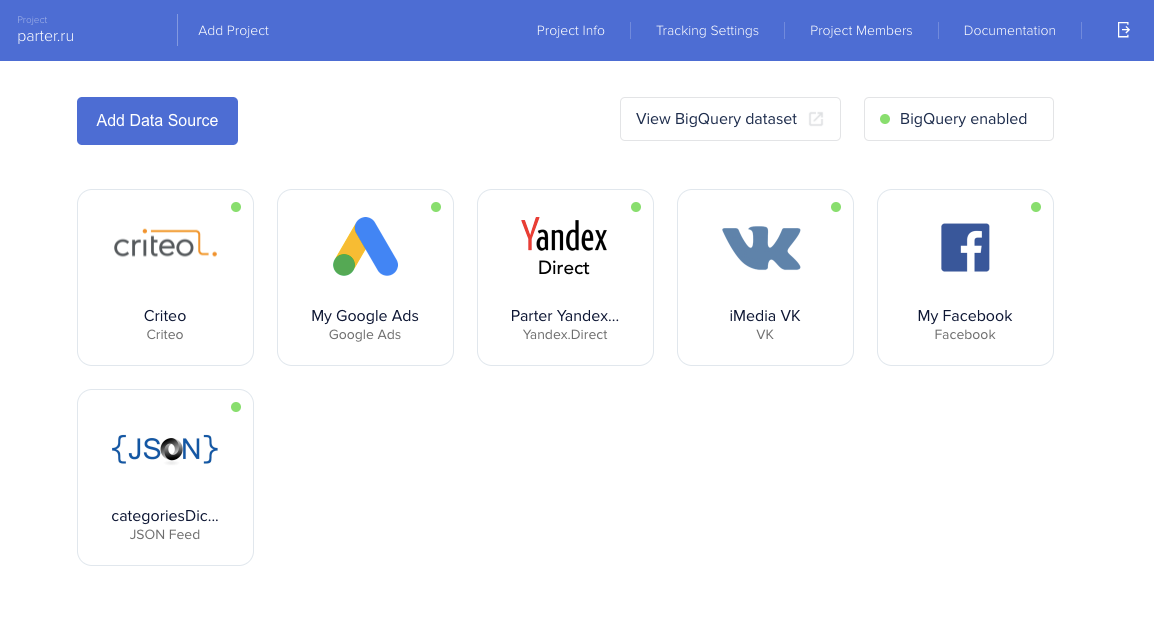 Interface for connecting data sources in SegmentStream
SegmentStream platform has an extensive library of integrations with the most popular marketing tools which makes the process of advertising data collection very easy to set up. All you have to do is simply choose the necessary ad platform, authorise it with your credentials, and select ad accounts from which you want to import the data to Google BigQuery.
Also, SegmentStream supports importing of custom costs (such as affiliate marketing, or email marketing costs) via Google Sheets integration.
It is worth mentioning that SegmentStream can not only import the data from different ad platforms in a raw format (which is unique for each ad platform) but also transform it to the unified format grouped by five UTM-parameters which is very convenient for further report preparation.
1.2. Website behaviour data collection
The SegmentStream platform has a JavaScript SDK to collect website behavioural data in a raw format without sampling or any other limits. It makes it possible to track a lot of events which helps to identify all the issues in a website user journey. As an example, it was crucial to understand whether the event hall plan was loaded successfully, or there were some issues which blocked further user journey.
As soon as the tracker was implemented on the Eventim, real-time events and additional data about the user, website and other contextual parameters started to flow directly into Google BigQuery.
1.3. Offline and other data sources
SegmentStream platform supports multiple ways to collect data into Google BigQuery. While in this project it wasn't necessary to import data from offline CRM, call-tracking, or other sources, Eventim team can always start collecting this type of data if needed by enabling required data sources in the extensive SegmentStream catalogue of integrations.
Step 2: Data transformation in Google BigQuery
After all the data started to flow into Google BigQuery, the next important step was data transformation. All the raw data from different sources should be cleaned, transformed and unified into a set of light pre-aggregated tables with all necessary dimensions and calculated metrics in a chosen attribution model.
To do so, SegmentStream has its own unique Dataflow Management System, which makes a process of data transformation a much easier process compared to traditional ETL tools. In short, the Dataflow Management system is responsible for running a series of SQL queries in a proper sequence with all the dependencies.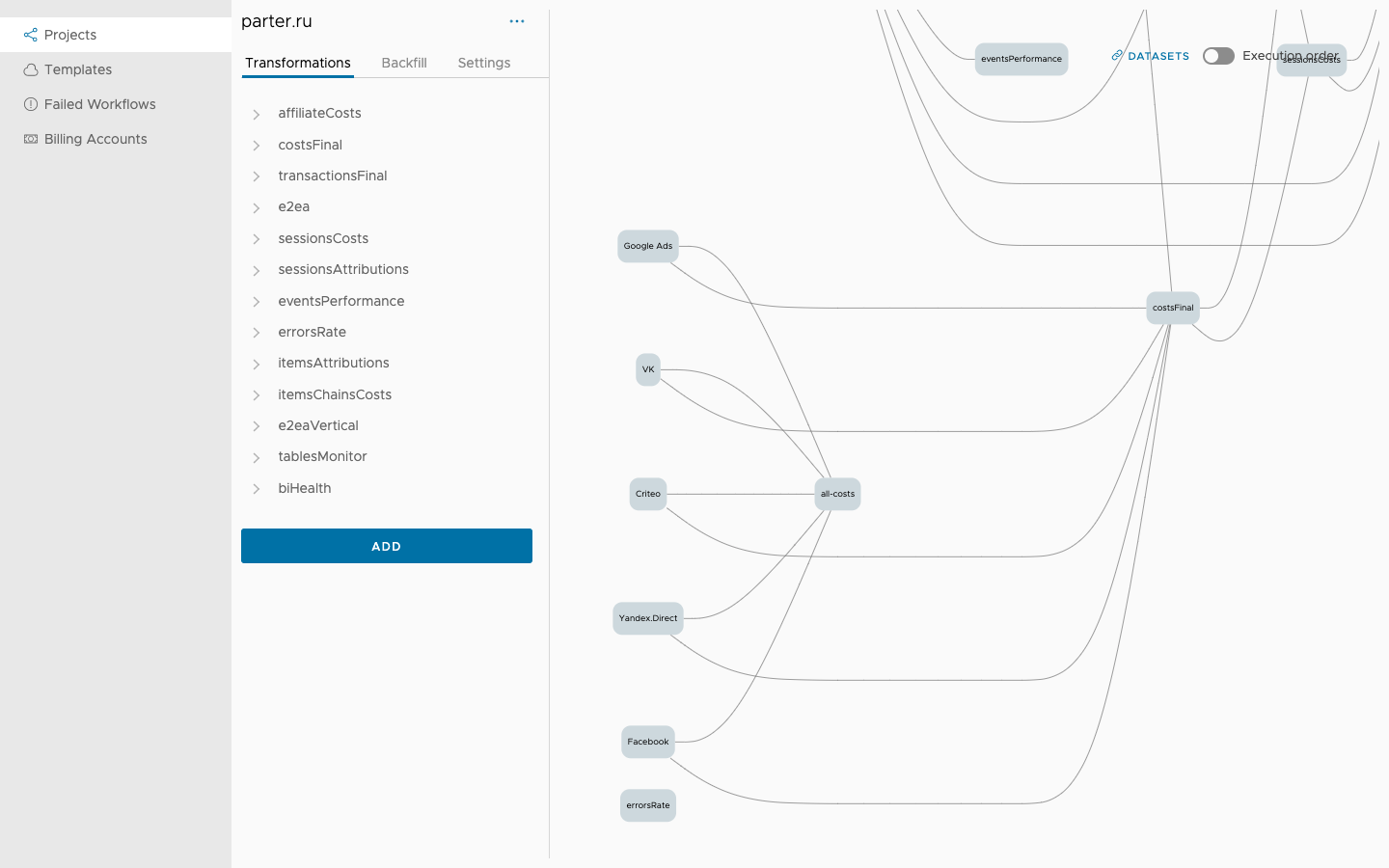 An example of dataflow on the Parter.ru (Eventim) website
Thanks to the Dataflow Management system, the data transformation process is very fast, technically reliable and much cheaper in terms of Google BigQuery costs. On average, SegmentStream customers spend 10x less on BigQuery infrastructure compared to alternative ETL-solutions.
Step 3: Marketing report preparation in Google Data Studio
After all the final tables were prepared, now it's the time to build visual marketing reports which will be used by the entire Eventim marketing team. Eventim decided to use Google Data Studio tool for data visualisation as it is free, has native integration with Google BigQuery and is very easy to use.
In this success story, we'll share only a couple of reports (from 15+ reports in total) which were prepared for the Eventim marketing team. Note: All the data in the following reports was changed for demonstration purposes.
3.1. Marketing KPI Overview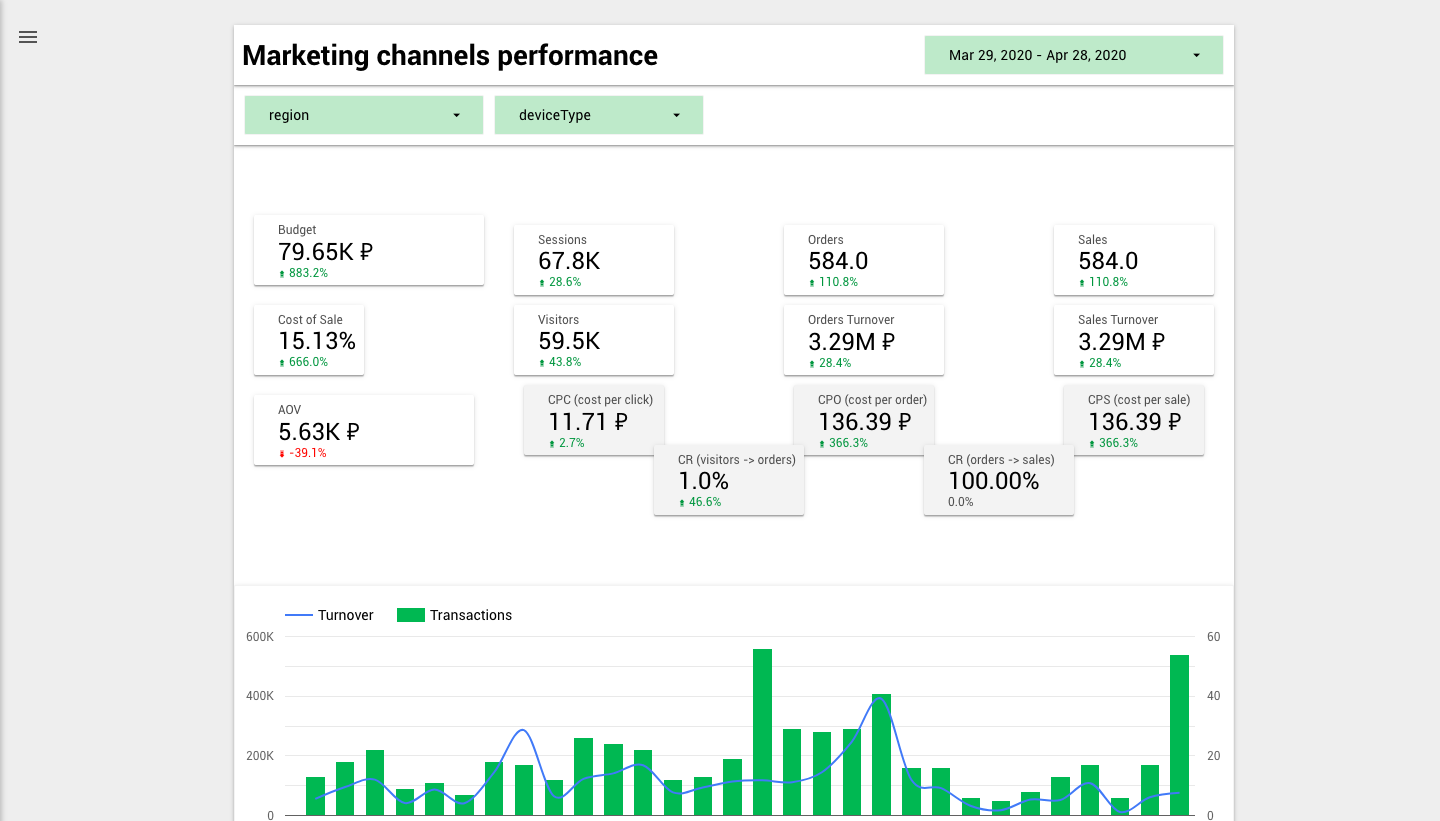 The first report helps marketing executives to track their most important marketing KPIs daily and be able to answer the questions like "How our marketing performs now?", "How are we doing compared to the previous period?" and so on.
Previously this kind of marketing reporting was possible only on a weekly basis as it took a lot of time for the entire marketing team to collect the necessary data. Right now, they can answer all these business questions in real-time.
3.2. Marketing traffic sources performance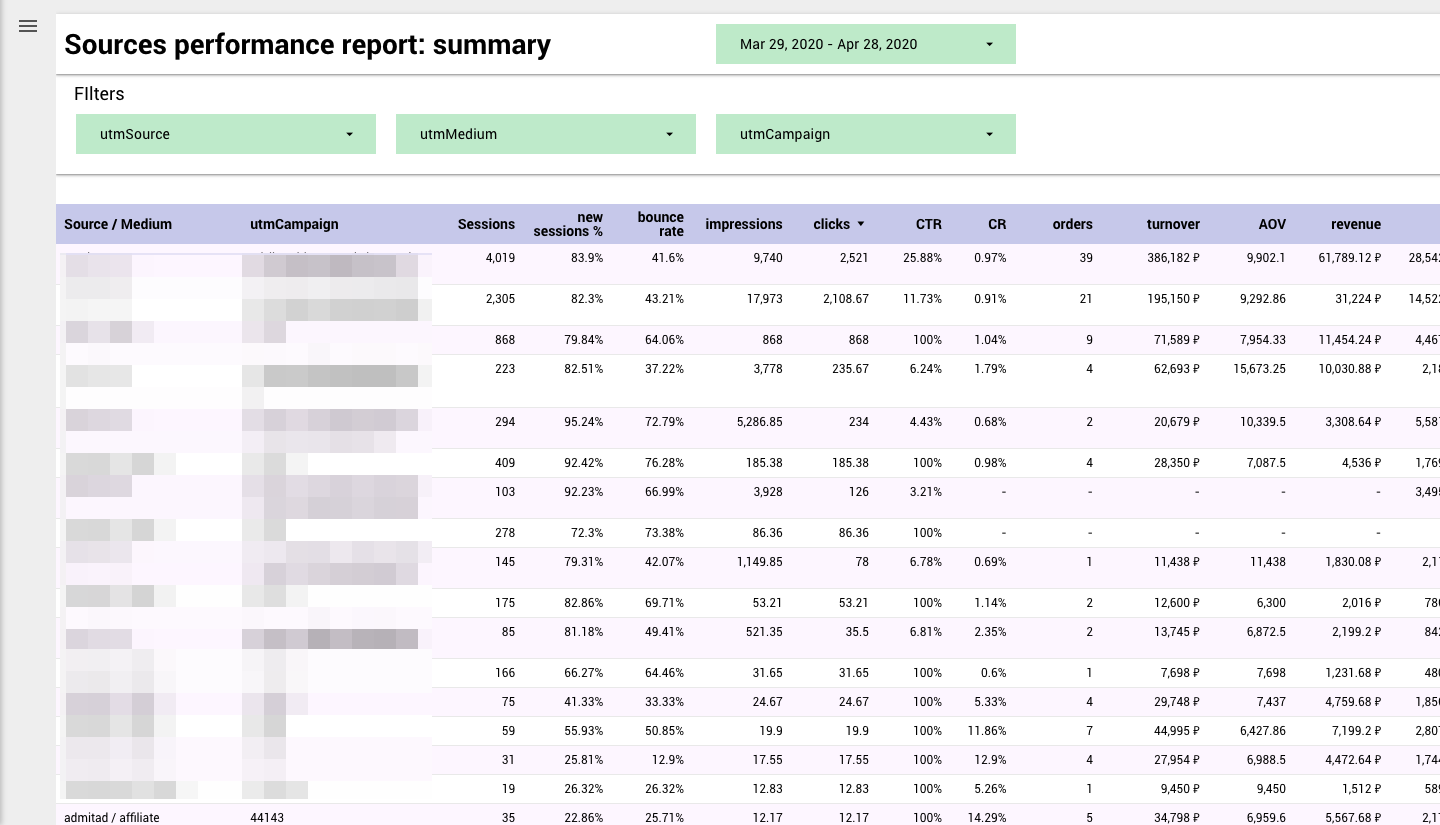 This group of reports helps Eventim's performance marketing manager understand how their specific channels and campaigns are performing in terms of turnover, revenue, cost, Cost of Sale, ROAS, and other important metrics.
The beauty of this report is that marketers can easily drill-down to a more profound level, even to the level of keywords in Google Ads or ad content on Facebook.
3.3. Event sales performance by date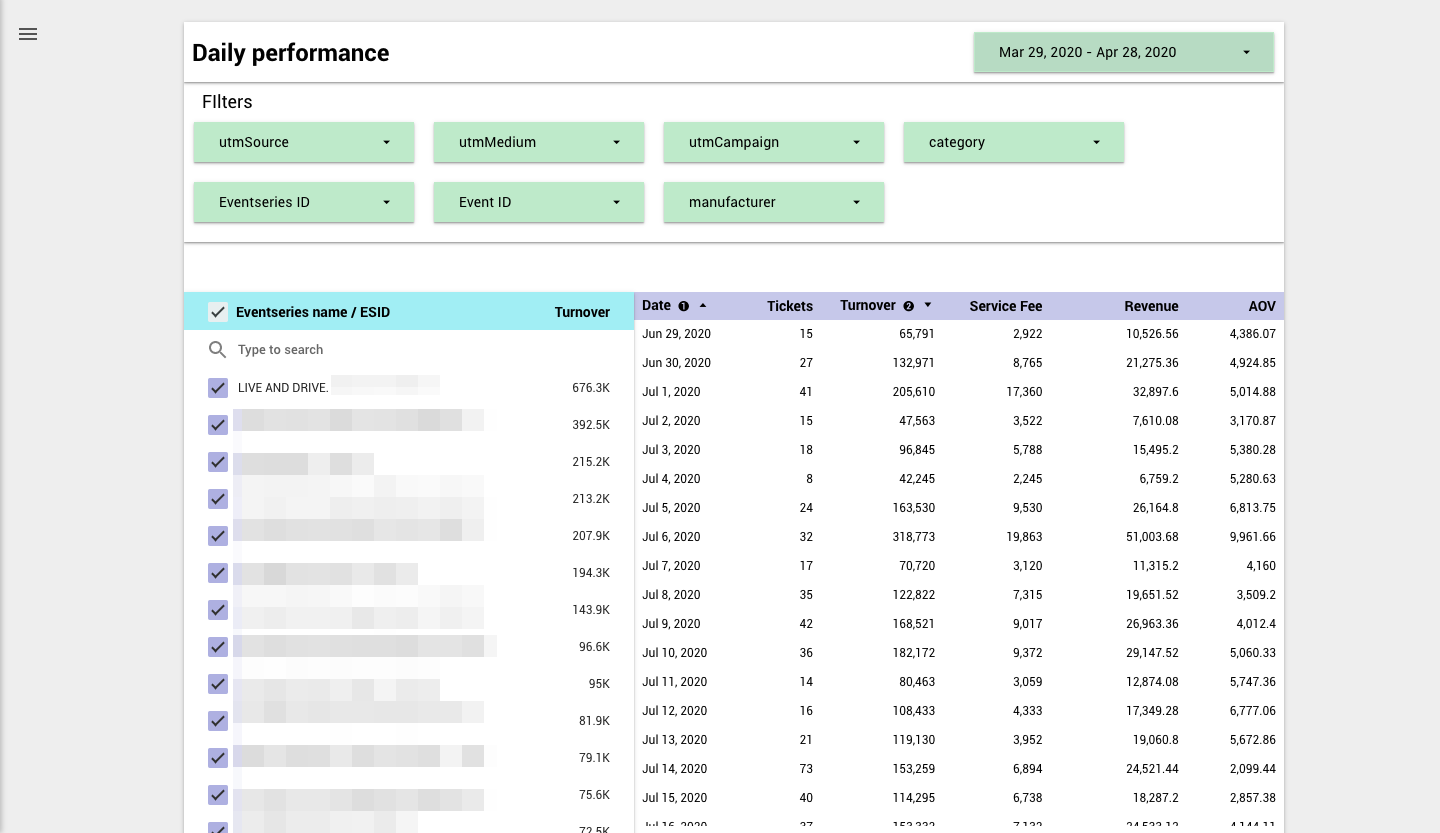 This report helps the entire Eventim team to track sales of specific events daily. It is very easy to filter this report by choosing specific events or traffic sources and analyse marketing performance on an event-level basis which was not possible before.
3.4 Customized attribution and model comparison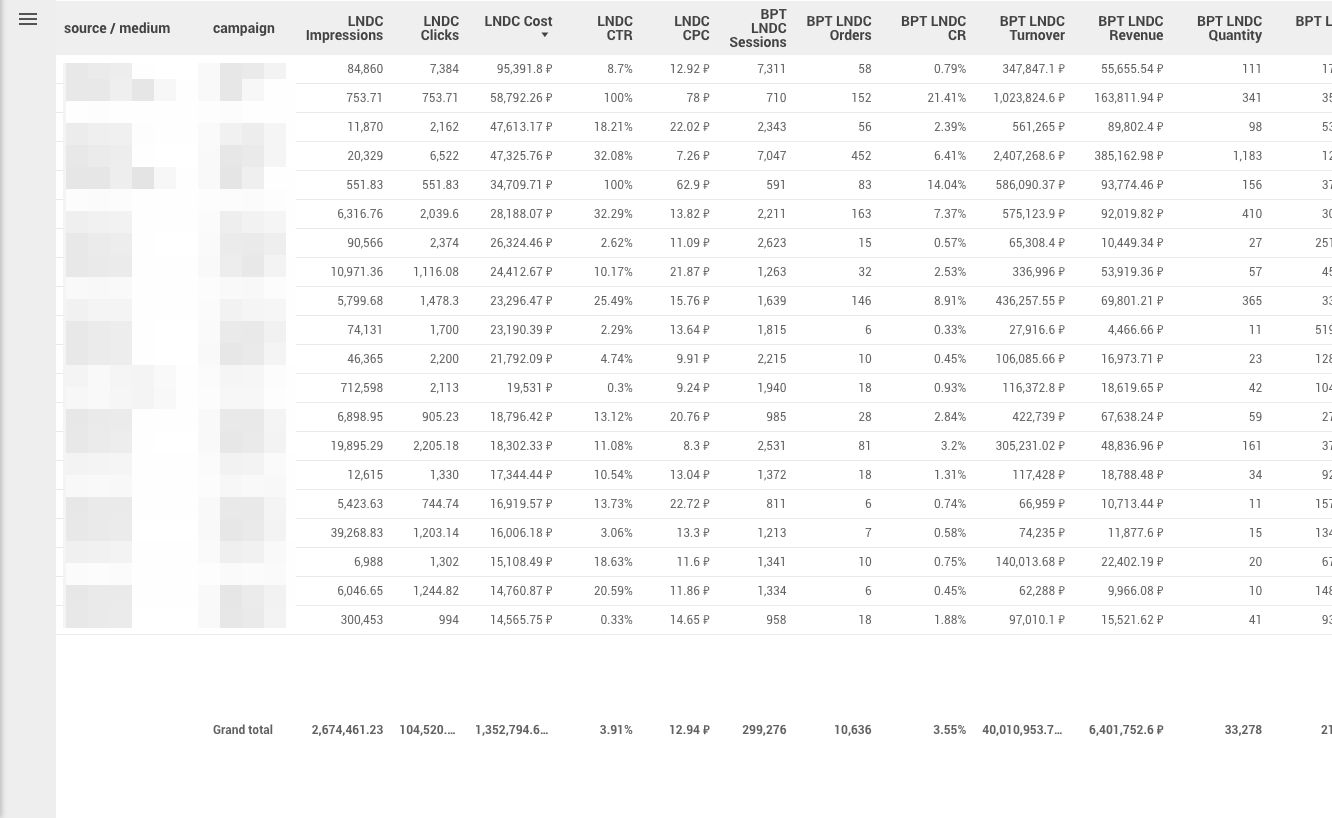 As described above, the ticketing industry has its specifics which makes classic attribution models such as "Last Non-Direct Click" and "First Click" which makes them unsuitable for proper marketing performance analytics.
That's why the attribution model in the prepared reports was customised to the "BPT LNDC" model. This abbreviation stands for "Before Previous Transaction Last Non-Direct Click". In this attribution model, when the user buys a ticket, the chain of traffic sources breaks and starts over. So when the next time the user purchases a new ticket, all his previous marketing touchpoints will not receive any conversion value.
It was also important to analyse the performance of traffic sources by comparing the different attribution models in a single report. This helps the Eventim marketing team find valuable insights and improve the overall marketing performance by reallocating advertising budget more efficiently compared to traditional "Last Non-Direct Click" attribution model.
3.5 Event hall error monitoring report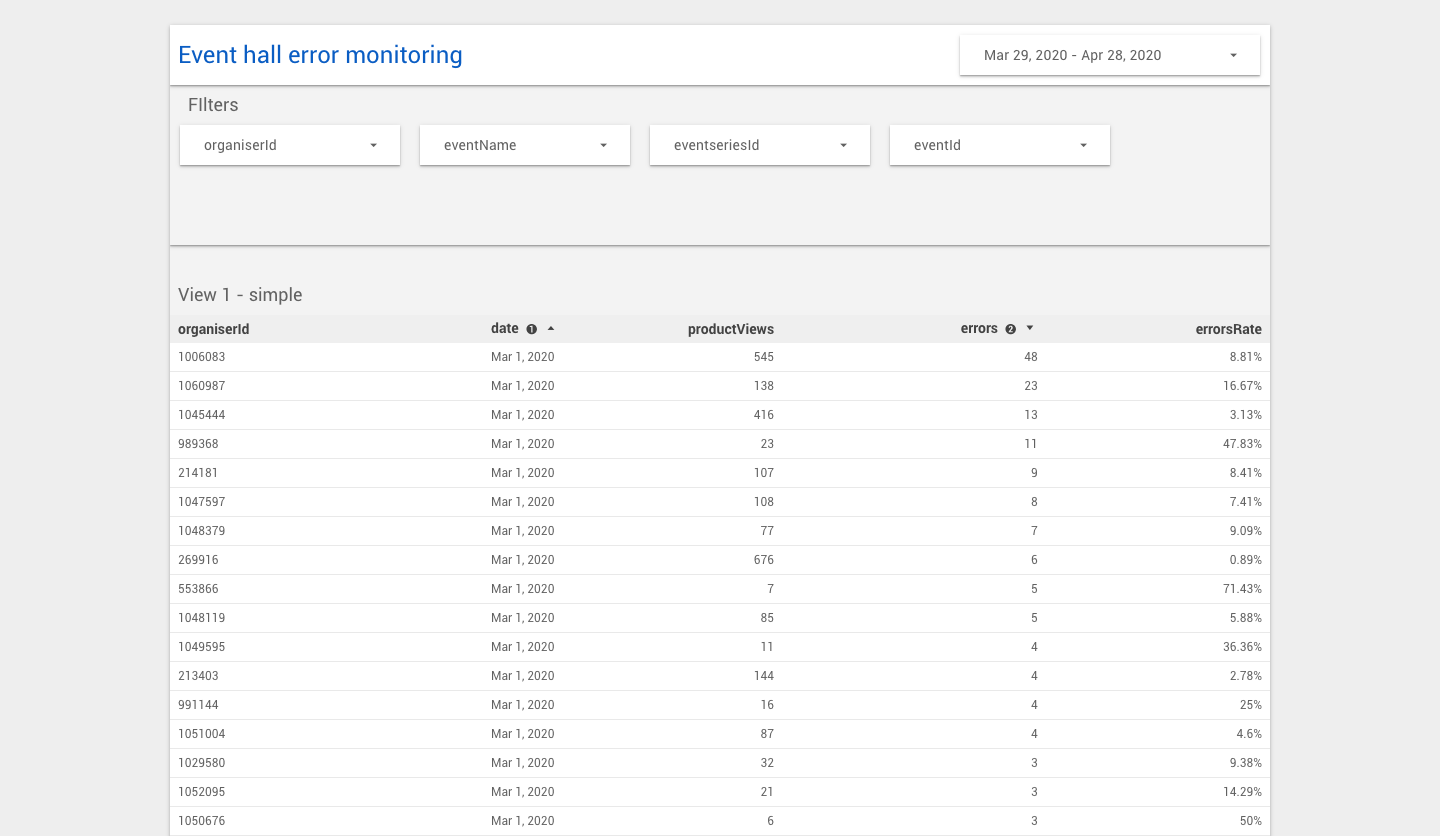 A very important report is not tied to marketing traffic source but rather to a specific event. As stated above, when the user wants to buy a ticket, he should choose the particular area and the seat on an interactive event hall map.
This real-time report allows the Eventim team to track the performance of the interactive event hall, which is different for every event. And if there are any technical issues with a specific event, the Eventim team immediately understands what should be fixed.
Results
All the marketing data from multiple sources now automatically collected to the Google BigQuery of the Eventim. The collected data was used to prepare all the necessary marketing reports which are currently used by the Eventim team daily.
The Eventim team reported that thanks to SegmentStream and the prepared automated reports, they were able not only to save the entire team time on report preparation but also to significantly improve their marketing strategy, increasing the total online marketing ROI.
Customer testimonial
Together with the SegmentStream team, we were the first among all the Eventim countries to implement the most challenging project for us — end-to-end marketing analytics.

The data obtained in the reports became the basis for further changes — we completely revised our approach to analytics and evaluating the results of advertising campaigns.

The new methodology using different attribution models made it possible to increase the efficiency of the mix of paid channels: all hypotheses built are now confirmed or refuted using numbers, rather than being guesses.

In addition, the professionalism and customer focus of the SegmentStream team helped us to find solutions for any, often non-trivial issues related to the specifics of our industry.
— Daria Balykova, Digital Marketing Manager, CTS Eventim RU
Get started with SegmentStream
Request a personalized demo with our team!