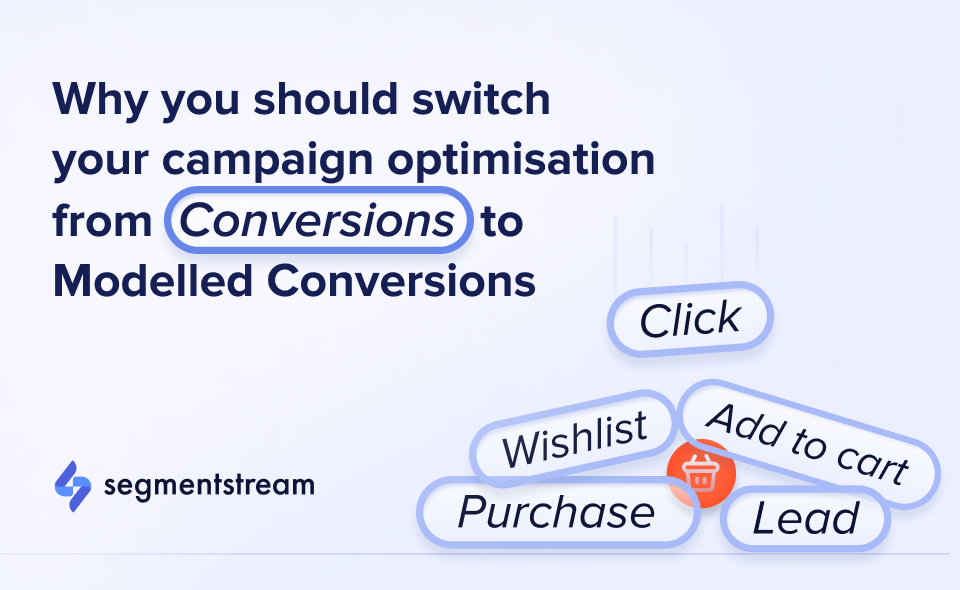 Why you should switch your campaign optimisation from Conversions to Modelled Conversions
Find out why switching to Conversion Modelling enhances ad optimisation, faster campaign learning and scale your target audience.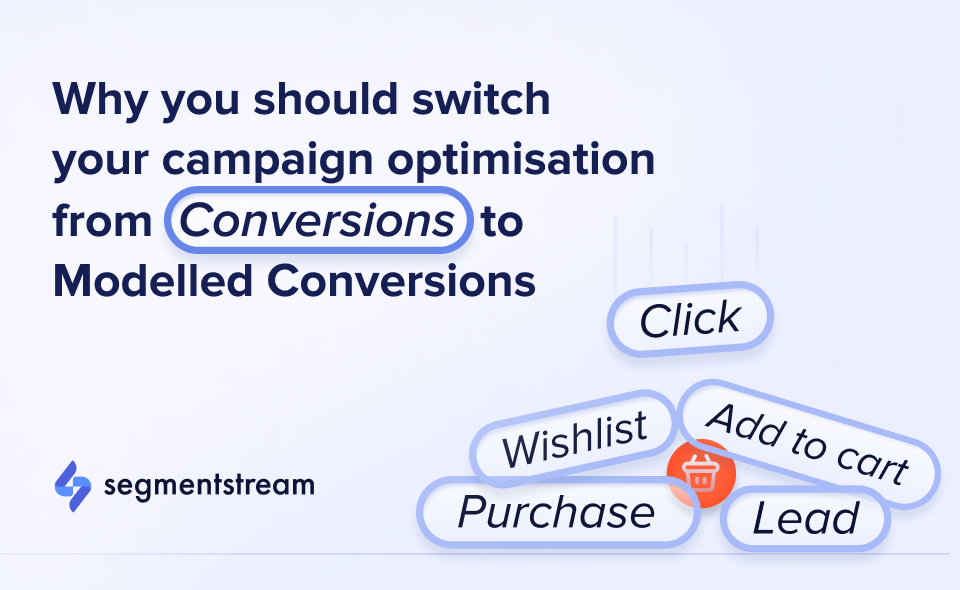 Advertising platforms offer a wide variety of campaign objections and conversions. The most desirable for any business is undoubtedly the closing conversion, i.e. Purchase or Lead. Ad platforms rely on these trackable events as feedback mechanisms for their optimisation engines.
In today's world, however, users have a complicated cross-device and cross-browser journey. Together with incognito mode, private browsers and cookie restrictions, it is impossible to know the customer's complete path to conversion. Thus, advertising systems don't get accurate feedback on the quality of all valuable users, as the final conversion can happen on another device, browser or within a new cookie. 
The simple example below outlines the problem. Imagine one day you're targeted by a bicycle ad on Facebook. It is summertime, and you always wanted to start cycling. Upon clicking the ad you are brought to the Facebook in-app browser, before then switching to Chrome in order to continue browsing the Facebook feed. The bike looks really good and you want to review in greater detail. So you open Safari on your laptop and do a Google search to find this bike. The top search ad brings you to the same webpage. The bike is really nice, but it is also quite pricey, so you pin the page and wait 10 days for payday to come. In 10 days you happily open the webpage again and purchase the bike.

In this example, in any analytics system this will be perceived as being 4 distinct users: first Facebook in-app browser user, second Chrome user, then Safari user. Additionally, given cookies in Safari expire after 7 days, the final purchase will be analysed as a new fourth user. More importantly, neither Facebook nor Google Ads will receive any credit or feedback signal to indicate that they brought a valuable user.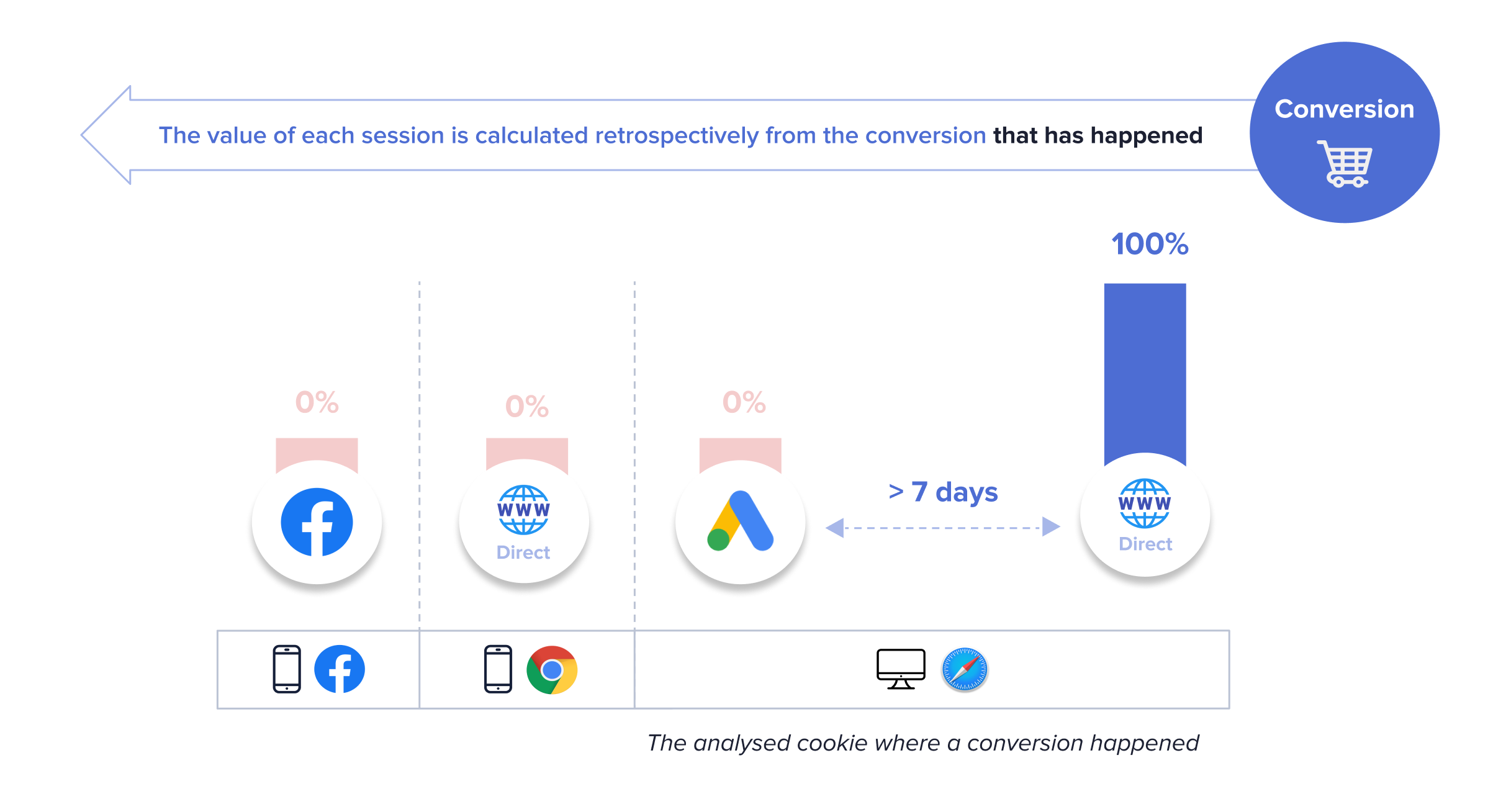 But is there any way to overcome these restrictions?
Alternative solution is to evaluate the value of a session. One option is to choose a micro-conversion such as the Add to Cart event, Scroll Depth or alternative engagement trigger. However, it takes into account only one event, while user behaviour is usually complicated and non-linear, so a single event can not indicate a purchase decision.
Another option is to use Modelled Conversion.
What is Modelled Conversion?
SegmentStream utilises an advanced ML algorithm to analyse non-linear onsite customer behaviour to accurately predict a user's probability to convert. The calculation of this probability is built on the many behavioural events a user takes on site. 
For example, they would click on multiple images, read reviews, add to cart, etc. If this probability to convert is sufficient enough for your business, SegmentStream creates a Modelled Conversion. To learn more about Conversion Modelling please see our most recent guide.
Advertisers can replace Conversions with Modelled Conversions. In this instance, a Modelled Conversion is sent back to the advertising system as a positive signal. The signal is generated right after the session is completed, meaning the publisher is receiving real-time feedback on the value of the visit, even if a final conversion hasn't occurred.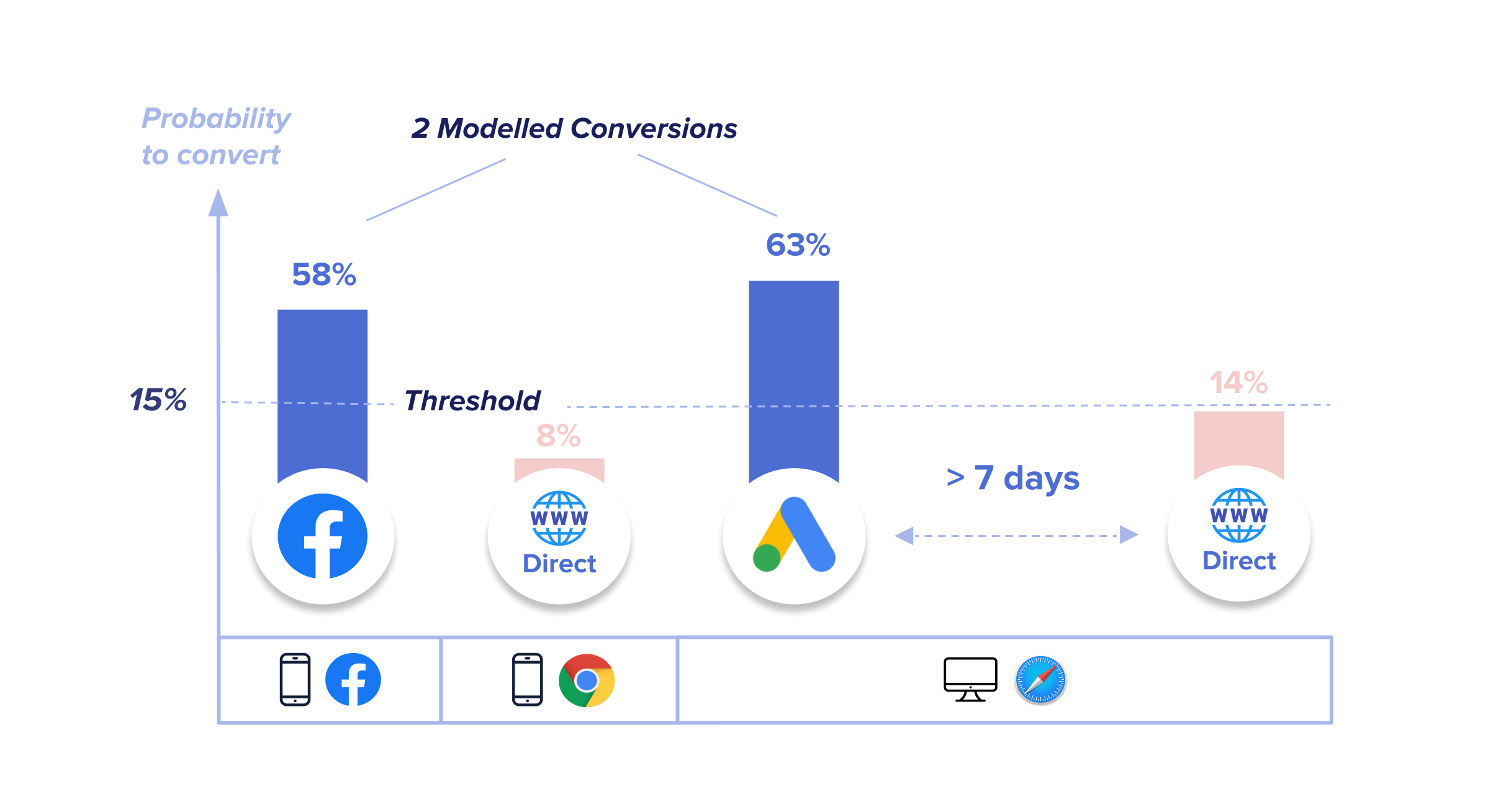 Benefits of optimising on Modelled Conversion rather than real Conversion
Modelled Conversions indicate a user with a probability to convert in the future. This allows advertisers to overcome cross-browser, cross-device and cross-cookie restrictions, providing feedback on the quality of a user to the publishers regardless of if a conversion is tracked or not.
Businesses with a long consideration cycle might have significant latency between ad click and conversion. This results in a huge delay in real-time analysis, and more importantly, the conversion might be outside of the attribution window (30 days for Google Ads and 7 days for Facebook). As a Modelled Conversion is generated right after the session is completed, the ad platform will receive real-time feedback on the value of the visit.
Closing conversions like Purchase or Lead are lower-funnel, and thus the volume of signals sent back to the Ad Platforms can often be too small for adequate algorithmic learning. This can affect performance with campaigns often restricted to a "Learning Limited" delivery status. Modelled Conversions increase the amount of signals several times to allow faster learning and ramping up the performance. Read more about how to solve the Limited Learning problem in Facebook Ads and Google Ads in our blog article.
The utilisation of Modelled Conversions means that Smart bidding algorithms will be able to acquire more users. By sending Modelled Conversion into the publisher bidding engines we are sending enhanced feedback, informing the bidding systems to acquire new users, users you were previously unable to reach as a result of modern day cookie restrictions.  To achieve this, we recommend using as broad audience targeting as possible, removing interests and lookalikes. The removal of audience targeting coupled with optimising towards Modelled Conversions gives the publisher the desired flexibility along with excellent feedback signals for optimum performance optimisation. 
To Summarise
Switching campaign optimisation from Conversions to Modelled Conversions offers multiple benefits. The advertising systems will receive feedback regardless of how complicated the user journey is, cookie restrictions applied or conversion window latency. Moreover, the amount of signals will increase, which allows faster exit of the learning phase and improves performance. Lastly, advertisers can attract a brand-new audience, which they were not reaching before.
Want to know more? Request a trial and see the platform in action
Never miss an article
Get the latest articles, event invitations and product updates delivered straight to your inbox.
Thank you! You've been signed up for our newsletter.
Get started with SegmentStream
Learn about Conversion Modelling and why it is a true next-generation solution to outdated marketing attribution and conversion tracking tools.