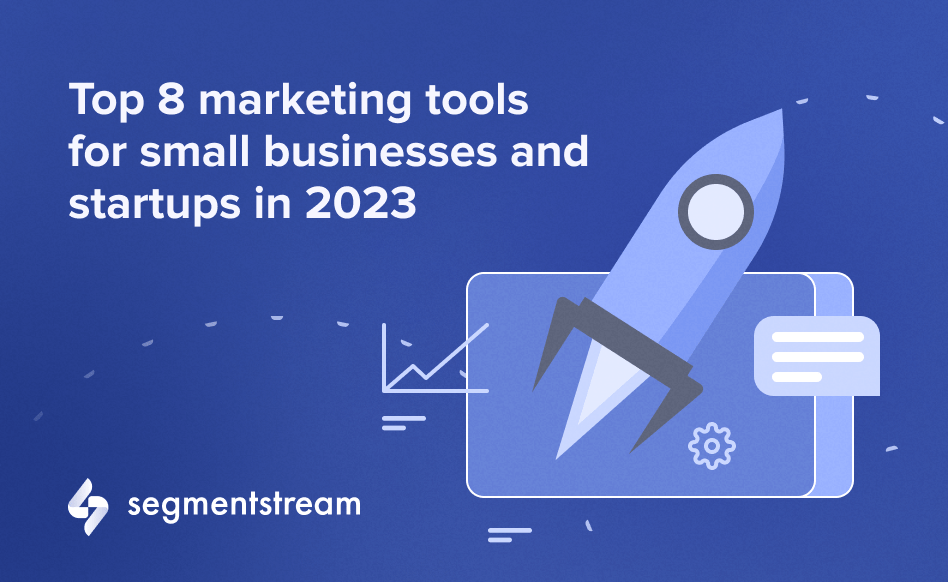 Top 8 marketing tools for small businesses and startups in 2023
We look at the best marketing tools for small businesses and startups that show if you're spending your advertising budget in the right places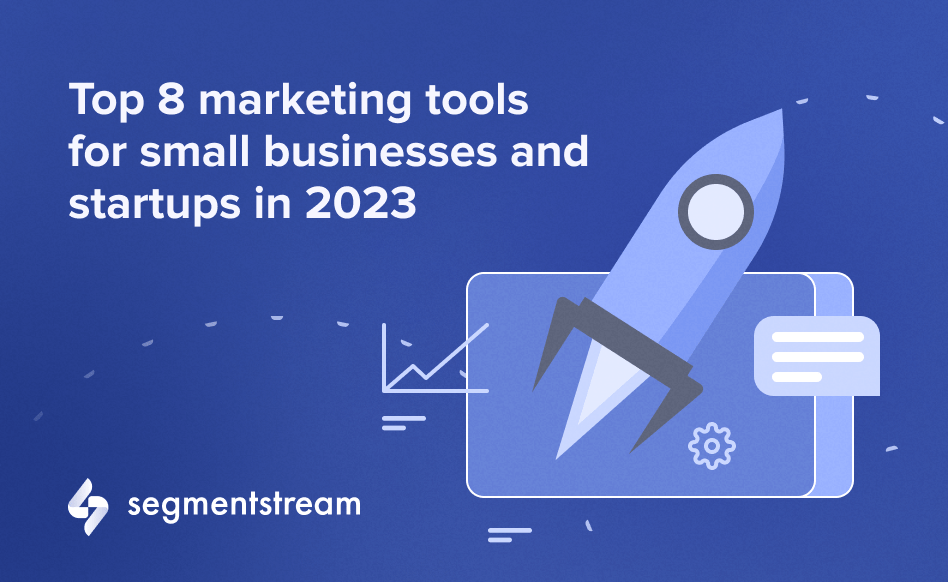 In 2023, marketers can choose from a truly bewildering array of online marketing tools for small businesses. Each promises to bring you closer to your customers, supercharge sales and save you time and money. But what are the best marketing tools for a small business? Your marketing tool needs are as individual and unique as you are. 
Global retail commerce has increased from $1.3B in 2014 to $5.7B last year, and customer behaviour has changed along with the e-commerce landscape. For example, almost 50% of millennials are constantly on the internet and use various devices throughout the day. 
A customer might see your ad for a handbag on Facebook on their smartphone and open the product in the Facebook in-app browser. Later, they might reopen the advertisement in the Safari browser. The following week they might use Chrome on their laptop to google similar handbags and click on your Google Shopping ad while comparing similar bags. Finally, they might purchase the bag via a direct search on Safari.
Which touch point clinched the deal? Or was it the cumulative effect of their journey? When did they start giving "buy" signals?
The traditional small business marketing tools cannot stitch the customer journey together because of cross-device and cross-browser interactions. Your analytics system will perceive them as four different users:
The Facebook in-app visitor;
The mobile Safari visitor;
The Chrome shopping ad visitor.
And, because the Safari cookies expired before they returned to buy, the conversion will come out of thin air as a fourth distinct visitor.
Marketers need an intelligent combination of digital marketing tools and marketing analytics tools to get a complete picture of their customer's journey. 
Must-have digital marketing tools for small businesses and startups
Gone are the days when online marketing tools for small businesses consisted of creating a Gmail account to slap the obligatory Google Analytics in place. Instead, the best marketing tools for startups are a combination of focused 'fix-it' tools, marketing automation, and analytics tools to get it right.
This article will focus on small business marketing tools that can tell you how well your digital marketing tools perform and whether you can justify your spending on each channel. We'll also highlight a few popular combinations with other focused digital marketing tools.
We've looked at 8 of the best marketing tools for startups to see if we can clarify each function and pinpoint why it would be helpful for a small business or startup. 
Top 8 marketing tools for small businesses and startups
Here are the pros and cons of some of the best marketing tools for small businesses. Some performance marketing tools may be good standalone solutions for SMEs and can track which one of your marketing channels is responsible for the most conversions. Others will be more effective if used in combination with tools that have a slightly different focus. 
1. Hotjar

It's an excellent tool for e-commerce and mobile-first companies, focused on user behaviour analytics, with different heatmaps and recorded user sessions.
Pros
Offers unlimited A/B tests.
Provides live data to monitor traffic spikes and campaigns.
Gives access to conversion funnels and reports on the points where users leave the conversion funnel.
Provides very useful form analysis functions that analyse minute details about how visitors interact with forms and fields
Provides opinion surveys and immediate feedback.
Cons
Developers use Hotjar extensively, but it could be more kind to marketers. For example, marketers need special filters to get the information to help them execute a marketing strategy.
The lower-cost plans don't allow for integration with other digital tools. As a result, marketers who need to view data from several different channels will either have to upgrade to a higher plan to activate built-in integration or use HotJar in tandem with a separate tool like Google Analytics.

SegmentStream Conversion Modeling Platform provides startups and small businesses with the answers to questions like which touch point or channel made the most valuable contribution to the final conversion. It not only provides marketers with an accurate evaluation of the channel, but it also provides better feedback to the automated bidding algorithms of ad platforms.
Pros
SegmentStream Conversion Modelling Platform evaluates each website visit and predicts the user's probability of converting in the future. SegmentStream creates a Modelled Conversion which is immediately attributed to the traffic source when this probability is high enough.
Conversion Modelling ensures that each traffic source gets the value it deserves, even if the actual conversion happens from another device, browser, or cookie.
The tool measures all key marketing metrics across all your traffic sources, including ROAS and CPA.
The solution provides agile reporting with a range of attribution views, e.g., Last Non-Direct-Click, Last Paid Click, Last Non-Brand Click, and others.
The tool accurately evaluates upper-funnel marketing channels. 
The tool offers no-code integration with several marketing data sources like TikTok, Facebook, Snapchat, and many more.
Cons
The ML model behind SegmentStream requires data about at least 300 online conversions monthly to ensure good prediction scores.
3. Clicky 

The dashboard offers website analytics which includes heatmaps and keyword rankings, as one would expect from a website analytics tool.
Pros
Has an easy WordPress plugin integration. 
Provides heat maps for visitor monitoring.
Combines uptime monitoring and spam filtering, which otherwise falls within the realm of developers and website safety plugins.
Provides mobile statistics.
Provides real-time data, which can be helpful for traffic spikes.
Cons
Attribution tracking needs to be improved as it ignores sources and mediums, although you can track specific campaigns.
It's more of a website analytics tool for fine-tuning your website content and improving on-site conversion. You can combine it with a marketing analytics tool like SegmentStream to improve your overall marketing strategy. 
4. Crazy Egg

Like Clicky, Crazy Egg can be used to optimise your web design and user experience and improve conversion.
Pros
Features a complete dashboard with different types of heatmaps and basic reports
Provides live data to help you monitor campaigns or peaks in traffic as they unfold.
Provides visitor recordings/session replay tools and user surveys.
Offers an A/B testing feature to get down to detailed website improvements. However, you must have many users before the function becomes available and valuable to marketers.
Offers a tool for monitoring customer journeys and identifying return visitors and referrals, though somewhat limited in scope and for upgraded plans only.
Cons: 
The free option is just a simple website analytics tool with limited features. To get useful information, small businesses and startups will have to upgrade to the more expensive plans, which provide useful features like UX improvement tools and marketing analytics.
5. Mixpanel 

Mixpanel focuses on product engagement, including mobile app engagement, and is known for its customer segmentation feature.
Pros
Provides real-time data and user engagement measurement.
Offers a tool kit for building funnels and drilling down by user behaviour to identify conversion opportunities or remove friction points.
Measures the immediate impact of new advertisements, launches, or experiments.
Features a mobile A/B testing facility where your user plan determines the number of engagements you may include.
Features a tool to build conversion funnels and cohorts.
Provides access to your data history and core reports.
Cons
The lower-priced plans lack advanced analysis metrics like consumer segmentation and data modelling. The critical implication is that small businesses or websites that don't have much traffic may be better off using a free tool.
Lacks compliance options for HIPAA, which can be a significant drawback in healthcare or healthcare-adjacent industries.
The free option is too limited to measure the effectiveness of your marketing channels. Instead, you'll have to spring for the "Growth" plan or combine the free plan with a complex marketing analytics tool like Google Analytics. You can also connect it with SegmentStream to get the necessary budgeting insight.
6. Google Analytics

Google Analytics hardly needs an introduction. Traditionally it has almost always been the first of the small business marketing tools a webmaster install after setting up a domain and email address.
Pros
The free version offers data reporting, cohorts, funnel exploration, and more.
Over many years, Google Analytics became the benchmark for marketing analytics tools. However, times have changed because the regulatory environment and customer behaviours are changing faster than ever thought possible.
The paid version is not free from flaws. However, paired with Google Ads and other Google products, it's a formidable marketing tool.
Cons
It can be challenging for free GA users to wrench reliable attribution data from Google's rigid cross-channel rules-based models or the Ads-preferred attribution model. 
It's easy to forget that Google Analytics provides their analytics tool to SMEs for free because they want the SME's data. However, given that Google faces increasingly stringent data privacy restraints, many marketers are looking for alternatives to Google Analytics. 
The full version of Google Analytics, like Yahoo Web Analytics, is such a complex tool that you need expert assistance and extensive direct integration with all your other digital tools to make real sense of all the metrics. In fact, many SegmentStream clients use our software with the free Google Analytics version to fix attribution mistakes.
7. Smartlook
A website analytics tool that gives you the opportunity to fix website problems on demand and without delays.
Pros
Offers a tool to record user sessions and identify where blockages to conversion occur on your website.
Features heatmaps to identify specific user interests.
Allows for setting up two events and one funnel per month on the free version. 
Allows significant customisation for all the main features (sessions, heatmaps, the period, and the volume of data you choose to retain) if you pay for the more expensive monthly plan. 
The premium options also allow you to integrate data from your digital marketing tools.
Cons
As far as marketing platforms for small businesses go, the free and cheaper options don't have sufficient features to function as a complete marketing analytics tool. Hence, marketers use Smartlook in tandem with the free Google Analytics version. Unfortunately, that means the marketer has to deal with two different, complex software platforms to get their marketing data.
8. GoSquared

GoSquared provides real-time web analytics, including traffic sources and basic visitor data, with enough information to get started without being overwhelmed by too much data.
Pros
Unusually, it includes a customer data hub, a live chat tool, and a modest marketing automation section.
Features a set of tools mostly aimed at smaller businesses that need an all-in-one platform while they work on defining their future marketing needs.
The live chat function allows for targeted messaging and lead capture
The customer data hub functions as a CRM and doubles as a marketing automation tool. 
Has a team-level inbox for quick follow-ups.
Cons
If you need granular user information, you'll need to combine it with a more focused analytics tool. 
It's hard to be everything to everyone, and the unusual combination of a web analytics tool with a basic CRM platform means it is neither one nor the other. It's a good starter kit, but don't expect granular information on user behaviour or customer journeys.
Key TakeAway: What should a marketing analytics tool accomplish?
Marketers have wonderful tech solutions to reach potential customers and drive visitors to their websites. Marketers can easily interact and communicate with users while - and after - they convert. The problem is that neither humans nor current measuring tools can spot those tiny signs that signal an increasing Intent-to-Purchase during the customer's journey. That detail has become the final frontier of marketing.
We invite you to see the SegmentStream Conversion Modelling Platform in action. It's one of the best digital marketing tools for startups as it uses an advanced Machine Learning model that analyses hundreds of real-time user behavioural data points for each visitor, and then compares the behaviour with a range of known intent-to-purchase signals.
It shows which channels perform better than others. Additionally, Conversion Modeling provides precious feedback to the ad platforms, which immediately improves the performance of its automated bidding algorithms, giving you value heaped upon value.
Never miss an article
Get the latest articles, event invitations and product updates delivered straight to your inbox.
Thank you! You've been signed up for our newsletter.
Get started with SegmentStream
Learn about Conversion Modelling and why it is a true next-generation solution to outdated marketing attribution and conversion tracking tools.