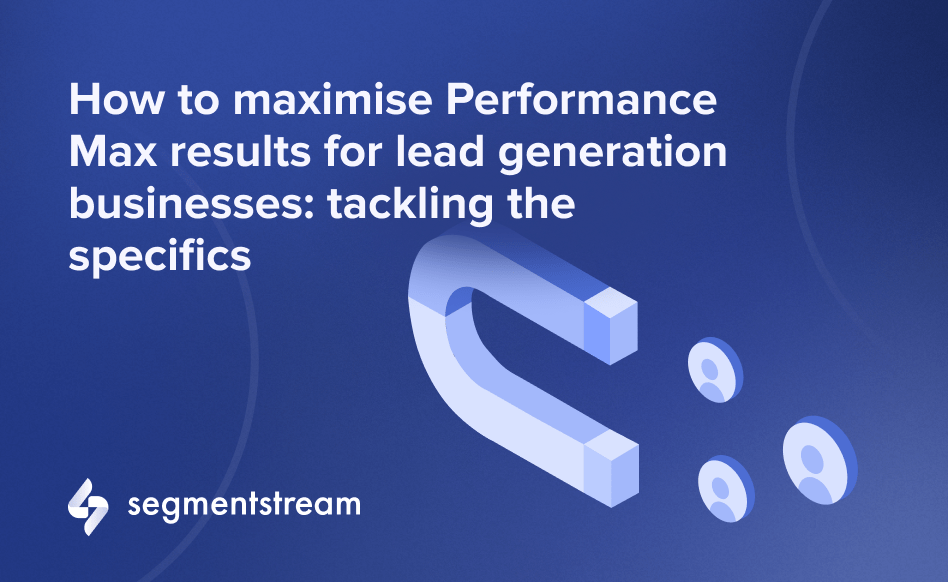 How to maximise Google Ads Performance Max results for lead generation businesses
Performance Max is a great type of automated campaign in Google Ads. However, as it is fully ML-based, it needs as many signals as possible to operate effectively, especially for lead generation businesses. How can you boost it with SegmentStream?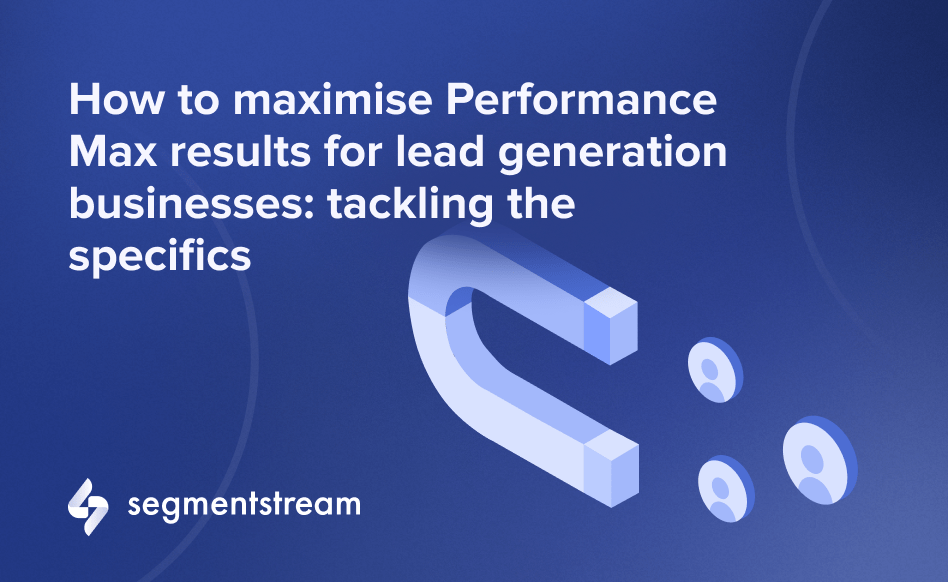 Performance Max is a type of Google Ads campaign that uses Machine Learning algorithms to optimise ad targeting and delivery. It automatically combines creative from provided assets (text, image and video) and chooses ad placement. 
As this campaign type is ML-based, it heavily relies on feedback signals to determine the quality of the traffic. 
This campaign type works really well for businesses with a high number of conversions and where website conversion is the final goal, for example, big e-commerce brands. 
Performance Max uses various placements, including upper-funnel channels such as YouTube, Display, Search, Discover, Gmail and Google Maps. This means that a session often doesn't end with a conversion, but will increase the user's awareness and intent to convert in the future. 
Still, because of cross-browsing, cross-device and cookie restrictions, the Performance Max campaign itself can miss a big portion of the positive signals. 
However, businesses that depend on lead generation have specific challenges:
Typically the customer journey is complex, as users will research different materials, compare different options, read reviews, etc. The consideration cycle might be quite long and exceed the 30-day attribution window of Google Ads. So the number of attributed leads is not enough to effectively train Google algorithms. 
Simply filling a form can register a user as a lead on a website, but such a lead can be of poor quality. Only the sales qualification process, reflected in the CRM, can indicate good quality leads.
How to tackle these challenges 
The first challenge is to provide Performance Max algorithms with a sufficient number of feedback signals. 
To solve this problem, one could optimise towards micro-conversions on the website such as Click on Reviews or Open Form. However, this takes into account only one event, while user behaviour is usually complicated and non-linear, so a single event may not indicate a purchase decision.
Conversions Modelling by SegmenStream provides immediate feedback on each session by evaluating various users' actions on the website and assigning to each a probability to convert. If this probability is strong enough, SegmenStream will fire a Modelled Conversion. The Modelled Conversion is sent to Google Ads and indicates that this user is valuable. 
Modelled Conversions can be designated as a primary conversion, together with actual website conversions in Google Ads. This way, Conversion Modelling provides many more signals to Performance Max algorithms.
The second challenge is the quality of the feedback signal. While for e-commerce brands website conversion is almost always the final goal, leads who have completed a form on a website might quite often end up being disqualified during the sales process. 
Sales-qualified leads or opportunities from the CRM will be the real goal of the business. 
Luckily it is possible to upload offline CRM-based conversions to Google Ads. However, if we choose them as a campaign goal, the number of signals will be even lower, while Google algorithms heavily rely on them.
SegmentStream users know how to overcome this challenge. When we optimise campaigns, we use a Cascade Value Optimisation approach. 
This approach means that we create a Cascade of different conversions and differentiate them by value:
Modelled Conversion, or user with high intent to convert, with the predicted value. This is the biggest pool of users, but individually they carry the lowest value. Their predicted value, on a linear scale, depends on the intent to convert;
Website lead with mid-value;
Qualified lead from CRM. This is the smallest pool of users, but each has a high value.
Modelled Conversions can be sent to Google Ads as a primary conversion directly from the SegmentStream interface.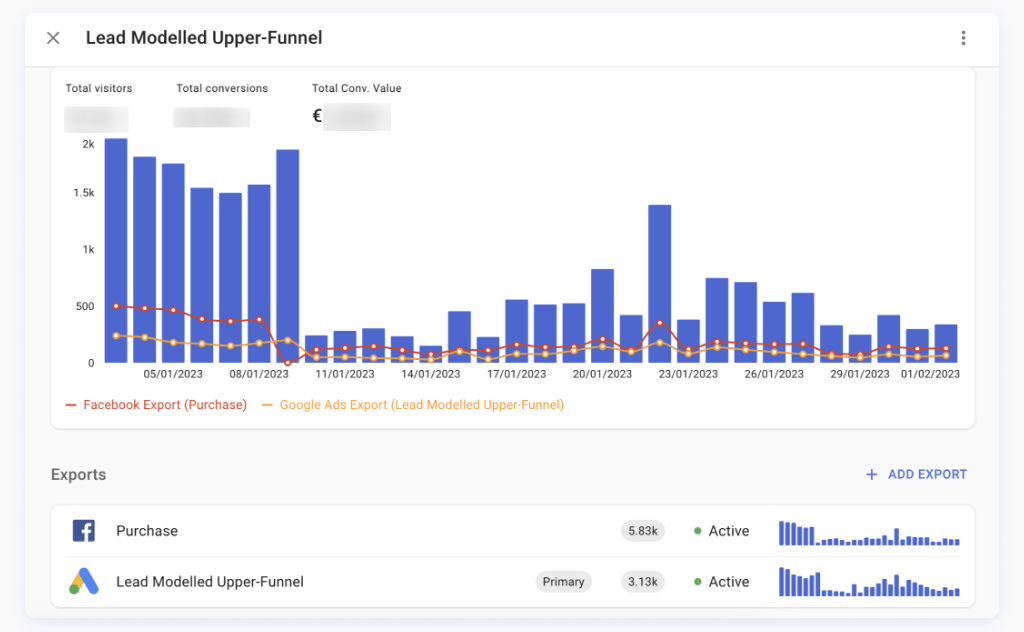 Even for lead generation businesses, we use the Maximise Value strategy, as in our Cascade each conversion has a particular value assigned. This allows us to prioritise conversions while maintaining their relevancy.
Let's consider an example. To a Sales Qualified Lead (SQL) we manually assign a value of $100, while a lead from the website is assigned a value of $50. If the ML model predicts that a user is likely to become a website lead, the value of the Modelled Conversion can be in a range from 0 to $50. Those numbers are arbitrary, and you can choose the value yourself, depending on how valuable each lead is for your business. 
Let's say a user came to the website from a Performance Max campaign, did a lot of research, but did not fill in a lead generation form. The user seemed to show a lot of interest in our product, however, the ML model might predict a $40 value. 
This way, we have a Cascade of 3 conversions:
SQL with $100 value,
Website lead with $50 value,
Modelled Conversion with $40 value.
All these signals are sent to Google Ads. Combined with the Maximise Value strategy, SQL will be prioritised, followed by website lead and modelled conversion. 
To sum up
Performance Max is a great type of automated campaign in Google Ads. However, as it is fully ML-based, it needs as many signals as possible to operate effectively, especially for lead generation businesses, which might struggle with the number of website conversions and find that those conversions are not sales-qualified later. 
Conversion Modelling combined with the Cascade Value Optimisation approach helps to amplify the signals while maintaining their relevance, which makes it possible to ramp up the Performance Max campaigns.
Never miss an article
Get the latest articles, event invitations and product updates delivered straight to your inbox.
Thank you! You've been signed up for our newsletter.
Get started with SegmentStream
Learn about Conversion Modelling and why it is a true next-generation solution to outdated marketing attribution and conversion tracking tools.